Event Information
Location
Slowdown (Main Room - Do Not Use)
729 North 14th Street
Omaha, NE 68102-4702
About this Event
Doors at 8:00pm
Main Room
$10 Advance/$15 Day of Show
All ages show. Check entry requirements at http://theslowdown.com/All-Ages
About No Shelter
No Shelter is a Rage Against The Machine tribute band that hails from Omaha, NE.
It all started with a post from JB Ferguson (drums) on a June day in 2013. The post read, "Who wants to start a Rage Against the Machine tribute band with me?". Luke Sawtelle (bass) was quick to reply. JB confirmed that he was indeed serious about this, and wanted to find a guitarist and vocalist. About a day went by before Luke called Adam Stoltenberg (guitar) to see if he'd seen JB's post. Adam had not, but immediately agreed to taking on guitar duties. An impromptu rehearsal between the three instrumentalists occurred that evening, and they all agreed that this project definitely needed to be pursued. The group would be named No Shelter, after the song of the same name. The search for a vocalist was on. A handful were auditioned, but ultimately, a recommendation through a mutual friend and musician led to a couple successful jams with Nick Somers (vocals), who agreed to join the band in January 2014. No Shelter took its time learning a number of tunes and debuted with their first show in August 2014. They followed the success of their first show with an energetic performance of RATM's second album, "Evil Empire", in November 2014, and RATM's set from "Live at the Grand Olympic Auditorium" in January 2015. On May 22nd, 2015 No Shelter performed RATM's self titled first album in its entirety.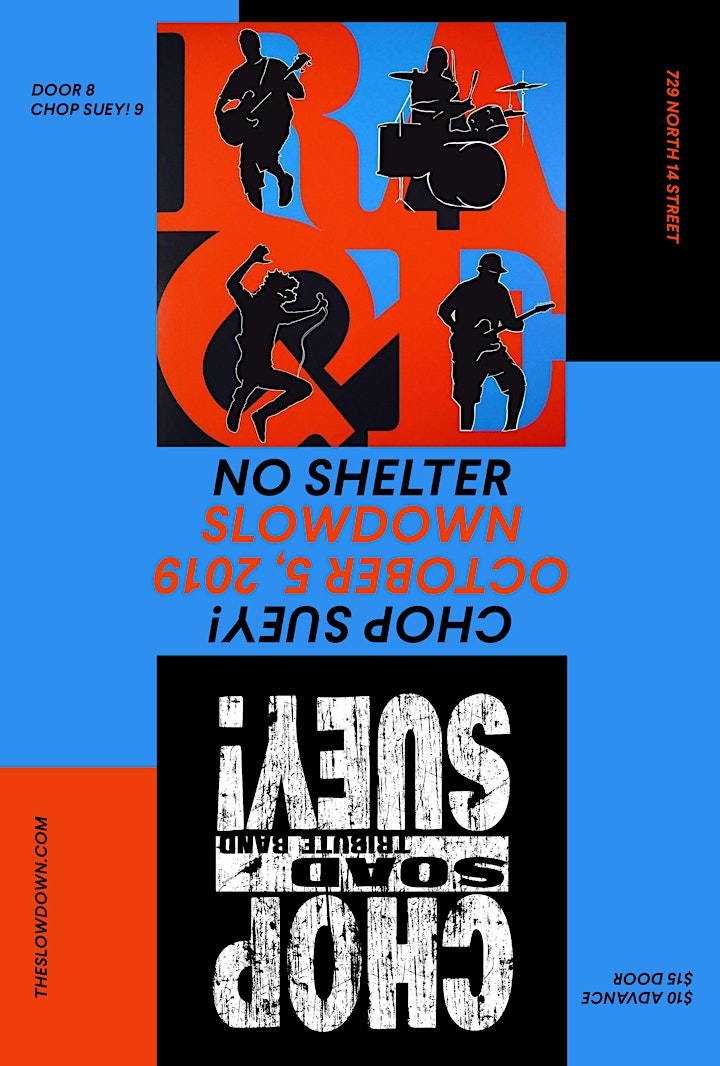 About Chop Suey
Chop Suey! is the System of a Down Tribute band that brings the songs you love to life on stage. Paying homage to SOAD's array of chaotic, eclectic, and unforgettable music. From singles to B-sides, across every album, the whole SOAD experience is here.
Performers
Date and Time
Location
Slowdown (Main Room - Do Not Use)
729 North 14th Street
Omaha, NE 68102-4702
Refund Policy