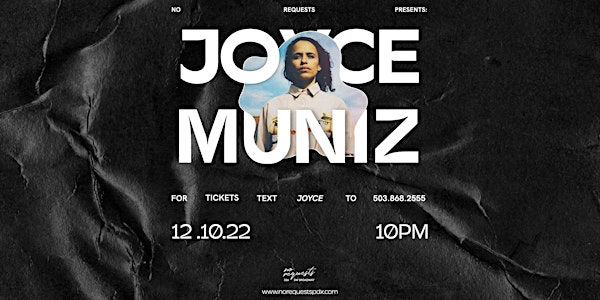 No Requests presents: Joyce Muniz
No Requests presents Joyce Muniz in Portland.
When and where
Location
No Requests 326 SW Broadway Portland, OR 97205
Refund Policy
Contact the organizer to request a refund.
Eventbrite's fee is nonrefundable.
About this event
5 hours 30 minutes

Mobile eTicket
No Requests presents Joyce Muniz
Joyce Muniz
In the day and age where anyone can become a producer or a DJ with a laptop and a bit of cheap software, the real polymaths stand out. Joyce Muniz's background as a singer combines in powerful synergy with her slick production sound and her supreme skills as a selector, with each facet of her creative output feeding into and fuelling one another.
Amassing a huge vinyl collection and a deep knowledge of electronic music along the way, she laid her strong foundations in these formative years.
Born in Brazil and moving to Vienna in the mid-90s to her pursue her musical dreams, she started out mixing drum & bass and breaks, and soon landed a residency at the legendary Flex Club. This regular slot pushed her to develop into playing a more eclectic multitude of styles, from house and techno to dub. It was here that her 'sound' began to form, drawing on a wide range of influences and styles and filtering them into a dance floor context. Amassing a huge vinyl collection and a deep knowledge of electronic music along the way, she laid her strong foundations in these formative years.
She began her production career in 2010 in the Viennese underground, fusing the sounds of her homeland with the contemporary beats of the city. Her first forays into production saw her combine her native Brazilian sounds with modern electronica, but as the years progressed she has moved towards an eclectic, vibrant take on house music. Along the way she has collaborated with a diverse range of artists including Maya Jane Coles, Viennese legend Richard Dorfmeister (of Kruder & Dorfmeister) and The Jungle Brothers' legendary Bam.
She has released on influential imprints like 2020 Vision, Get Physical and chiefly the mighty Exploited, which brought the world her impressively accomplished full-length debut album, Made In Vienna. She has a hefty list of top remixes under her belt for artists inclluding DJ Hell, Steve Bug, Claptone, Munk, Shonky, Stereo MCs, Tosca and Till Von Sein, landing on acclaimed labels like K7!, Poker Flat, Gomma, 8Bit and SUOL.
As if the busy touring schedule and production output wasn't enough, she also hosts her own radio show on FM4 Vienna, has held down a residency on London's Rinse FM since last summer, promotes her Joyce Muniz & Friends club nights and speaks regularly at Native Instruments MASCHINE events.
Her production talents have also caught the attention of many artists, including electro-pop sensation Little Boots, where this year we'll see their next release 'Strange Girl' hit stores in February, and will be followed up with a hefty remix pack featuring Shadowchild, Iron Curtis, Black Loops, RYBO and more all out on Exploited.
Her DJ sets to continue to amaze crowds around the world, taking in everything from deep, dark, percussive drums, to electro and driving house beats.
Austrian jazz crooner Louie Austen also enlisting her for a collaboration and she remixed the legendary Paul Simon on Sony. More co-creation with other talented names is set to follow in 2109, including her recent collab with Namito, a remix for Anabel Englund, another with Hannah Holland and moving more into cross over genres, Joyce plans to announce a project with Kim Ahn, with a landmark remix from Oliver Dollar.
Her DJ sets to continue to amaze crowds around the world, taking in everything from deep, dark, percussive drums, to electro and driving house beats. She will continue to be a dominant force on dancefloors in the next few years and this year we can see her on a big US tour to kick off the Spring.
In 2021, a group of friends were out late one night in Portland, looking for a place to listen and dance to amazing house music artists and DJs.We weren't just looking for any club. We were looking for a house music oasis. A place that consistently embodies the club culture we grew up with, where house and electronic music is enjoyed by everyone, without intolerance or judgement. But… we couldn't find it in the way we wanted.
We were an eclectic mix. Passionate house music DJs influenced by the European club culture, event curators and long time DJs from Portland, and transplants from all over the world who now call Portland home.
One day, we came together to create a new concept based on our experiences and our love of house music. As an eclectic bunch of music lovers, we know that diversity has always been at the heart of club culture and house music. Celebrating and respecting everyone regardless of religion, race, physical ability, nationality, ethnicity, sexual orientation, or gender identity is the foundation of club culture.
After months of creative planning, we decided to contribute to the house music scene in Portland in a very special way and open a club called No Requests. At No Requests, we follow a radically open dance floor and door policy. We ensure that all of our house music events embody the club culture that we love, believe in, and want to foster, while keeping our guests as safe as possible during this time of ambiguity.
Our commitment is to consistently showcase the best Portland-based house music DJs as well as regional (Oregon), national, and international house music DJs, while celebrating diversity and equality, and constantly innovating the experiences and services at No Requests.
And by doing so, Portland's club culture and house music scene will be globally recognized as one of the top destinations for house and electronic music.‍
No Requests, and no regrets.
ACCESSIBILITY
21+ access only.
We have accessible and gender neutral restrooms.
The venue is accessible via the main entry stairs or an elevator.
Please contact us at 503-868-2588 to ask accessibility questions.
SAFETY:
There is zero tolerance for hate, harassment, or assault of any kind. To get help or to report an incident, please speak to a No Requests employee or text "help" to 503-868-2588.
QUESTIONS?
We value your feedback! Please reach out to us with questions or comments at hello@norequestspdx.com or 503-868-2588.
HISTORY OF HOUSE MUSIC: House Music Guide: A Brief History of House Music
What Is House Music?
A Brief History of House Music
Characteristics of House Music
WHAT IS HOUSE MUSIC?
House Music is a genre of electronic dance music which is characterized by a four to the floor beat. The beats per minute or BPM is around 120 to 130.​ House Music was created by house music djs and house music producers from the Chicago underground club culture in the early 1980s. It really started with disco where djs from the altered disco tracks to give them a more mechanical, richer and deeper basslines.
A BRIEF HISTORY OF HOUSE MUSIC
The genre was pioneered by DJs and producers mainly from Chicago and New York such as Frankie Knuckles, Larry Levan, Ron Hardy, Jesse Saunders, Chip E., Steve "Silk" Hurley, Farley "Jackmaster" Funk, Mr. Fingers, Marshall Jefferson, Phuture, and many others. Its origins derive from within the Black American LGBT communities but has since spread to the mainstream. From its beginnings in the Chicago club and local radio scene, the genre expanded internationally, then to other American cities and has become a worldwide phenomenon ever since. There are numerous subgenres, such as acid house, deep house, progressive house, tech house, electro house, hip house ghetto house, organize house music and many more.
House music is characterized by repetitive 4/4 rhythms including bass drums, off-beat hi-hats, snare drums and/or claps at a tempo between 120 and 130 beats per minute (bpm), synthesizer riffs, deep basslines, and often, but not necessarily, sung, spoken or sampled vocals. In house music, the bass drum is sounded on beats one and three, and the snare drum, claps, or other higher-pitched percussion on beats two and four. The drum beats in house music are almost always provided by an electronic drum machine, often a Roland TR-808 or the TR-909. Claps, shakers, snare drum, or hi-hat sounds are used to add syncopation. One of signature rhythm riffs, especially in early house music, is built on the solid clave patterns.
House music originated from a Chicago club called the Warehouse. Clubbers to the Warehouse were primarily black, who came to dance to music played by the club's resident DJ Frankie Knuckles, who fans refer to as the "godfather of house".
CHARACTERISTICS OF HOUSE MUSIC
House Music has different sub genres but there are basic elements that stay the same regardless of the gengre:
Steady, propulsive beats: House or House music is known for its 4/4 time and four-on-the-floor kick drum pulse. Off-beat hi-hat patterns and claps give the music a groovy edge.
Dance tempos: Nearly all house music falls between 120 and 130 beats per minute, which makes it easy to dance to.
Emphasis on early synthesizers: House artists and djs frequently compose their music with 1980s synthesizers such as the Roland TR-808, the Roland TR-909, the Korg Poly-61, and the Roland TB-303 Bass Line.
Disco and soul influences: House music emerged from the soul and disco era, and while it does not use the live instruments of those genres, it often embraces their funky, soulful style.