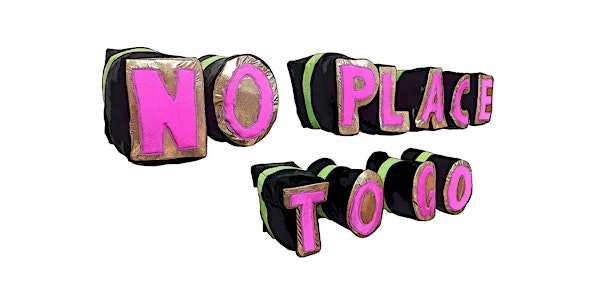 No Place to Go
Presented by RedLine in partnership with 40 West Arts, No Place to Go, an artist-made haunted house
When and where
Location
Mint & Serif - Coffee, Beer & Wine - DINE In Available now 7310 West Colfax Avenue Lakewood, CO 80214
Refund Policy
Refunds up to 1 day before event
Eventbrite's fee is nonrefundable.
About this event
Presented by RedLine in partnership with 40 West Arts, No Place to Go is an artist-made haunted house where unrealized fears manifest in an immersive world driven by choice-making and the horror of the binary. A collaborative project directed by Serena Chopra, Kate Speer and Frankie Toan, No Place to Go is a pandemic-safe, multi-site car tour in 40 West Arts District and Wheat Ridge. The work merges the absurdist storytelling of dance-theatre with interactive visual art installations to create environments where the audience can examine and embrace the interaction between fear and desire. Each installation is a fantastical realm designed by some of the boldest, emerging, and mid-career artists in the seven county region: nolan tredway, Michaela Mujica-Steiner + Emily Marie Passos Duffy, Moe Gram, Nicole Anona Banowetz, Hayley Krichels, Hayley Dixon + Renee Marino, Chrissy Espinoza + Grace Cooper, Steven Frost, and BAGBAYSHA (Chris BAGley + Koko BAYer + Thomas ScHArfenberg).
Given the new era we are in, No Place to Go unhouses our fears, re-imagining the performance structure to support physical distancing for both the artists and the audience: dispersed sites across Jefferson County, a sound score by Mike Clark to accompany the audience as they drive between sites, an integrated app by Bryan Costanza to create a contactless experience, and a virtual reality option for audiences to experience the work from the safety of their own home.
Bring Your Own Car Ticket ($60): Tickets are sold by the car and includes attendance for all individuals in your vehicle (please no more than 5 people for safety precautions). Invite your quarantine pod to join you!
No Place to Go is spread out across five sites in a two mile area of Wheat Ridge and 40 West Arts District. A car is required to travel between the sites. You will be getting in & out of your car to view the installations. The whole experience lasts about 90 minutes. Please arrive 15 minutes BEFORE your ticket time in order to use the bathroom, and order any food or drinks prior to your designated start time. Please see accessibility information below.
Virtual Tickets ($25): Release date November 2020. We'll mail you a pair of VR goggles and give you access to 360 degree video content to experience No Place to Go from the safety of your own home.
Safety Precautions:
Information and show route will be communicated through the No Place To Go app designed for the experience. Available for download on iOS (Link to download instructions). Android users will receive a QR code that will direct you to a URL containing your route. Printed alternatives will be available at starting point upon request.
A mask must be worn at all times when outside your vehicle. The mask must cover your mouth AND nose.
Keep your hands to yourself. Refrain from touching the installation, artwork and anyone working on the show.
Observe social distancing at all times. While the show is designed for social distancing, please be mindful of maintaining a 6' distance from others.
While many of the installations are viewable from your car, outside in plein air, or through windows, a few installations invite or require you to enter an enclosed space to view. Entering an installation is at the discretion of the audience. The following measures are in place for your safety: Audience and performers must wear their mask; Do not touch artwork, objects or performers; Be mindful of car pods ahead of you by giving space and waiting your turn to enter (show attendants will be present at some locations to assist with spacing out the audience); Respect and maintain the distance established between performers and audience
If you or anyone in your party does not feel well, please do not attend (Link to Refund Policy).
Accessibility:
No Place to Go is attentive to disability justice and designing an accessible experience. For more detailed information about the experience and descriptions of each installation please visit no-place-to-go.com for details. For the Bring-Your-Own-Car ticket, a car is required to travel between the five sites in a two mile area of Wheat Ridge and 40 West Arts District. The app is available for download that provides information, directions, and augments the experience through audio, text, and visuals. A printed alternative is available at the start of the experience, available upon request. All the sites are wheelchair accessible to view the installations. The bathrooms at Mint & Serif are all-gender and the ADA compliant bathroom is located through the front entrance along Colfax.
If you have specific questions about accessibility, please email the team at info@no-place-to-go.com.