About this Event
"_[No One Like You is]... excellent radio... one of the best uses of the medium I have heard in my entire life." —Ida Hakkila (WKNY)
Hudson Valley-based personality Julie Novak (co-founder of TMI Project) will host a one-year anniversary and podcast release party for No One Like You, her popular Radio Kingston show that features inspiring, captivating, and humorous interviews with everyday heroes who have transformed their kryptonite into their superpower.
The event will bring to life all the playfulness, energy, and hilarity that listeners have come to expect each week. Alongside sidekick Jessieca McNabb, Novak hosts intimate and fascinating conversations with a diverse mix of guests from the Hudson Valley area and beyond. Scheduled to appear are Woodstock residents Chris Wells (founder and artistic director of Obie Award-winning The Secret City) and musical artist Simi Stone, as well as appearances from NYC-based folk fusion collective Macabre Americana, and the award-winning Energy Dance Company from Kingston's Center for Creative Education.
No One Like You: Live! will live stream on the No One Like You Facebook page from the main stage at BSP Kingston on Saturday, June 15th at 8:00 PM. $20 advance / $25 at the door. DOORS OPEN AT 7:30 PM. CASH BAR.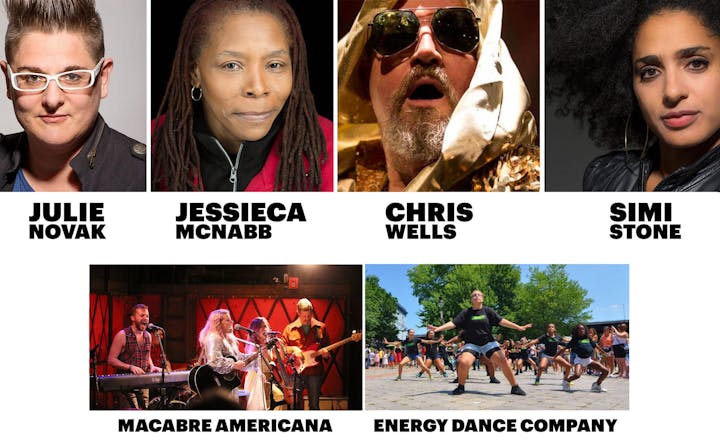 ABOUT THE PERFORMERS
CHRIS WELLS: "He's much more than an actor or a singer," said Todd London, artistic director of New Dramatists. "Part of the joy of the Secret City is seeing someone as multitalented and versatile as Chris Wells find form for the size of his talent." —Todd London, New Dramatists
SIMI STONE: "A formidable powerhouse fueled by a raw and edgy vocal style, virtuoso violin chops and enough charisma to burn down a house! Woodstock's own "mountain motown" pop priestess..." —Bard Summerscape
JESSIECA MCNABB: Jessieca McNabb started performing stand up in the early 90's at the Laughing Wolf Comedy Club in New Paltz and hasn't stopped making people laugh since. Aside from splitting sides each week on No One Like You, she is a regular host of various comedy events all over Kingston and Woodstock.
MACABRE AMERICANA: New York City based folk-fusion collective whose music sheds light on the dark side of the American dream, past and present.
ENERGY DANCE COMPANY: International award-winning youth dance company of Kingston, NY performing fresh and entertaining Hip-Hop, Reggae & Latin dance styles world wide.