We're taking it back to the best sounds of the 2000s w/ a special surprise performance from a multi platinum artist!
About this event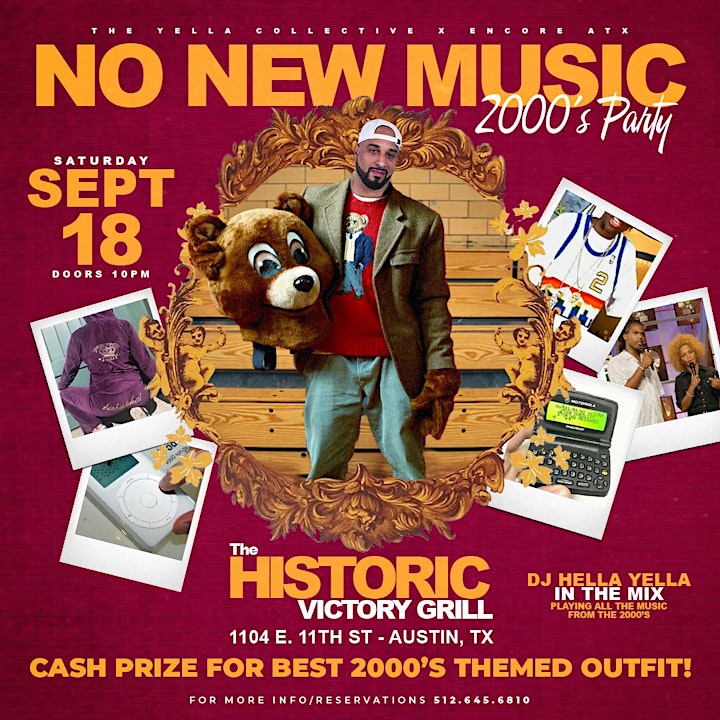 This party is gonna be "off the hook" with:
-A "Phat" Surprise Performance from a Multi Platinum artist from 2004
-Cash Prize for Best throwback outfit
DJ Hella Yella in the mix getting it "crunk" with the best 'flava" from the early 2000s like 50 Cent, Missy Elliot, Jay-Z, Dipset, Swishahouse, Destiney's Child, Nelly, Lil Jon, Usher, B2k and a little bit of 90s classics to have you Harlem Shaking, doing the Heel toe, lean and rock, the chicken head and A-Town stomp all night.
If you are from Austin we are throwing it back to the Spiros Days
If you went to UT we are throwing it back to the Soul Night days
If you went to HT we are throwing it back to the T.G.I.F. days
Dust off your apple bottom jeans, throwback jerseys, velour sweatsuits, Roc-a-wear, gauchos, and air brushed tees then meet us at The Victory Grill.
For more upcoming events go to DJHellaYella.eventbrite.com