No More Chains 2 Film Screening - Red Carpet Premiere (DMV)
Description
Ari Squires Presents...No More Chains 2 Documentary Private Screening and Q&A with Celebrity Guests, Cast Members and Special Guests - Plus Social Hour and VIP Meet & Greet Reception
---
Acclaimed Actor Isaiah Washingon (Grey's Anatomy, The 100, Love Jones, Exit Wounds) is a Producer of this docu-hybrid and will be in attendance, along with Darrin Dewitt Henson who you've seen on BET's The Family Business, Soul Food, Black Coffee, Stomp The Yard.

>>>>THIS EVENT WILL SELL OUT! Get your tickets now. Do not delay!
IMPORTANT INFORMATION:
*5:30 pm is The VIP Reception. This private event will feature many celebrity talents, celebrity actors from the film, the cast members, the film's producers and directors, local media and top professionals in and around the DC area. There is limited space so VIP tickets are extremely limited for this affair. Lite fare will be served along with cheese and wine. DJ DNS on the one's and two's.
Movie Starts promptly at 7:00 pm (red carpet and theater doors open at 6:30pm), so give yourself time for parking, pictures, and concessions. No tickets will be sold at the door.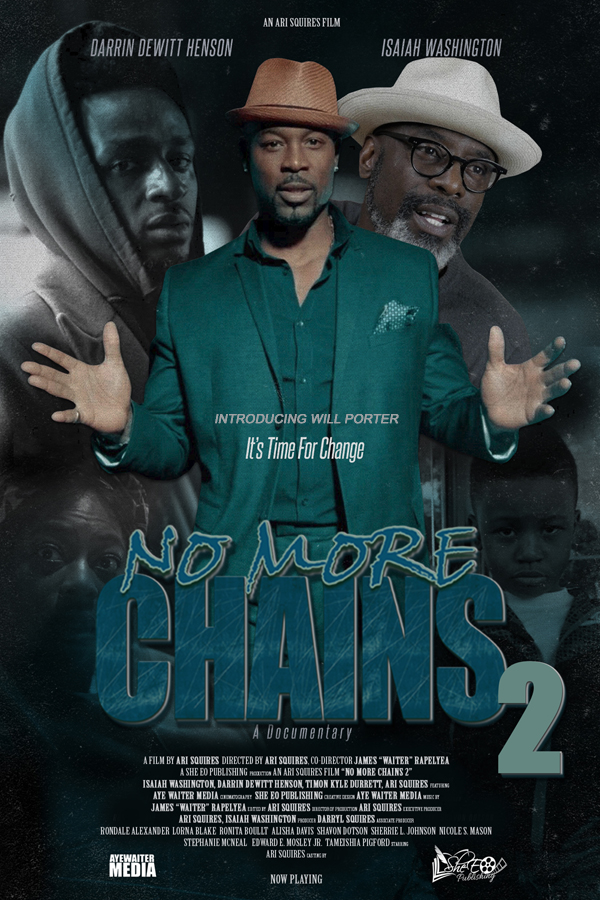 ABOUT THE DOCUMENTARY DIRECTED BY ARI SQUIRES:
Whether the links are formed through blood, marriage, or circumstances, we all have chains that shape our outlook. They determine whether we believe the world to be full of possibility or completely inhospitable. Sometimes the relationships that should be our greatest source of strength can form chains that hold us down.
Ari Squires has come together for the second series with ten powerhouse business professionals who have released their chains. Tired of standing back, they now proudly stand in front of their stories that made them who they are. Each one has shamelessly peeled back the layers of pain, fear, shame, anxiety that grew from addictions, abusive relationships, and suicidal thoughts.
These eleven powerful stories of awakening and standing up for personal change will empower you to break free of mental, emotional and generational chains so that you can create a new, bigger, bolder, better story. Inside you'll find guidance, resources, and tools to release yourself. Join the movement and get on the path to becoming unapologetically free.
Featuring: Isaiah Washington, Darrin Dewitt Henson, Timon Kyle Durrett, Ari Squires
Rated PG-13
Attire: Red Carpet (Cocktail Party Attire)
www.NoMoreChainsFilm2.com