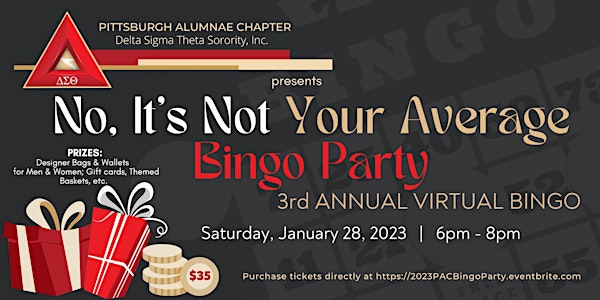 No, It's Not Your Average Bingo Party
We are excited to bring you this fun filled event that comes complete with a dance party, bingo game, and fabulous prizes!
About this event
The Pittsburgh Alumnae Chapter of Delta Sigma Theta Sorority, Inc. will present our 3rd Annual Virtual Bingo Party on Saturday, January 28, 2023 from 6pm - 8pm. Event attendees will enjoy an evening Bingo, Dancing, a Scavenger Hunt, Name That Tune and an array of door prizes which will be mailed to the winners' homes.
The proceeds from this event will benefit our Five Point Thrust Programs and Scholarships that focus on Economic Development, Educational Development, Physical and Mental Health, Political Awareness Involvement and International Awareness and Involvement.