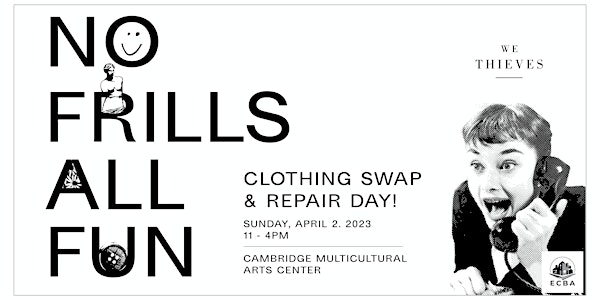 No Frills All Fun Clothing Swap and Repair Day
What A down and dirty community focused swap for gently used clothes, accessories - featuring onsite clothing repairs.
Date and time
Sunday, April 2 · 11am - 4pm EDT
Location
Multicultural Arts Center 41 Second Street Cambridge, MA 02141
Refund Policy
Contact the organizer to request a refund.
Eventbrite's fee is nonrefundable.
About this event
Join us on Sunday 4/2/2023 for our annual Clothing Swap and Repair Day!
The goal? The goal of this swap is simple: 1) Mitigate Textile Waste 2) be of service and connect to our immediate community 3) Provide other methods of fashion acquisition other than selling items or marketplaces.
Why: About 14% of what we donate stays in the donation center. The rest is sold off to Textile centers where garments are separated into "rags" (turned into insulation and other materials like rags), or they are sold and exported off to developing countries.
NEW THIS YEAR: We Thieves will be throwing down an AS IS vintage rack/stack for makers and creators in the community so these garments can hopefully get repurposed, upcycled, and stay in circulation.
Cost: Sliding scale fee of $5 to $20 to help us cover administrative costs.
This is a NOT FOR PROFIT event - we close our store and serve the community this day! Any extra monies will be donated to the charity we land on.
Nitty Gritty: Bring up to 15 items, including gently used, clean clothing and accessories you are no longer wearing, that don't fit, or you realized you never should have bought to swap with our community for things you do want. You can take as MUCH as you like. Bring 15 - leave with 2 or 20 (up to you).
Repairs: Onsite simple repairs plus more complex will be available (drop off and pick up). Repairs NOT FREE! Part of understanding the labor involved in creating garments is appreciating those who handle it. Costs are handled by the individual seamstresses and atists and they are not connected to We Thieves - repair costs start at $5 and go up from there.
What to bring:
Clothing that is in good condition and wearable. MUST BE clean, no smells, holes, or irreparable damage. The Golden Rule applies.
All brands, genders and size inclusive is recommended.
Accessories including: Handbags, hats, bags, belts, shoes and jewelry (in good, clean condition)
HANGERS help clothes swap better! Clothing that requires hanging (dresses, coats) MUST BE ON HANGERS - this helps them display and swap better. It will be difficult to keep track of whose is whose, so feel comfortable donating the hangers you provide or swap hangers with those that are empty. You can take your hangers home with you once swap is done or if hangers become available during the swap.
BYOB - Bring your own bags and beverages! This is no frills - the only frilly thing is the incredible historical building we will be in!
ABSOLUTELY NO: Underwear, heavily worn shoes, dirty or irreparably damaged clothes. We will be reviewing garments prior to entry. The management of our unwanted textiles is laborious and time consuming - please respect our community and us organizers - how we dispose of our textile waste is correlated to how we consume it. Please be mindful.
Frequently asked questions
What does the entry fee cover?
What happens to left over clothing?
Can I bring garments for repair without participating in the swap?
I have some real nice fancy clothes - if they don't get swapped can I get them back?
If this event is canceled will I get a refund?