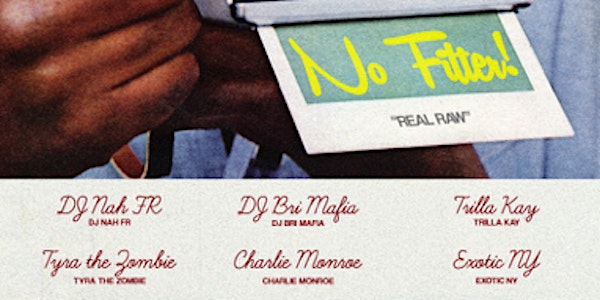 No Filter! feat. DJ Nah FR,DJ Bri Mafia, Tyra the Zombie, Trilla Kay, &more
No Filter is a recurring event dedicated to holding space for local women artists.
About this event
This event aims to promote an unfiltered good time and vibe while providing a space where you can be the rawest version of yourself. When we say come as you are, we really mean it. DJ Nah FR, in collaboration with 4theDMV for this installation, is creating a welcoming environment for all people to discover new music and local artists, while simultaneously providing a platform for women artists, performers and creatives. There is a lack of opportunity for us in the entertainment space, which is why No Filter is coming to bridge the gap so our community of artists, that are equally as talented as their male counterparts, can begin to receive equal opportunities. An overwhelming majority of all genders in the entertainment space believe that women, especially black women, need more spaces to share their art. No Filter at Songbyrd on August 18th is the inaugural event in the series, so you will not want to miss it. There's only one chance to make a first impression and No Filter will make a lasting one.