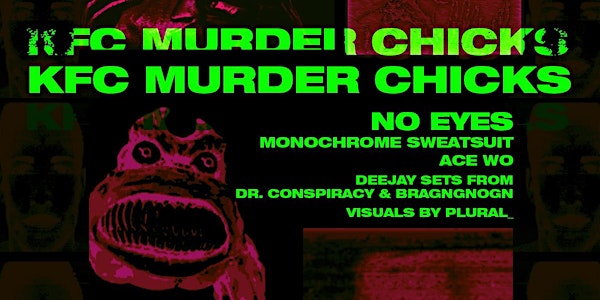 NO EYES, Monochrome Sweatsuit, Ace Wo
Ages 18+
presented by 529 and Speakeasy
NO EYES, Monochrome Sweatsuit, Ace Wo play 529 on May 14 KFC Murder Chicks had to cancel due to car trouble.
When and where
Location
529 529 Flat Shoals Ave SE Atlanta, GA 30316
Performers
Headliners
More Performers
Ace Wo
Monochrome Sweatsuit
About this event
kfcmc started as a secret punk/metal/electronic pseudonym of dj rozwell. after a sporadic string of releases, the project was almost disbanded in 2019, until 2nd fulltime member ash vestal joined in late 2020, bringing in distorted versions of rock iconography and marking the beginning of the current era.