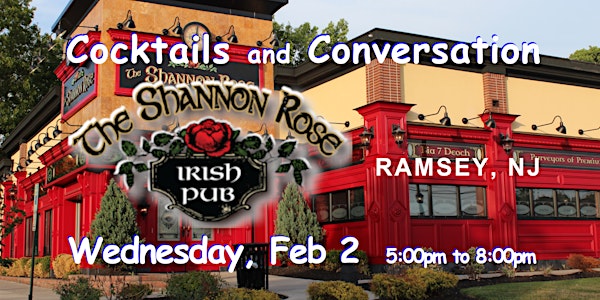 No Cover ~ Shannon Rose ~ Ramsey, NJ ~ Happy Hour ~ ticket required
Come meet new single friends. Please join us if you have a sense of humor, a generous spirit and an overall positive attitude.
About this event
Invitations to Future In-person Events ----- > https://lp.constantcontactpages.com/su/W0m0VdJ/invitations
.
S I N G L E S _ H A P P Y _ H O U R :
You are invited! Join Ralph, your host and 45 guests from PBSN and 5 Meetups. Our "in-person" gathering at this North Jersey venue opens at 5:00pm; join us anytime. Stay as long as you wish during this three hour gathering.
Cash bar. Business Casual attire.
The Shannon Rose Irish Pub combines Irish roots with a commitment to community. The interior of the pub is entirely composed of furniture and decorations shipped directly from Ireland, the our chef-driven, scratch-made menu incorporates seasonal & local ingredients from community partners.
Life isn't about finding yourself. Life is about creating yourself. -- George Bernard Shaw
New faces welcome! Tonight's event is sponsored by Professional and Business Social Network (PBSN) and several Meetup groups. We expect a fabulous crowd, like our last gathering in the area.
.
W H O _ W I L L _ B E _ T H E R E :
We are "No Ordinary Birds" … college degreed, business owners, executives, business managers, entrepreneurs and community leaders.
Please join us if you have a sense of humor, a generous spirit, and an overall positive attitude. Attendance may not be gender balanced.
.
T I C K E T S :
No Cover; however, an Eventbrite Ticket is required. No Walk-ins.
Click GREEN "REGISTER" Button
Following your Eventbrite Registration, you will receive a ticket confirmation and receipt email from Eventbrite.
.
T E R M S _ A N D _ C O N D I T I O N S :
A ticket is required for each person. All sales are final, no refunds, transfers or exchanges. If your plans change, please cancel your free ticket.
A "wrong gender" ticket purchase will be canceled with a refund of the ticket price only as the Eventbrite ticketing fees are non-refundable.
Attendees agree to follow the host's, co-hosts', and venue management's directions, to be respectful of all participants and to exhibit Professional conduct. Attendees agree to comply with current COVID related mandates and their implementation. Having a ticket does not guarantee admission.
PBSN and our venues are not responsible for personal injury or personal items left unattended.
.
C O N T A C T _ U S :
610-348-5544 ~ PBSNgatherings@aol.com ~ www.PBSNinfo.com
Professional and Business Singles Network, Ltd. PBSN
dba Professional and Business Social Network, PBSN
Organizer of No Cover ~ Shannon Rose ~ Ramsey, NJ ~ Happy Hour ~ ticket required