"No Boundaries on the River" Small Batch Beer Fest
When and where
Location
No-Li Brewhouse 1003 E Trent Ave Spokane, WA 99202
Refund Policy
Contact the organizer to request a refund.
Description
Join us at No-Li Brewhouse for our first annual "No Boundaries on the River" Small Batch Beer Fest along the banks of the Spokane River!

We'll kick it off at noon. Enjoy 12 of our small batch "No Boundaries" beers (read: can't get anywhere else!) while enjoying live music, lawn games and tasty menu specials.

What is "No Boundaries" all about? It's about diving into life head-on, and living life hands-on. For No-Li, a big part of that means celebrating creativity with our beers.

The festival's beers will include barrel-aged, experimental, and "infused" brews - i.e. dry-hopped or infused with specialty ingredients post-fermentation such as vanilla, cocoa nibs, or elderflowers.

The list of beers will be released over the next few weeks; check back here often to see what we'll be pouring!
There is no entry fee. Everyone is welcome!
If you'd like to participate in sampling the 12 No Boundaries beers, you'll need to purchase a taster package. You can buy the package in advance or at the festival. If you'd like to buy the package in advance of the festival to avoid waiting in line, see options above. Please go to the will call table when you arrive.
Taster Packages include one 5-oz commemorative sample glass and five 4-oz drink tickets. Additional drink tickets can be purchased at the festival for $2 each.
The Beer List
1. Freshly Dry-Hopped Whiskey Barrel-Aged Jet Star Imperial IPA
Jet Star aged for 3 months in a whiskey barrel, imparting subtle sweetness and vanilla. The beer will be freshly dry-hopped in the keg with Amarillo prior to release. This gives the beer a fresh hop aroma, bitterness, and flavor, layered on tap of a light, oaky barrel-aged flavors. 8.1% ABV, 115 IBUs.

2. "The Refueler" Quarter-Cask Whiskey Barrel-Aged Spin Cycle Red Ale
Spin Cycle Red aged in a 7-gallon barrel for two months. The smaller barrel accelerates aging by increasing surface area in contact with the beer. Lots of whiskey and oak characteristics, including notes of coconut and vanilla. The beer is lower in alcohol than your typical barrel-aged beer, and will be perfect for sipping as the weather starts to warm up. This beer is named after Fairchild Air Force Base, and for all military personell who serve our country. Learn more: 5.8% ABV, 45 IBUs.

3. Whiskey Barrel-Aged Madagascar Bourbon Vanilla-Infused Wrecking Ball Imperial Stout
Wrecking Ball aged in a second-use whiskey barrel. The beer picks up subtle flavors of dark, dried fruits, as well as body and sweetness from the barrel. The vanilla beans will be infused just prior to serving to compliment the vanilla notes from the oak and the suble fruitiness developed by the alcohol and dark malts. 9.5% ABV, 100 IBUs.

4. No Boundaries Series Comrade Double IPA
Our newest No Boundaries Small Batch Series, Comrade Double IPA, will be released at the No Boundaries Festival. This big beer is brewed with two of our favorite hops at the moment: El Dorado and Amarillo (hence the name "Comrade"!). These two hops will deliver flavors and aromas of watermelon, cherries, grapefruit and lemon. Dry-hopping at the end lends a bright and fresh hop aroma. 9.0% ABV, 105 IBUs.

5. No Boundaries Series Cask-Conditioned Comrade Double IPA
Our newest No Boundaries Small Batch Series served "old school" style - cask-conditioned. 9.0% ABV, 105 IBUs.

6. Red-Wine Barrel Aged Jet Star Imperial IPA
Jet Star was aged on second use wine barrel sourced from local Townshend Cellars. This beer took on loads of oak character from the barrel. There are the classic flavors of sweet vanilla, but the hefty alcohol of the Jet Star extracted wonderful woody flavors and aromas. 8.1% ABV, 115 IBUs.
7. Dry Fly Whiskey Barrel Aged Born & Raised IPA
Our flagship, Born & Raised IPA, aged in Wheat Whiskey barrel for three months. The character of the spirit compliments this IPA's malt backbone exceptionally well. The piney hop character of this beer compliments the earthy char of the whiskey barrel. Our neighbor's whiskey also lends a distinct coconut-like aroma that plays nicely with the citrusy American hops. 7.0% ABV, 85 IBUs.

8. Cask-Conditioned Amber Ale Dry-Hopped with El Dorado Hops
We filled a cask with our Amber Ale and conditioned it with a dose of El Dorado hops. This beer will be a super-drinkable cask beer perfect for a warm spring day. The cherry, watermelon and pear-like aromas of this hop will come through really nicely in this relatively light beer. 4.8% ABV, 10 IBUs.

9. Cacao Nib-Infused Brewer's Breakfast Stout
This wonderful breakfast stout (our February No Boundaries Small Batch Series release) didn't have enough tasty ingredients for us, so we decided to infuse it with fresh Cacao nibs. "Nature's chocolate chips" add an earthy chocolate aroma that will compliment the coffee and roasted malts of this hearty stout. 5.8% ABV, 22 IBUs.
10. Double Dry-Hopped El Dorado Ale
Our March No Boundaries Small Batch Series, "El Do Batch #1," was brewed exclusively with El Dorado hops. This hop contributes loads of fresh, fruity flavors and aromas. The original batch was dry-hopped with a half-pound of hops per barrel. This single keg will be dry-hopped again with another half-pound of El Dorado to more than double the original hops per barrel, increasing the watermelon and cherry flavors in the beer. 6.7% ABV, 45 IBUs.
11. Brewer's Breakfast Coffee Oatmeal Milk Stout
This sweet stout is brewed with flaked oats and lactose to give a smooth body and dense head. Dark chocolate and Extra Special malts are added to provide flavors of coffee, chocolate and toasted grain. We added a bag of local donut shop, Dawn of the Donut, donut mix to the mash. Local coffee company, Gemelli, provided freshly roasted coffee, added to the fermenter for two days. It is a breakfast beer you can dunk a donut it! 5.8% ABV, 22 IBUs.

12. Smokey Rye
Smoked and Rye malts combine in this ale to provide a body dominated by flavors akin to toasted bread, with a hint of spice. There is a hint of smoke in the aroma, but it comes through nicely in the beer's flavor. Light Crystal Malt provides a sweet finish and red hue. One addition of Liberty hops gives a nice crisp finish. 6.0% ABV, 28 IBUs.

Limited Release Festival Shirt
We are also offering a special, limited release t-shirt for the festival. If you'd like to pre-order your shirt to ensure you receive one, please see the options above.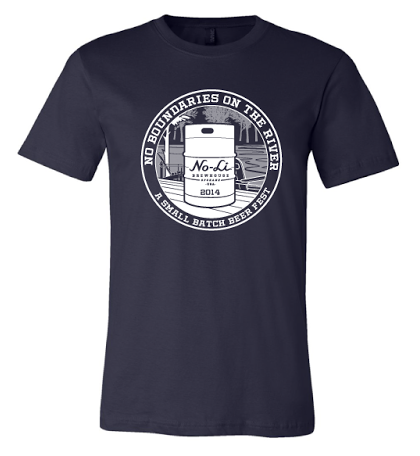 Please be sure to select the correct size when ordering below; while we'll do everything we can at the festival to get you a different size if you decide you need one, we can't guarantee we'll have the new size you want. Shirts need to be picked up at the brewery on Saturday, April 26th between 12pm and 4pm.