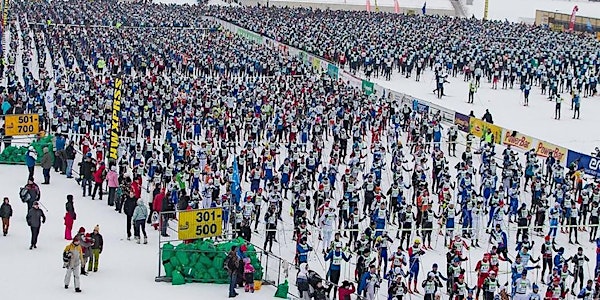 No Blueberry Soup for Men in Briko (or The Prosumerisation of Cross-Country Skiinig)
When and where
Location
EKKM Põhja pst 35 Tallinn Estonia
Description
A performative lecture by Tõnu Pekk
(Due to the participation of guests from abroad, this event will be held in English)
Video footage of Tartu Ski Marathon in 1985 shows participants taking off their skis in food and drink stops to enjoy camaraderie and hot drinks by the fire. Recently, a TV reporter tried in vain to catch even a few comments from skiers in branded professional costumes as they sped past, grabbing sports drinks and swallowing energy gels on the go.
Whilst equipment doesn't guarantee performance, it seems that buying professional gear somehow obliges us to train more and ride faster. How does this pressure make its way from the point-of-sale to our training plan? If there's no time for leasurely breaks, who do we labour for on the marathon day?
Tõnu Pekk is an amateur cross-country skier, having participated in Tartu Marathon twelve times. He works as a professional investor.
Tõnu Pekk and Daniel Vaarik's lecture series "Mythologies of Finance" will be running at Tallinn Technical University in October 2015.