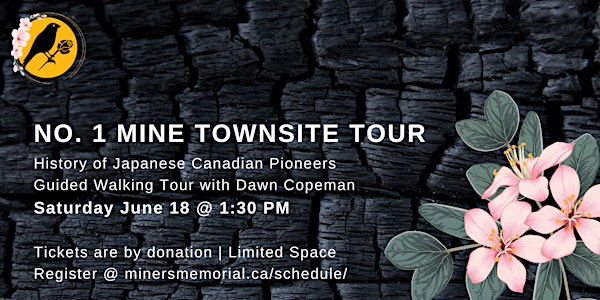 No. 1 Townsite: History of Japanese Canadian Pioneers Guided Walking Tour
Join local historian Dawn Copeman as she relays her work with the families and their descendants of Cumberland's past Japanese community.
By Cumberland Museum & Archives
Date and time
Saturday, June 18, 2022 · 1:30 - 3pm PDT
Location
2210 Comox Lake Rd 2210 Comox Lake Road Cumberland, BC V0R 1S0 Canada
About this event
Thirty-one cherry trees commemorate the last families to live at No.1 Town. Some old cement pillars are all that is left of this once bustling Japanese Canadian community. They came with their families to settle and work in the Dunsmuir coal mines, but unsafe working conditions and poor pay created challenges and opportunities to thrive. Forcible removal in 1942 changed the fabric of Cumberland forever.
This tour is part of the 37th Annual Miners Memorial Events and is hosted by the Cumberland Museum & Archives.
About the organizer
The Cumberland Museum and Archives on Vancouver Island tells the story of the people of Cumberland—the rich, the poor, the powerful, the rebellious, the righteous and the radical. We invite you to join us at the "People's Museum" of Cumberland and add your questions, knowledge, stories and interests to the rich fabric of our organization.