| | |
| --- | --- |
| NNPA ANNUAL CONVENTION - JUNE 26-29, 2013 | |
Event Details
NNPA 2013 Annual Convention | Wednesday, 26 June-Saturday, 29 June
The Hutton Hotel | Nashville, TN | Hotel Cut-Off Date: 30 May 2013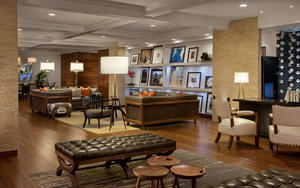 Click the link below to make your hotel reservation at The Hutton Hotel:
Group Name: NATL NEWSPAPER PUBLISHERS ASSN (NNPA)
Room Block Available: Sunday, June 23, 2013 - Monday, July 01, 2013
PRELIMINARY SCHEDULE *subject to change*
WEDNESDAY, JUNE 26, 2013

10:00 am-12:00 pm

Foundation Board Meeting

1:00-5:00 pm

Association Board Meeting

4:00-7:00 pm

Board Interviews

7:00-9:00 pm

Chairman's Welcome Reception

Community Recognition Awards

Entertainment by Carol Ann's All-Star Band

THURSDAY, JUNE 27, 2013

8:30-10:00 am

HBCU   Prayer Breakfast

Sponsored by Regions Financial   Corporation, Nashville, Tennessee

10:15 am-12:00 pm

Workshop   #1: HBCU's Facing Challenges Amid Efforts to Stay Financially Viable and   Competitive

12:15-1:45 pm

Luncheon:   Future of the Black Press and the Hip Hop Community–Continuing the Legacy

2:00-4:00 pm

Workshop   #2: Financial Forecasting: Cash Flow Strategies to Sustain Your Business Presented by Wells Fargo

4:00-6:00 pm

Nominating Committee Meeting

6:30-9:30 pm

NNPA Foundation Merit Awards Reception and Dinner – Country Music Hall of Fame, 222 5th Avenue S,   Nashville, TN 37203

FRIDAY, JUNE 28, 2013

8:30-10:00 am

Breakfast:   HIV/AIDS Discussion Sponsored by the Centers for Disease Control and the NNPA   Foundation

10:00 am-5:00 pm

Macy's Beauty Bar Sponsored by Macy's

10:15 am-12:00 pm

Workshop   #3: Effective Community Events w/GM and Nielsen

12:15-1:30 pm

Luncheon: Education and the Black Press                     

2:00-3:45 pm

NNPA Publishers' Business Meeting

4:00-6:30 pm

Board Elections by Region

7:00-8:00 pm

NNPA Legacy Awards Reception

8:00-10:00 pm

NNPA Legacy Awards Dinner – Election   Results Announced

Master of Ceremonies: Dr. Bobby Jones

10:00 pm-12:00 am

Entertainment and Dessert Afterglow

SATURDAY, JUNE 29, 2013

8:45-10:00 am    

Board Meeting: New Board Members   Swearing in and Orientation

9:00 am-5:00 pm

Digital Training Workshop

 

 

10:15 am-12:00 pm

Publishers' Exchange

 

 

 
 
 
Questions? Please contact Jackie Willis, NNPA via email (jackiewillis@nnpa.org) or phone (202-588-7348).
Attendee List
Sort by:

Date

|

First Name

|

Last Name
Where

THE HUTTON HOTEL (WWW.HUTTONHOTEL.COM)
1808 West End Avenue
Address Line 2
Nashville, TN 37203


Organizer
National Newspaper Publishers Association (NNPA)
Since its founding 77 years ago, NNPA has consistently been the voice of the black community and an incubator for news that makes history and impacts our country. As the largest and most influential Black-owned media resource in America, NNPA delivers news, information, and commentary to 20 million people each week.  Americans from all backgrounds seek news from the Black perspective from the 211 NNPA member newspapers around the country. In America, now among the most diverse countries in the world, the Black Press of America is more relevant than ever.
NNPA ANNUAL CONVENTION - JUNE 26-29, 2013