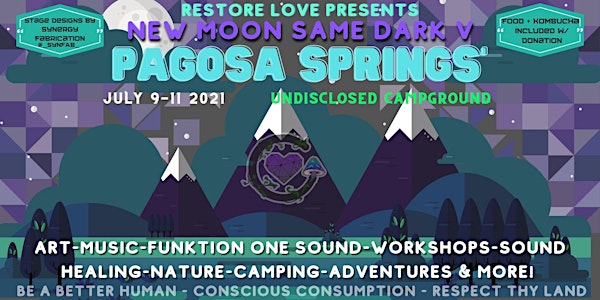 NMSD V - Pagosa Springs
Greetings to all and welcome! We are blessed to be gathering once again in 2021, this time we convene in the mountains of Pagosa Springs,CO!
Date and time
July 9, 2021 · 4pm - July 12, 2021 · 10am MDT
Refund Policy
Contact the organizer to request a refund.
About this event
***Donations online havce ended*** Minimum $75 donation at gate***
_________________________________________________________________________________________
Welcome to our Fifth installment of New Moon Same Dark!
_________________________________________________________________________________________
The time has come again for us to gather & create ripples through the infinite collective consciousness. If you have gathered with us before, we welcome you back to the experience. For anyone who is new to Restore Love and our gatherings, we welcome you and are excited to share this expierence with you!
About the Gathering
3 Days of Art, Music, Funktion One Sound, Sound Healing, Ecstatic Dance, Workshops, Nature, Camping, Adventures, & more!
A special + intentional gathering among friends, strangers to be friends, artists, & curious humans, with a purpose towards movement, art, connection, learning, & soul exploration. We gather to not only to have fun & create lasting memories, but to grow as individuals, for ourselves and for the community as a whole.
For this one, we are blessed with an amazing place to call home for the weekend, located along a river in the mountains of Pagosa Springs! There is shaded camping, open field camping, & tree's for hammocking. Plenty of space to roam around and hiking trails on site!
As always, we aim to keep everybody well nourished with quality food over the duration of the weekend. There is potable drinking water on site, and like always, we will be providing Kombucha on Tap!
There will be a Main music stage and a Late night stage. Both are supported by world class Funktion One Sound. We are thankful to Kinesis Acoustics for providing the highest quality sound vibrations possible!
Our Main music stage will be designed by our good friend Forrest over at Synergy Fabrication @_synfab_ . If you have been to Sonic Bloom then you have seen his & the Tetra crews' work at the Meadow Stage. We are thankful to have him setting up a proper visual experience for everybody!
Throughout the weekend there will be sound healing, cacao ceremonies, yoga, workshops, adventure, & more! A schedule will be sent out a week before the event date.
Families + Kids + Dog Friendly!
**Conscious Consumption**
_______________________________________________________________________________________________
There are (2) different donation levels we are requesting from everyone. This is to ensure we can cover all costs for everything & be able to properly pay all of the artists + people involved!
Basic Entry - $70-$100 Requested Donation
All Inclusive Entry - $111-$211 Requested Donation
All Inclusive Donation Includes:
A weekend of beautiful camping & magical experiences
(3) Meal Tickets + Kombucha on Tap & Herbal Tea's
(3) Days of Music
(1) Art + Merchandise Raffle Entry
_______________________________________________________________________________________________
*** Venmo Accepted & Preferred - @RestoreLove ***
** 125 Person Capacity **
* 7% of Donations will be donated back to ColoradoGives & the National Forest Service *
**Donation required for entry* *
***$75 minimum donation/pp at the gate if you have not donated ahead of time***
_______________________________________________________________________________________________
Camping - Location sent upon Donation, 1 week before the event date -
Campground is located about 15 minutes south of Pagosa Springs,Colorado
There are limited shade camping spots that will be given on a first come first serve basis. There are also tree's for hammocking. Majority of camping will be in a big & beautiful open field!
If you would like to bring an RV, there are 4 dedicated spots. Please let us know ahead of time if you plan to bring one.
There are bathrooms, water, and a beautiful river on site.
Camping/RV is included in the suggested donations.
Campground opens on Friday, July 9th at 4pm. You will not be allowed in if arriving earlier so please try to plan acoordingl.
The campground closes on Monday, July 12th at 12pm. Everyone must be off site by this time!
Music
Friday, music will begin on Main Stage at 7pm.
A full music schedule will be released a week before the event date!
Food+Water+Drinks
There will be a dedicated kitchen and set times on when food will be available. All inclusive donation will include (3) meal tickets, which gives you open access to food during certain hours on Friday, Saturday, and Sunday. These times will be given to you at a later date. If you don't have any meal tickets do not worry! Meals will be available for purchase from one of our food vendors!
There will be breakfast available on Saturday & Sunday, with dinner being available Friday, Saturday, & Sunday. Mostly all of the food will be Vegan/Vegetarian with the option of adding Meat.
There is potable & clean drinking water on site through a water tap. However we do reccommend bringing your own water! There will be Kombucha on Tap that is included with your meal tickets!
We encourage everyone to gather with us during the communal meal times!
Guided Adventures
You are free to explore the areas and beyond as you wish! We will have a couple scheduled adventures where we may go as a group if preferred!
Saturday - There are miles of hiking trails beyond the camp site that extend out to the National Forest. We will have a group hike through these trails! Bicycles are encouraged!
Sunday - 15 minutes away is downtown Pagosa Springs. There is a public river that goes right through the town, a great place to relax and soak in the water. There is also a hot springs waterfall this is accessible ! You will find a variety of restaurants as well in this area if you choose to eat out.
The Springs Resort & Spa offers day passes for anyone who would like to enjoy the actual hot springs that Pagosa Springs has to offer!
_______________________________________________________________________________________________
These are very special times. We have all chosen to gather here for a reason. Let us indulge in moments, connect with others, express, & radiate powerful ripples of loving energy to last throughout the infinite timeline of consciousness.
*A true grassroots project, funded by the community, for the community*
About the organizer
Restore Love looks to do just that. With human connection and growth in mind, Restore Love aims to provide people with an experience to connect with others, & more importaintly, deeper within themselves.