Description
It has been a long 20 years for us in Oncology at Nilai Medical Centre. As such, we wanted to welcome this mile stone by organising a NMC Oncology Conference on 6th April 2019 (Saturday) from 8am to 6pm at Nilai Springs Resort Hotel. We have 10 Specialists as our program speakers and will be having sessions in Head and Neck Cancer, Colon Cancer, Thyroid Cancer, Palliative Care and Interventional Radiology. We wish to invite all the General Practitioners to attend our NMC Oncology Conference. Registration is open until 22nd March 2019. For RSVP purpose, kindly send the details to Ms Nurfadillah (011-37573433) and Ms Syazwani (019-2645844) or email to marketing@nilaimc.com(Marketing Department).
8 CPD Points & AMM Points will be awarded to each participant
6 CPD Points for Registered Pharmacist (Code: MPS 0010/2019)
Entry fee of RM150.00 per person
20% early bird discount (RM120.00 per person) if you register before 28th February
To register, send us your name and contact details to marketing@nilaimc.com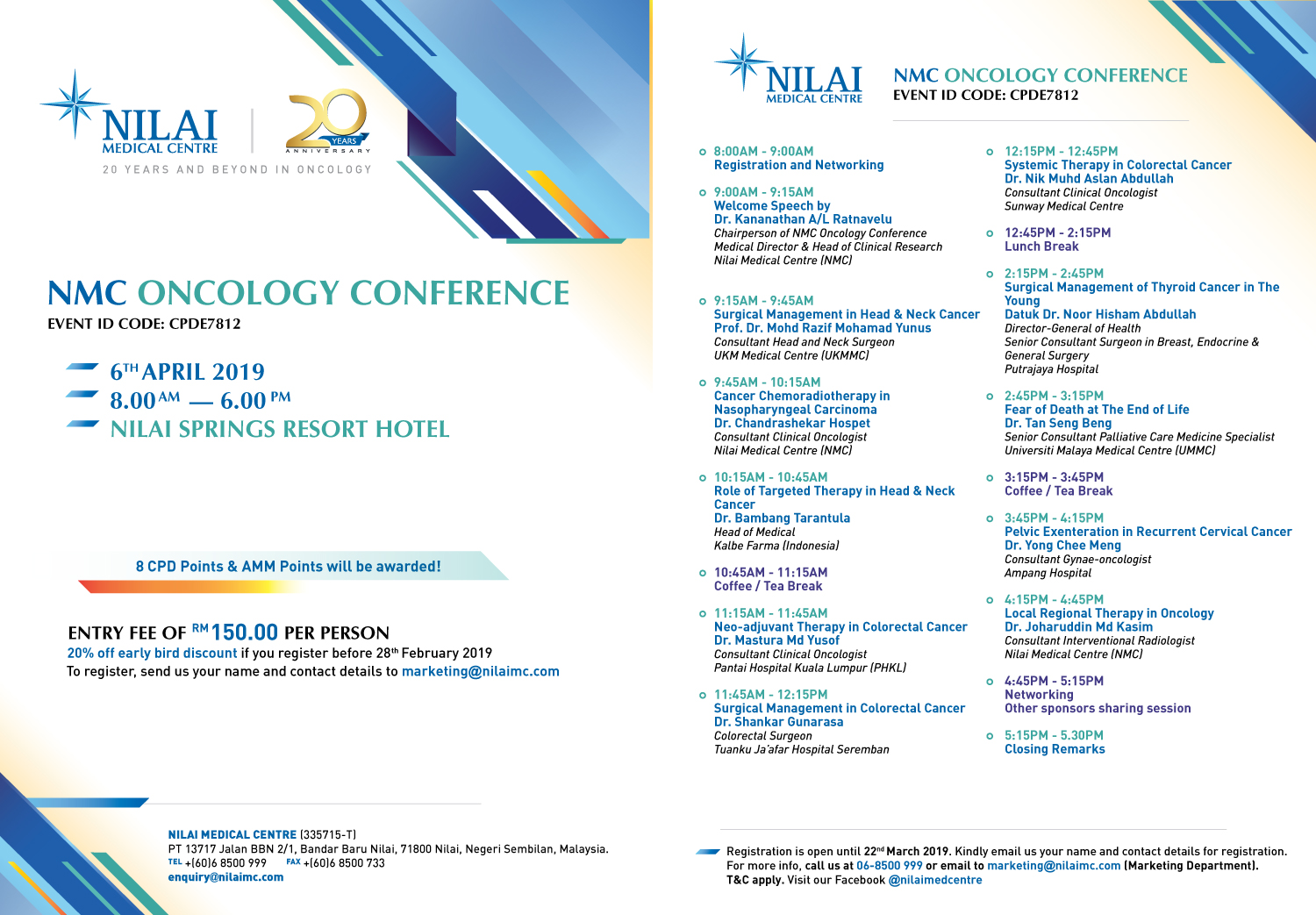 Frequently Asked Questions (FAQS)

How do I register for the conference?
Kindly send an email to marketing@nilaimc.com by providing the following details:
Full Name
NRIC
Email
Contact Number
Clinic/Hospital
How did you find out about the conference

How much do I need to pay?
Registration fee is RM150. If you submit registration and payment before 28th February, you're entitled for an early bird rate, which is at RM120.

What is included in the registration fee?
The registration fee includes tea/coffee breaks and lunch.

What is the available payment mode?
Payment can be made via bank transfer to our account: "Asiaprise Biotech Sdn Bhd", 8004520676 (CIMB Bank).
Please email us the bank-in slip as proof of payment to confirm your participation.

I wish to cancel my registration. Do I get a refund?
Refunds for payment made are not available. Registration may, however, be transferred to another person to attend this event. Notice of the transfer request must be made in writing to marketing@nilaimc.com 7 days prior to event.

Sponsorship opportunities are available! Let us kow if you are interested.
For other enquiries, do email us at marketing@nilaimc.com or call us at 06-8500999