Description
Norgesmesterskapet i maskinoppvask
---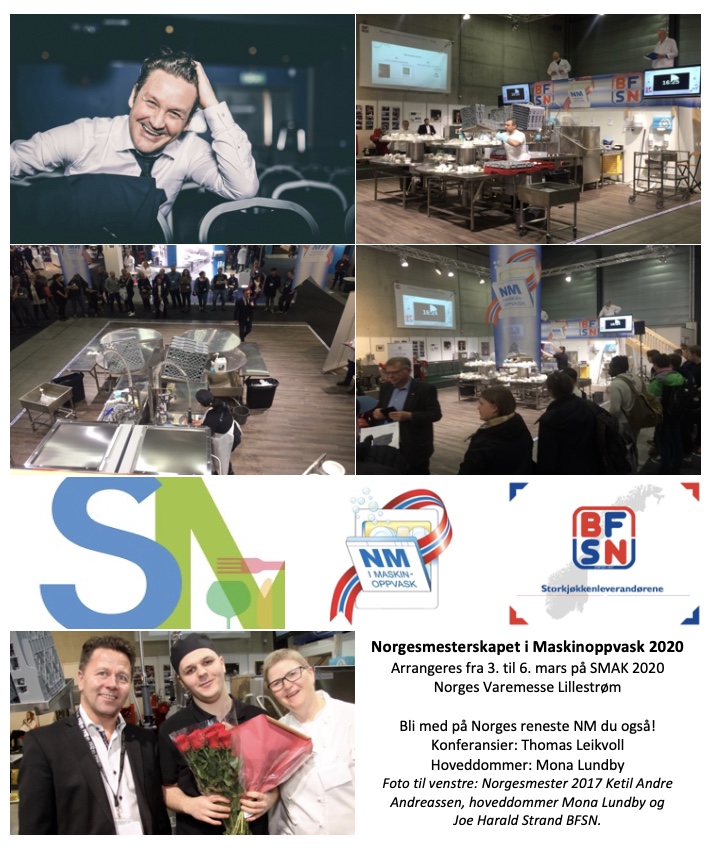 Slik foregår konkurransen:
Hver dag kl. 10 – 11 gir hoveddommer opplæring og gjennomgang av hvordan konkurransen foregår, hvilke punkter dommerne legger spesielt vekt på osv.
Deltakerne konkurrerer med egne arbeidsklær. Plast forklær og hansker er tilgjengelig for deltakerne. Det er egne rom for omkledning på standen.
Det er to komplette oppvasklinjer på standen. I hver linje er det en hette- og en under benk/ glass- vaskemaskin. Alt nødvendig utstyr, oppvaskgods etc. som skal til for å gjennomføre oppgaven finnes tilgjengelig for deltakerne. Det blir klargjort «skitten» oppvask til ca. 12 oppvaskkurver til hver oppvasklinje.
I hvert heat vasker to deltakere «mot hverandre», og konkurransen varer i 20 minutter. Tiden er inklusive rengjøring av benker, gulv, maskiner og utstyr.
Det viktigste er ikke å bli først ferdig, men å gjøre jobben mest mulig hygienisk og i henhold til lover og regler. Effektiviteten teller også, men bare som en del av helheten.
---
Her kan du registrere ønske, om å delta i NM i maskinoppvask 2020.
NM arrangeres under SMAK2020 messen fra 3 til 6 mars 2020. Premiestige for NM 2020 er Kr10.000 til førsteplass. 5.000 tilandreplass og 3.000 til tredjeplass.
Registreringen foregår slik: Vi ønsker så mange påmeldinger som mulig. Alle som registrerer sin interesse for å delta, vil vi i god tid før konkurransen, bli kontatet av oss med beskjed om de til slutt får plass i Norgesmesterskapet. Du registrerer deg og legger i gjenn din epostadresse slik at vi kan kontakte deg. NB vi kommer ikke til å benytte adressen til andre formål enn det som har med konkurransen å gjøre.
Oppvaskere fra alle sektorer er velkommen som deltaker. Jobber du i en kantine, restaurant, hese, hotell eller restaurant, er du en potensiell deltaker i konkurransen. Det er kostnadsfritt å medle seg på/ delta i NM.
Vi ønsker alle nye og tidligere deltakere velkommen til å registrere seg.