Description
The 9th annual NM Desertfest at Atlantic Aviation is a celebration of all automotive cultures and the incredible creations they produce!
At NM Desertfest you will find everything from imports to domestics, racers and off-roaders, bikes and trikes, and just about everything in-between. There will be live music, food, and fun for the whole family!
Last year NM Desertfest brought over 8,000 spectators to Wise Pies Arena to enjoy over 450 vehicles from all over New Mexico and the surrounding area.
We are proud to announce our continued partnership with the Boy and Girls Club of Central New Mexico, who will be receiving 100% of the proceeds from this event to benefit New Mexico's youth.
The event will also feature tons of photo and video coverage, and as usual, our friends at 1320 Video will be in attendance.
Packages:

Premium: Allows you to enter the event first from 12:00pm to 2:00pm and you get basic parking.

Premium + Package: You come in later in the day and will have preferred parking in the most exposed areas of the event.
1- When and where is the event? The event is on June 10th 2018 and it will be at 2505 Clark Carr Loop SE, Albuquerque, NM 87106.
2- Is the show free for spectators? Yes, the show is 100% free to attend as a spectator. If you want your car in the show, you must register your car and pay for a ticket.
3- I want to be in the show, what do I need to do? Entering a vehicle in this year's NM Desertfest will cost $35 for Premium packages and $50 for Premium Plus when pre-registration opens on May 1st. Registration will end on June 5th at 12:00 am MST. There will be no admission fee for passengers of cars participating in the event.
4- What time does the event start? The event starts at 4:00pm and ends at 8:00pm.
5- When do show cars begin arriving? Show cars should begin arriving at 12:00pm for premium ticket holders and 2pm for Premium Plus. Give yourself plenty of time for entry. YOUR CAR WILL BE INSPECTED BY POLICE BEFORE ENTERING THE TARMAC. Please leave firearms and contraband at home.
6- Can me and my crew park together? If you are a crew or a club and you want to park together you must show up together. If there is no space for your club to park together, we won't be able to make room for you. Parking together is never guaranteed.
7- What do registered cars need to bring with them to validate their purchase? You must bring a receipt of your ticket purchase for you to enter the event. No receipt, no entry. We will make absolutely no exceptions. The receipt/ticket will need to be printed after you have registered your car, please do not forget it.
8- Will there be food and drinks? Yes, there will be six food trucks serving a verity of food and beverages.
9- Are tickets refundable? Tickets are not refundable. If you can't make it to the event, please make sure you do not purchase a ticket.
10- Who does this event benefit? 100% of all proceeds generated from ticket sales to this event will be donated to the Boys and Girls Club of Central New Mexico.
11- Will this event be judged? No, this event will be not judged.
12- What makes this event different? This will be a unique car meet experience on the tarmac with an active runway as a backdrop.
13- Will there be a shuttle service from the spectator lot? Yes, there will be a shuttle service from the spectator lot if you do not want to make the short walk. The service will be running the entire time during the event.
Rules of the show:
1- No revving and absolutely no burnouts. If you are caught doing it, you will be escorted off the premises by the police.
2- If you have nothing good to say, don't say it at all. This is a community event for everyone to enjoy.
3- If you are bringing a tent or canopy it must be fireproof and have sandbags to keep it in place. Cars may not be placed under canopies.
4- All vehicles registered and participating in the show need to remain in place from 4pm to 8pm for event safety.
Vendors need to arrive between 10am-12pm to park and set up. Anyone that arrives outside of their designated parking times will be turned away. No exceptions.
Donation booths for the Boys and Girls Club of Central New Mexico will be set up throughout the event and we encourage people to donate what they can.
Please come adequately prepared for a beautiful but warm New Mexico afternoon. Bring sunscreen, hats, pop-up chairs, and additional shade if needed. Above all be safe, have fun, and help us in supporting New Mexico's youth!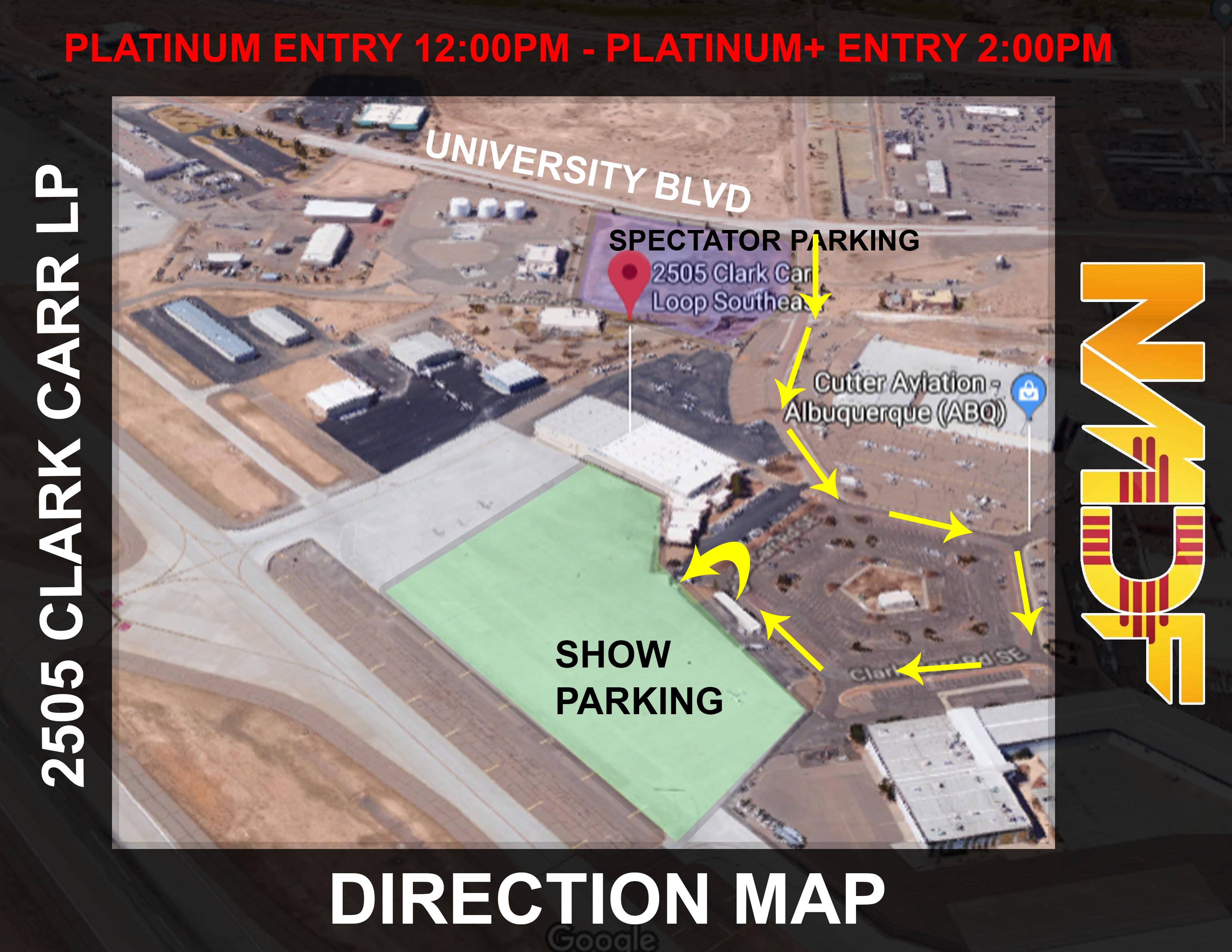 DISCLAIMER YOUR PARTICIPATION IN ANY PUBLIC EVENT, PRIVATE EVENT OR ACTIVITY LISTING IS AT YOUR SOLE AND EXCLUSIVE RISK. THE HOST OF ANY EVENT MAY REFUSE ADMITTANCE, MAY CHARGE AN ADMISSION FEE, OR ASK YOU TO LEAVE AN EVENT AT ANY TIME FOR ANY REASON. BY JOINING NEW MEXICO DESERT FEST YOU AGREE AND UNDERSTAND THAT IN CONNECTION WITH YOUR PARTICIPATION IN ANY EVENT OR ACTIVITY, YOU MAY BE EXPOSED TO A VARIETY OF HAZARDS AND RISKS, FORESEEN OR UNFORESEEN, WHICH MAY OR MAY NOT BE INHERENT IN THOSE ACTIVITIES AND EVENTS. THESE INHERENT RISKS INCLUDE, BUT ARE NOT LIMITED TO, THE DANGERS OF SERIOUS PERSONAL INJURY, PROPERTY DAMAGE, AND DEATH (INJURIES AND DAMAGES) FROM EXPOSURE TO THE HAZARDS OF PUBLIC OR PRIVATE OUTINGS AND ACTIVITIES AND NEW MEXICO DESERT FEST HAS NOT TRIED TO CONTRADICT OR MINIMIZE YOUR UNDERSTANDING OF THESE RISKS. BY JOINING NEW MEXICO DESERT FEST, YOU AGREE AND UNDERSTAND THAT INJURIES AND DAMAGES CAN OCCUR BY NATURAL CAUSES OR BY THE ACTS OF OTHER PERSONS OR THIRD PARTIES, EITHER AS A RESULT OF NEGLIGENCE OR BECAUSE OF OTHER REASONS. YOU ARE PERSONALLY RESPONSIBLE FOR ALL COSTS AND/OR RISKS ASSOCIATED WITH ANY PUBLIC OR PRIVATE EVENT OR ACTIVITY. NOTWITHSTANDING ANYTHING TO THE CONTRARY HEREIN, TO THE FULLEST EXTENT ALLOWED BY LAW, YOU AGREE TO WAIVE, DISCHARGE CLAIMS, RELEASE NEW MEXICO DESERT FEST FROM ALL LIABILITY AND INDEMNIFY AND HOLD HARMLESS NEW MEXICO DESERT FEST, ITS ORGANIZERS, HOSTS, SUBSIDIARIES, AFFILIATES, OFFICERS, AGENTS, VOLUNTEERS AND OTHER PARTNERS AND EMPLOYEES, FROM ANY AND ALL LIABILITY ON ACCOUNT OF, OR IN ANY WAY RESULTING FROM INJURIES AND DAMAGES IN ANY WAY CONNECTED WITH ANY EVENTS OR ACTIVITIES. YOU AGREE AND UNDERSTAND AND INTEND THAT THIS ASSUMPTION OF RISK AND RELEASE BE BINDING UPON YOU AND YOUR HEIRS, EXECUTORS, AGENTS, ADMINISTRATORS AND ASSIGNS, AND INCLUDES ANY MINORS ACCOMPANYING USER AT THE EVENTS.