Description
Are you curious about the design of comfortable, resilient and healthy buildings? Do you want to know more about how to accomplish these goals while creating a market rate development?

Join New Jersey Passive House for our biggest Passive House presentation and meet-up of the year for a presentation and NAPHN members-only tour of the recently completed Candela Lofts Passive House Development in Hoboken. Bijou Properties, nastasi architects, and bldgtyp will present their integrated team approach to building a successful market rate Passive House multi-family housing project. Stay for snacks and drinks after the presentation to mingle with attendees and manufacturers to learn how you can build passive.

Following the presentation, a select number of NAPHN members can join the team for an exclusive private tour of one of the Candela Lofts apartments and have the unique opportunity to discuss the project in more detail with the team members first hand. Space for the tour is limited and is on a first come first served basis. Not a NAPHN member? No problem. Click here to become a member and gain access to the members only tour.

This event is for all building professionals and anyone interested in high performance building including policy makers, owners, developers, real estate professionals, and those interested in learning more about sustainable design.
More about this event...
Candela Lofts Presentation and Member Tour:
6-7pm: Candela Lofts Presentation by nastasi architects, Bijou Properties, and bldgtyp
7-8pm: Wine and cheese gathering and networking
7-8pm: NAPHN members only tour of Candela Lofts and fireside chat with the project team and manufacturers *Limited spots are available for the tour on a first come first served basis
8-10pm: Informal meetup and drinks with NJPH members at Pilsner Haus


Registration/Ticket Options:
Presentation: $10.00 - Presentation and wine/cheese gathering.
Presentation and Candela Loft Tour/Members Only: FREE - Presentation and tour free to members of NAPHN affiliates. For a list of affiliates, see here.


Transportation Options:
By Car: Parking available in the paid parking garage accessible from Harrison Street
By Public Transportation: Hudson-Bergen Light Rail, 9th Street Congress Street Station or NJ Transit Buses


Questions?
Contact NJPH:
email: hello@njpassivehouse.com
Website: www.njpassivehouse.com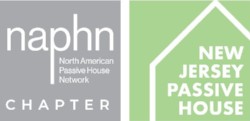 Candela Lofts Team:



Event Sponsors: