Jersey Arts People's Choice Award Winner for "Favorite Performing Arts Camp"!
About this event
NJPAC Geri Allen Jazz Camp
This one-week immersion program is an exciting opportunity for you to refine your jazz technique, grow your confidence and build community with other aspiring performers, ages 14-26, who identify as female or non-binary. You'll work with professional jazz artists in individual lessons, small ensemble work and industry panel discussions.
This program runs daily July 6-July 11, 11AM-4:30PM EST with a 1 hr break.
The program is led by Artistic Director Regina Carter and joining her on faculty will include:
Brinae Ali - tap dance
Carla Cook - vocal
Stefon Harris - ear training and theory
Marion Hayden - acoustic bass
Camila Meza - guitar
Allison Miller - drums
Ellen Rowe - piano
Bria Skonberg - trumpet
Bruce Williams - saxophone
Audition Videos will be required for Placement prior to July 6.
Students less experienced with jazz improvisation, or any other aspect listed should not be anxious about these requirements as the camp caters to all levels. Beginning students should simply demonstrate any of the below criteria to the best of their ability. If you're unfamiliar with any of the material or new to improvising, let us know. Don't be intimidated or embarrassed; do the best that you can do. The Geri Allen Jazz Camp welcomes beginning and experienced students alike. You are coming to camp to learn and we are ALL still learning.
Familiarize yourself with and Play Through as Many as Possible:
Chromatic Scale: Full range of Instrument (or what you are comfortable playing)
Major Scales/ Arpeggios (C, F, Bb, Eb, Ab, G, D)
Dominant 7th Scales/Arpeggios (C, F, Bb, Eb G, D, A)
Dorian Minor Scales/Arpeggios: (C, F, G, D, A, E)
Blues Scale: (C, F, Bb, Eb, D, G)
Ensemble placement repertoire – Vocalists
Vocalists: Choose keys with that are comfortable.
All of Me (Gerald Marks and Seymour Simons)
Sarah Vaughn https://youtu.be/-Ejziczu1fg,
Ella Fitzgerald https://youtu.be/1JaJtNLhlfk
On the Sunny Side og the Street (Jimmy McHugh)
Benny Goodman & Peggy Lee https://youtu.be/lNekniIgjCk
Ella Fitzgerald https://youtu.be/H0grl8rKUiw
One Note Samba
Nancy Wilson, https://youtu.be/QPv1e-PxFKQ
Peggy Lee https://youtu.be/NPDmNwopdxE
Sophisticated Lady
Ella Fitzgerald, https://youtu.be/usAScVXhAhw
Billie Holiday https://youtu.be/hHksWjoGs0I
Ensemble placement repertoire- Instrumentalists
Drummers:
Demonstrate swing feel, ¾ swing (slow, medium, and up-tempo, with sticks and brushes), Bossa Nova, Samba, and Shuffle.
Drummers should (in place of a standard tune selection) prepare to demonstrate basic time feels: Swing in 4/4, and 3/4 (slow, medium, and up-tempo, with sticks and brushes), Bossa Nova, Samba, and Shuffle.
Bass Players:
Play the melody to the tune you have chosen. Demonstrate a walking bass line.
Doxy (Sonny Rollins)
Miles Davis Quintet https://youtu.be/XpueyrkcMyQ
Dextor Gordon https://youtu.be/zePhz_v_on0
Bye Bye Blackbird (Mort Dixon and Ray Henderson )
Kenny Barron https://youtu.be/pgc_qbl7g70
Miles Davis https://youtu.be/KV2lNHfSXBQ
Oleo (Sonny Rollins)
Miles Davis Quintet https://youtu.be/9IY29EZb1pI
Bill Evans https://youtu.be/5oatcu54hMc
On the Sunny Side og the Street (Jimmy McHugh)
Dizzy Gillespie/Sonny Rollins/Sonny Stitt https://youtu.be/G4H9k-d9fBk
Benny Goodman & Peggy Lee https://youtu.be/lNekniIgjCk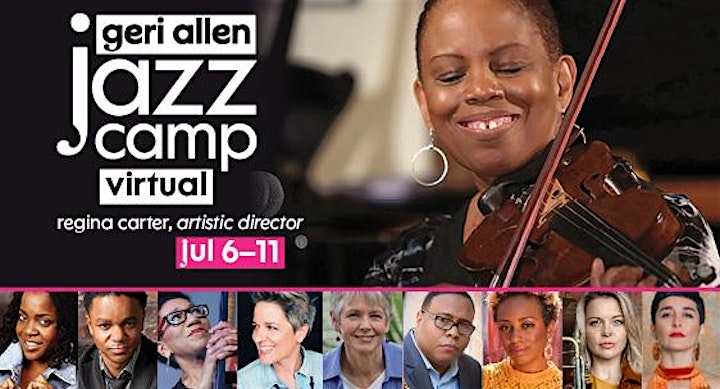 Regina Carter
Artistic Director
Trying to fit Regina Carter into a neatly defined musical category is pointless. She enjoys performing many styles of music—jazz, R&B, Latin, classical, blues, country, pop, African, and on and on. In each she explores the power of music through the voice of the violin.
A recipient of the MacArthur "genius" award and a Doris Duke Artist Award, Regina has been widely hailed for her mastery of her instrument and her drive to expand its possibilities. In 2018 she was named artistic director of the New Jersey Performing Arts All-Female Jazz Residency, a unique summer immersion program for aspiring women jazz professionals. In December of that year she was nominated for a Grammy for Best Improvised Solo for "Some of That Sunshine," the title track on vocalist Karrin Allyson's album. She is on the faculty of the Manhattan School of Music. Past positions have included artist in residence at the Oakland University School of Music, Theatre, and Dance; resident artist for San Francisco Performances; and resident artistic director for SFJAZZ.
Born in Detroit, Regina began studying violin at the age of four using the Suzuki method. She attended Cass Technical High School in Detroit, and her training continued at the New England Conservatory of Music and at Oakland University in Michigan for jazz. She taught violin in public schools in Detroit and on a U.S. military base in Germany. She first gained attention with Straight Ahead, an all-female jazz quintet that recently celebrated its 25-year reunion at the Detroit Jazz Festival. She also recorded and toured for six years with The String Trio of New York.
In 1995 Regina released her self-titled solo debut on Atlantic Records. Three more albums followed in rapid succession: Something for Grace (1997), Rhythms of the Heart (1999), and Motor City Moments (2000), all on Verve. Traveling to Genoa, Italy, and making history by being the first nonclassical violinist to play Niccolò Paganini's Il Cannone ("The Cannon"), the legendary violin built by Giuseppe Guarneri in 1743, inspired her next effort, Paganini: After a Dream (Verve, 2003). I'll Be Seeing You: A Sentimental Journey (Verve, 2006) became a powerful and heartfelt tribute to her late mother. The connection to family, history, and tradition continued in Reverse Thread (E1 Music, 2010) and Southern Comfort (Sony Masterworks, 2014), drawing ties between her own African heritage and her family's history. Her most recent release, Ella: Accentuate the Positive (OKeh, 2017), celebrates the music and spirit of her inspiration, musical legend Ella Fitzgerald.
Regina also can be heard on such albums as Arturo O'Farrill's Fandango at the Wall: A Soundtrack for the United States, Mexico and Beyond; Stefon Harris's Sonic Creed; John Beasley's MONK'estra, volume 2; and James Carter's Caribbean Rhapsody, along with Eddie Palmieri's Listen Here!, which won a 2005 Grammy award for best Latin Jazz album, and the Grammy-nominated Freefall with Kenny Barron.
She has performed at numerous jazz festivals, including Monterey, Newport, Detroit, Atlanta, Bern, Montreux, Miami, New Orleans, Montreal, Mid-Atlantic (Washington, DC), PDX (Portland, Oregon), Rochester, and North Sea (Rotterdam, the Netherlands). Among the orchestras she has appeared with are the Detroit Symphony Orchestra, the Chicago Symphony, the Orquestra Sinfônica do Estado de São Paulo, the Knoxville Jazz Orchestra, the Atlanta Symphony, and the Chicago Sinfonietta. Particularly thrilling was her participation in the 2017 International Jazz Day All-Star Global Concert in Havana, Cuba.
A winner of multiple readers' and critics' poll awards from DownBeat, JazzTimes, and other publications, Regina tours with her own group and has appeared frequently as a guest soloist, including with such performers as Kenny Barron, the late bassist Ray Brown, Akua Dixon, Steve Turre, Stefon Harris, George Wein, Mary J. Blige, Joe Jackson, Billy Joel, Dolly Parton, Omara Portuondo, Cassandra Wilson, and Chieli Minucci and Special EFX.
Regina has twice been a Pulitzer Prize jurist. She is currently featured in J. Jill's "Inspired Women" ad campaign.
Regina lives in Maywood, New Jersey, with her husband, drummer Alvester Garnett.
Date and time
Location
Refund policy