Description
EVENT SPONSORS:
Wednesday, April 26, 2017, 3:00PM - 9:00PM
Crowne Plaza Saddle Brook
50 Kenny Pl, Saddle Brook, NJ 07663
Attend one or both events for one low price...
The leading advertising and media resources in the Garden State are coming together again for another networking event and facility presentation. These events have been hosted at various locations around New Jersey since 2008. They provide a unique opportunity to meet and network with local wedding businesses, representatives of print and online media, and much more, attracting between 150-300+ wedding professionals from the Tri-State area at each event.
Come out to this exclusive venue presentation and meet wedding & event planners, DJ's, entertainers, photographers, florists, videographers, officiants, travel agents, caterers, venues, limousines, cakes, invitations, favors, gifts, beauty and professionals in many other wedding/event related categories. Make valuable connections and contacts to help grow your business!
The brand new Crowne Plaza Saddle Brook Hotel is the perfect destination for weddings, business meetings and leisure travelers. It is ideally located on Interstate 80 and the Garden State Parkway! Come and see our 6700 square feet of meeting and event space,
Educational Seminar (3:15PM – 6:00PM) | Doors open @ 3:00PM
1) "Email Marketing 2017"
Presented by ConstantContact.com
One of the greatest business assets in your online marketing arsenal is hands down your list. Of course the center of the list is the way you collect the data along with the email addresses that are on it. Learn more about lead organization and email marketing.
2) "SEO Optimization 2017"
Presented by HeraldSquareSEO.com
Herald Square SEO was founded by Christopher Caliph Herald. Christopher has been in the IT field professionally since 2000 spending most of those years mastering Java Web Development. He has been instrumental in some of the biggest websites online, including Sirius XM, Havaianas and Jay-Z's Roc Nation, just to name a few. Throughout his years as a developer he has seen many clients implement a third party SEO solution. He had come to realize that these so called "SEO experts" knew very little about SEO or even how the web worked. We are experts in our field.
Business 2 Business Networking Mixer (6:00PM – 9:00PM) | Doors open @ 5:30PM
"Networking, Food, Prizes and Entertainment"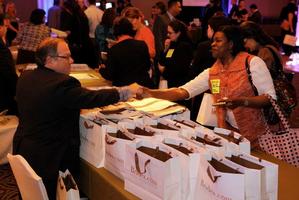 Network and establish relationships with other wedding industry professionals and talk with leading wedding industry business building resources in the internet, print and bridal show fields.
This is your chance to mingle, discuss trends and make your business a success in 2017 and beyond. Bring plenty of business cards for networking.
Since 2008, our exclusive and unique events helped thousands of local NJ/NY/PA metro business professionals in the wedding industry connect with, make solid lead contacts and find resources for marketing to engaged couples. Our elite group includes some of the most successful and reputable marketing & advertising experts in the industry… Wedding Zone, Wedding Zone Local, NJWedding, Celebrations Guide, Perfect Wedding Guide, Bridal Expo Northeast, Contemporary Bride Magazine, Local Traffic Builder, AFWPI, Conde Nast Publishing (Brides.com).
Are you ready to take your wedding business to the next level?
- Click here to register
- Click here for NJWVN on Facebook
- Click here to view all NJ Wedding Vendor Network Events
Comments about past events:
Geri Igler Gems had a fantastic time at this event! The educational seminar had great information and the vendors at the networking session were amazing.I cannot wait to be a part of the next event! ~ Geri Igler
Excellent - hope to make it to a future event. ~ T.R. Laz
Yes this was a GREAT event! Kudos for organizing this and to all the speakers and people who attended as well!!! ~ Laura Adaza
Such a great night! Hope everyone was able to walk away with valuable information to help grow your business. That's why you come to networking events like this. One nugget that you take home with you can change everything moving forward. ~ BrideLive Jay
Slumber Parties by Edna wants to thank everyone who work for this event and for the invitation. Totally worth the $10!!! It was amazing! Please keep me in mind for any future events. ~ Edna F Felix
Great seeing you guys as always, great time! xo ~ Tracey Elving
So great hanging with some of the best in the biz...xo you all ~ Veronica Lynn Yankowski
Another FANTABULOUS time see all you guys again. Fun Times!! YES, connections were made... ~ Deirdre Mahon
I just wanted to say I met some great people tonight. ~ Andreea Gerwin
Participated in a huge business-to-business event at The Landmark banquet hall in Jersey, where I served meatballs and again made multiple connections. ~ Johnny Meatballs
Exhibitor and Production Inquiries: 973-546-1503