Associates & their Guests are invited to participate in a HUGE Event, with the President of the Most Respected Company in our Industry...
About this Event
SPECIAL ZOOM CONFERENCE - VIRTUAL SHOWCASE EVENT!!!
11:00 AM - BUSINESS OVERVIEW!!!
Two of our MOST EFFECTIVE LEADERS, will be presenting a High Impact Business Overview to your invited Guests on Saturday morning! THIS WILL BE HUGE!!! Be sure to work with your team and have everyone Invite MANY Guests onto this incredible Zoom Business Preview, this Saturday morning!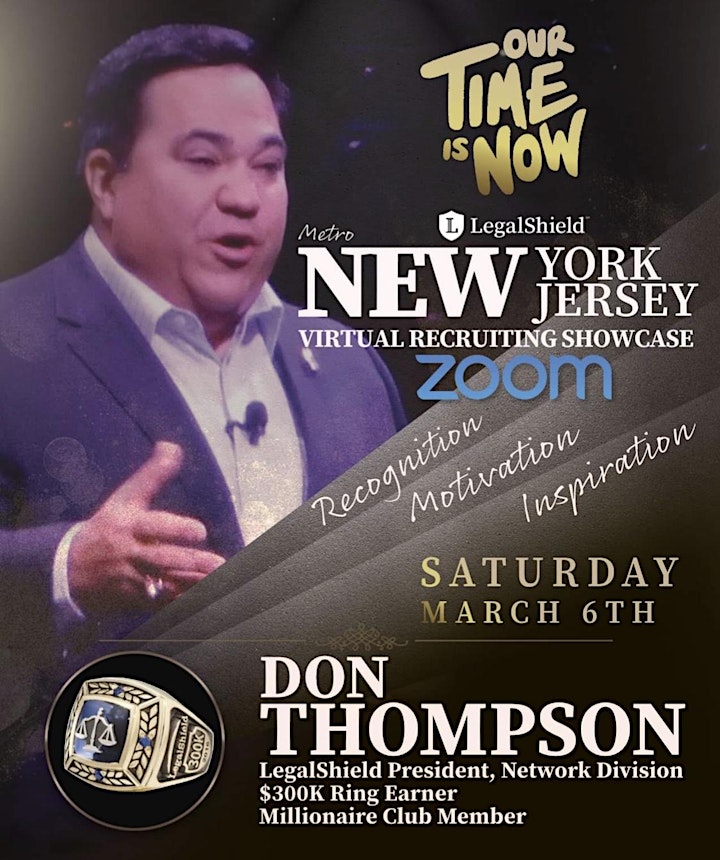 ANOTHER BIG EVENT WITH A FOCUS ON IMMEDIATE GROWTH IN 2021 & BEYOND!
This is Learning, Understanding, Planning & The Big Picture... that will advance your belief & momentum in 2021!
Mr. DON THOMPSON has been passionately changing lives and creating success stories for years… and now, he wants to help you win big too!! DON'T MISS THIS OPPORTUNITY to have MANY GUESTS participate on this Saturday's powerful event. It will empower them and you to break the cycle of ordinary and start living the extra-ordinary life you were purposed for and help you build a large business and profitable ongoing income.
---------------------------------------------------
SATURDAY, MARCH 6, 2021
NJ & NY METRO AREA - REGIONAL SHOWCASE EVENT
11:00 AM - 2:30 PM - Eastern Time
ONLINE "ZOOM" VIDEO CONFERENCING
(Must Register for Access to this FREE online event)
NJ & NY Metro Area Leadership will be there…
~ LegalShield Ring Earners
~ Executive Directors
~ Regional Directors
~ Market Leaders Council
Recognition of Achievement at many levels…
~ New Associates
~ Fast-Start Bonus Qualifiers
~ All New Rank Advancements
~ Senior Directors
~ Executive Directors
~ Performance Club Qualifiers
---------------------------------------------------
SPECIAL CASH-APP DRAWINGS:
Special Items, including up to $1,000 CASH will be available in several ON-LINE drawings on Saturday, March 6th. WE'VE INCREASED THE MONEY WHEEL!!! These special drawings will be exclusively available to EVERY ASSOCIATE who is PRE-REGISTERED and HAS GUESTS logged-in to the 11:00 AM ZOOM Business Overview. The more Guests you have... the more MONEY you can have sent to YOU through CashApp on Saturday!
---------------------------------------------------
Saturday, March 6, 2021
11:00am - Business Overview (Invite Many Guests to Join You)
This Virtual Regional Showcase event is FREE for everyone. Associates MUST REGISTER to be entered in CashApp & Laptop Drawings.
REGISTERED ASSOCIATES will be sent an EMAIL ON FRIDAY with the ZOOM LINK for the Virtual Regional Showcase Event.
Login on Time / Dress to Win / We Want to SEE YOU on Video