M365 User Group Monthly Virtual Meetup
About this event
The NJ M365 User Group Monthly Meetup is an Office 365, SharePoint, PowerPlatforms and Azure User Group focused on business, administrator, developer and architecture topics. We strive to provide value to all attendees in an open environment where all are welcome to share their experiences, ask questions, and network with other attendees.
If you are a speaker and you want to share your expertise with the audience, please register your topic in the link below.
If you want to be a speaker, please register your topic in the link below.
Speaker registration Link:- https://sessionize.com/techspeakers/
If you want us to cover few topic, again, please reach out to us.
This event is all of learning and improving our professional skills which comes at NO COST. A free event to learn Microsoft 365 and many more.
Join us for 2 hours and learn from your area experts, MVPs, RDs and more.
Speaker of the day : Dean Schuster
Topic : What the Soviet Space Program Taught Me About Digital Product Development
Description:
The space race between the USA and USSR was one of the great dramatic stories of the 20th century. Our very industry was born as Washington and Moscow relentlessly competed to master the stars.
For space nuts like me, this fascinating time is utterly compelling. It's also highly instructive for digital product developers. After all, engineers drove the innovation that pushed us beyond earth. The lessons they learned and processes they created can help us today as we make software, apps, and advanced functionality online.
Of course, the Soviet side of the story tends to be less understood. And that's exactly what we'll explore. It's unbelievable stuff, and a cautionary tale for development teams.
WHAT YOU'LL LEARN
- How differing philosophies of development lead to different processes and results.
- What Soviet imperatives parallel modern development approaches.
- Why the USSR led the space race early, but ultimately failed to reach the moon first.
- What we can learn, adapt, and avoid today from the 20th century Soviet model.
About the Speaker:
Dean Schuster, UX Strategy Expert and Partner in Truematter.
Founder and partner of truematter, a user experience strategy firm, Dean has been advocating for user-centered digital products since the advent of the commercial web. He oversees truematter's UX practice, leading strategic engagements for innovative regional organizations as well as the Fortune 100.
Dean's expertise and work includes researching, prototyping, and testing digital products with real users. He regularly speaks, writes, and teaches on user experience design & strategy, usability, user research, content strategy, and building UX-focused development teams. He also organizes UX Columbia.
It's not all UX all the time (even though it's close). Dean is also an avid ultra marathoner, trail race-director, reader, and traveler.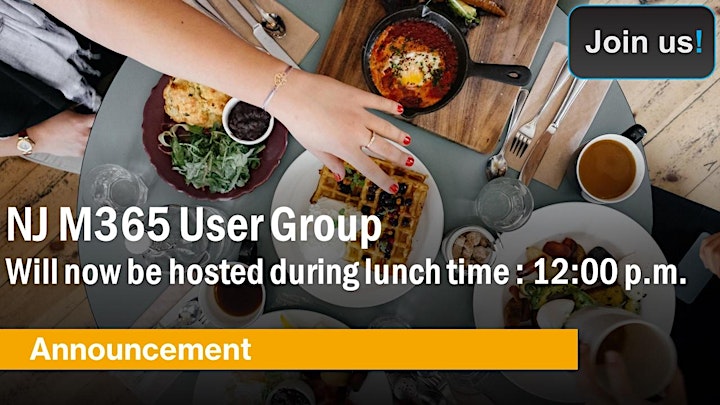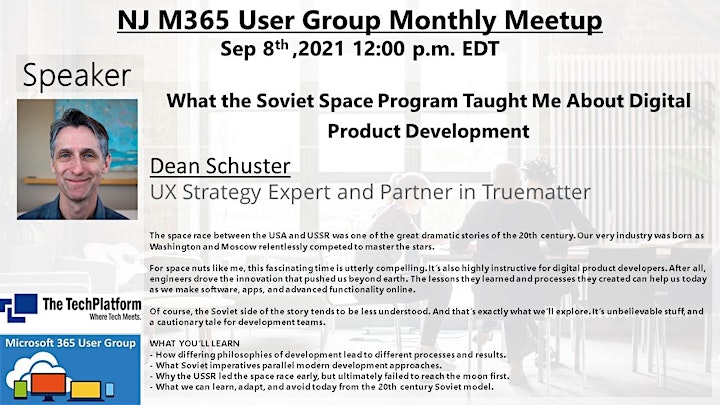 Organizer of NJ M365 User Group Monthly Meetups
Visit our website for information about this group: