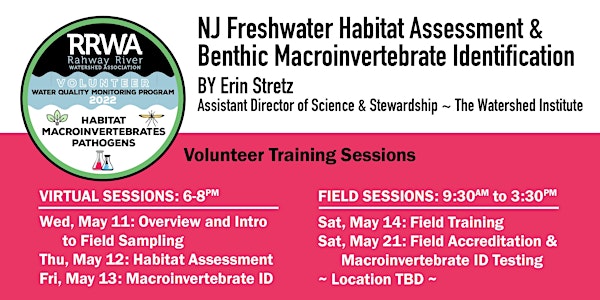 NJ Freshwater Habitat Assessment & Benthic Macroinvertebrate Identification
NJ Freshwater Habitat Assessment & Benthic Macroinvertebrate Identification
About this event
Monitoring Streams with Visual (Habitat) Assessments
Monitoring our waterways is an important low-tech way of determining stream conditions and water quality. Visual assessments evaluate multiple physical parameters and convert qualitative information to quantitative scores. By scoring a stream, it becomes easier to determine a baseline level of stream health, justify the need for a restoration project, or compare how a stream's condition changes over time.
Why are macroinvertebrates used to monitor pollution and water quality?
Benthic macroinvertebrates are commonly used as indicators of the biological condition of water bodies. They are reliable indicators because they spend all or most of their lives in water, are easy to collect and differ in their tolerance to pollution.
*** Important***
There is a limited amount of space available for this program, so please be aware of a few things before signing up. Volunteers are expected to attend all of the virtual and in-person sessions. There will be a test at the end to determine your proficiency, after which the Rahway River Watershed Association will work with you to find a location near you where you can monitor on an ongoing basis. Habitat and Macroinvertebrate monitoring is performed twice a year, in the Spring and Fall.
Call Clea at 908-472-6152 with any questions
This program is made possible by the following :
The Rahway River Watershed Association
The Watershed Institute
NJ Watershed Watch Network
NJ DEP and AmeriCorps Watershed Ambassador Program