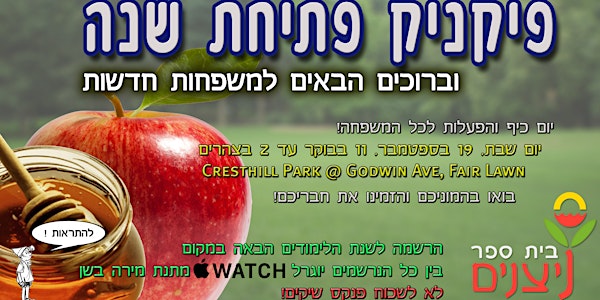 Nitzanim Year Opening Community Picnic
When and where
Location
Cresthill Park Godwin Avenue Across from house # 14 Fair Lawn, NJ 07410
Description
ברוכים הבאים לפיקניק פתיחת השנה של ניצנים!
הכניסה חינם לכל משפחות הקהילה - אנא הביאו פירות/עוגיות/בורקסים/שתיה או ככל העולה על רוחכם כדי לחלוק עם כולם.
בפארק אין שירותים, לתשומת לבכם.
מקום תהיה עמדת הרשמה - בין כל הנרשמים יוגרל
Apple Watch
מתנת מירה בשן! אז אם אתם מעוניינים לרשום את ילדיכם, לא לשכוח פנקס צ׳קים!
מקווים לראותכם
Please bring a dish or drink to share with the community!
There are no bathrooms in the park please make proper arrangements.
An Apple Watch, gift of Mira Bashan, will be raffled between all *registered* Nitzanim families, so bring your check book if you plan to register for your chance to win!