NIST Deputy Director Keynotes Advanced Energy Smart Grid & Fiber to Home
When and where
Location
Clyde's of Gallery Place 707 7th St NW Washington, DC 20001
Refund Policy
Contact the organizer to request a refund.
Description
You are invited....
to an event of the Broadband Breakfast Club
Advanced Energy, Smart Grid
&
Fiber to the Home:
Using Advanced Energy
to
Jumpstart Fiber Builds
http://broadbandbreakfastseries.eventbrite.com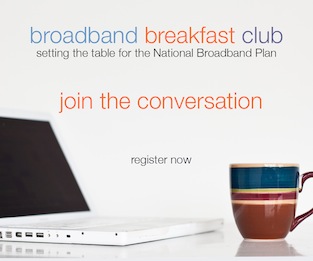 Advanced Energy, Smart Grid and Fiber to the Home:
Using Advanced Energy to Jumpstart Fiber Builds

Advanced Energy, or fully integrated and optimized energy conservation, is predicted to be an opportunity greater than the internet economy to date. Fast, reliable broadband will be a key feature of advanced energy implementation and distribution through smart grid systems. Yet, while smart grid networks of various complexity exist, new networks are limited by the short supply of fiber build outs. The United States is 15 percent built out with Fiber to the Home. How can we get the remaining 85 percent built? This breakfast will explore the works of various organizations and collaboratives tackling these issues.
Telecommunications advocates, policy-makers, journalists, top officials and the general public, all seeking to trade insights on these important issues, are invited to attend this event of the Broadband Breakfast Club, which includes full American and Continental breakfasts, for as little as $45.00, plus a modest registration fee.
This event is on the record and open to the public.
Keynote Speaker:
David Wollman
Deputy Director, Smart Grid and Cyberphysical Systems Program Office
Engineering Laboratory
National Institute of Standards and Technology
Dr. David Wollman is Deputy Director of the Smart Grid and Cyber-Physical Systems Program Office in the Engineering Laboratory of the National Institute of Standards and Technology (NIST). As program manager for NIST's smart grid standards and research activities, David leads efforts to coordinate and accelerate the private-sector development of smart grid interoperability standards and research to enable new smart grid advances. David is also the NIST lead in the White House's Green Button Initiative to enable consumers to securely download their energy usage information from their electric utilities in human- and machine-readable standardized electronic format. Before joining NIST's Engineering Laboratory, he managed efforts within NIST's Physical Measurement Laboratory to maintain and advance the Nation's electrical standards and metrology supporting the electric power industry, and previously served in several positions at NIST including scientific advisor, program analyst and bench-level scientist. Before joining NIST, Dr. Wollman received his Ph.D. from the University of Illinois at Urbana-Champaign in the areas of superconducting electronics and device micro/nanofabrication, and a B.S. in physics from Michigan State University. He has received many awards, including two U.S. Department of Commerce Gold Medals and the NIST Applied Research Award, and has three U.S. patents.
Panel:
John Hewa
Vice President of Research
Engineering and Technical Services
National Rural Electric Cooperative Association (NRECA)
John leads NRECA's Energy and Power Division, addressing technical aspects of regulatory issues facing electric cooperatives, and the Cooperative Research Network, working to identify and advocate for the use of beneficial technologies among our nation's electric cooperatives. Prior to joining NRECA, John served as the General Manager of Talquin Electric Cooperative, Inc. a member-owned, electric cooperative headquartered in Quincy, Florida. Talquin Electric provides electric distribution services to over 50,000 homes and businesses in four counties of north Florida, including areas surrounding Florida's capital city, Tallahassee. John was also General Manager of Talquin Water and Wastewater, Inc, a non-profit, Florida corporation providing water and wastewater utility services. Previous to his tenure at Talquin, John served as the utilities manager for the City of Manassas, Virginia, where he was responsible for overseeing the delivery of Water, Wastewater, Electric and Telecommunication services. John has a wealth of leadership and technical experience in the utility industry, focusing on utility management, energy delivery systems, telecommunications and innovative Smart Grid end-use solutions. Throughout his career, John has actively served on a variety of committees for NRECA and the American Public Power Association (APPA). John has served as Chairman of NRECA's Management Issues Committee and as a Board Director for the Florida Electric Cooperative Association. While in Florida, John served on the Board of Directors of Seminole Electric Cooperative, a Generation and Transmission cooperative, headquartered in Tampa, Florida delivering electricity to 1.6 million Floridians. John holds a Bachelor degree in Electrical Engineering from the University of Tennessee and Masters degree in Engineering Management from the University of Tennessee. He is a licensed Professional Engineer.
C. David Hudgins
Director of Member and External Relations
Old Dominion Electric Cooperative (ODEC)
Old Dominion is a generation and transmission cooperative that supplies the electricity needs of twelve member electric distribution cooperatives that serve over 500,000 consumers in Virginia, Delaware and Maryland. In his position, Hudgins works with these member cooperatives and local, regional and state governmental agencies to identify and attract businesses to locate in the predominantly rural areas served by these cooperatives. Prior to joining Old Dominion in 1996, Hudgins served as the Director of Economic Development for Spotsylvania County, Virginia from 1991-1996. He began his career in manufacturing with E.I. DuPont de Nemours & Company where we held various positions. Hudgins has served on a wide range of educational, civic and community organizations, including the Metropolitan Richmond Economic Development Council, the Richmond chapter of the American Red Cross, the Henrico County Industrial Development Authority, the Henrico East Business Council, the Greater Richmond Chamber of Commerce, the Economic Development Committee of the Virginia Chamber of Commerce and the Virginia General Assembly's Joint Committee on Technology and Science. Most recently, Hudgins was instrumental in the conception and establishment of the Mid-Atlantic Broadband Cooperative and serves as vice-chairman of the Cooperative's board of directors. A native of Gwynns Island, Mathews County, Virginia, Hudgins earned a Bachelor of Science degree in Business Administration and Management at Virginia Commonwealth University.
James H. Salter
Chief Executive Officer
Atlantic Engineering Group
James Salter is founder and President of Atlantic Engineering Group, a design & build firm specializing in Fiber to the Home projects, particularly for electric utilities. Since its formation in 1996, Atlantic Engineering Group has been involved in 35 City Wide FTTH projects, representing 1,000,000 homes passed, and included 14 project having a significant Smart Grid component as part of the business case. Prior to founding AEG, and after graduating from Georgia Tech with an Electrical Engineering degree, Mr. Salter spent 15 years in the electric utility business at American Electric Power, Walton EMC and the City of Monroe Georgia. Mr. Salter is a former Chairman of the Board of Directors of the Fiber to the Home (FTTH) Council (www.ftthcouncil.org) an industry trade group whose mission is to promote fiber to the home as the ultimate access technology.
David Wollman
Deputy Director, Smart Grid and Cyberphysical Systems Program Office
Engineering Laboratory
National Institute of Standards and Technology
Malcolm D. Woolf
Senior Vice-President
Policy & Government Affairs
Advanced Energy Economy
Malcolm Woolf joined the Advanced Energy Economy (AEE) in September 2012. As senior vice president of policy and government affairs, Malcolm works to influence public policy, foster advanced energy innovation and business growth, and provide a unified voice for all segments of the advanced energy industry. Before joined AEE, Malcolm served as a Cabinet-level official with Governor Martin O'Malley. As head of the Maryland Energy Administration from 2007-2012, he helped enact and implement one of the most ambitious sets of energy goals in the nation, including the EmPOWER Maryland Act seeking a 15% reduction in peak demand and overall electricity consumption, a 20% renewable standard, and a 25% reduction in greenhouse gas emissions. Woolf was the chair of the National Association of State Energy Officials (NASEO), has testified before Congress on several occasions, and is frequently featured in national media. He was recently appointed by Secretary Chu to serve on the U.S. Department of Energy's State Energy Advisory Board. Woolf previously served as the director of the National Governors Association's Natural Resources Committee and counsel to the U.S. Senate Environment and Public Works Committee. He also was a senior attorney with the U.S. Environmental Protection Agency, and an associate with the law firms of Winston & Strawn and Piper & Marbury L.L.P. Woolf received his B.A. magna cum laude from Tufts University. He earned his law degree, as well as a Masters of Public Administration and Public Policy, from the University of Virginia.
Additional speakers have been invited
For News and Events on BroadbandBreakfast.com follow us at http://www.twitter.com/broadbandcensus
Event Details
Title: Advance Energy, Smart Grid and Fiber to the Home
Date: Tuesday, June 18th, 2013 8 a.m. - 10 a.m.
Where: Clyde's of Gallery Place, 707 7th Street NW, Washington, DC 20001
The breakfast begins at 8 a.m., followed by a discussion, beginning shortly after 8:30 a.m. and ending by 10 a.m.
The Broadband Breakfast Club is a "widely attended event" under House of Representatives Rule 25, clause 5(a)(4)(A).
-----
For individuals outside of Washington, or those whose schedule doesn't permit attendance in person, archived webcasts of the Broadband Breakfast Club are available for free on BroadbandBreakfast.com.
The Broadband Breakfast Club seeks sponsorship of our events from interested companies and organizations. For details on sponsorship opportunities, please contact Sylvia Syracuse at 646-262-4630 or sylvia@broadbandcensus.com. The Broadband Breakfast Club is produced by Broadband Census News LLC.
Follow us on Twitter at www.twitter.com/broadbandcensus
______________________________________________________________
The Broadband Breakfast Club is Sponsored By: