Ninth Annual Key Executive Leadership Conference
Description

---


Ninth Annual Key Executive Leadership Conference:

The Annual Key Executive Leadership Conference is a 200-person conference provided by the School of Public Affairs Key Executive Leadership Programs at American University. This event provides participants with the opportunity to explore principles, industry trends, and best leadership practices through key plenary and concurrent session presentations given by exceptional leaders in the field. Set in the heart of Washington, D.C., Key conference participants are from the federal government and public sector as well as non-governmental and non-profit organizations. The 2018 conference theme focuses on Innovation in a Box.
Program:
8:00 a.m. - 5:00 p.m. - Conference
5:00 p.m.- 6:00 p.m. - Networking Reception
*Registration includes Breakfast, Lunch and Networking Reception.
Keynote Speaker: Sam Worthington, Chief Executive Officer, InterAction
Key Conference Website: http://www.american.edu/spa/key/Key-Conference.cfm


*Registration Note: You will be required to select your concurrent session choices for each of the four concurrent session times during registration. For Session Descriptions, Presenter Bios, Sponsorship Information, and more, visit the Key Conference Website (located above).
Contact Mary Margaret Herman mmherman@american.edu with any questions regarding registration.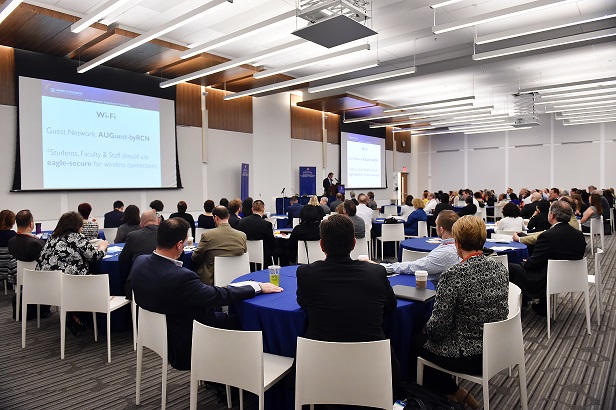 *Refunds or exchanges cannot be honored after May 6, 2018.
The registration and payment must be completed through the Eventbrite site.
• Registration is tax-free (Eventbrite does charge processing fees)
• SF-182s or other payment are accepted for groups of 10 or more
Here are some more options for troubleshooting:
1. Speak with your procurement team to make sure that Eventbrite is an approved vendor. We have had individuals remedy this within their agencies
2. Check to make sure all your billing information is entered perfectly before you try to buy tickets
3. Clear your cache and/or cookies or use a different web browser to complete your order
4. Try with another card
5. Contact Eventbrite: https://www.eventbrite.com/support/contact-us