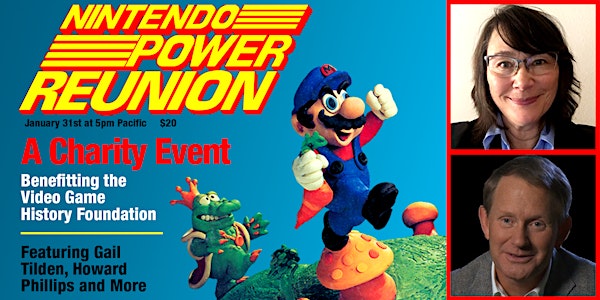 Nintendo Power Reunion - Stories from the Original Nintendo Power Staff
A fireside chat with the original staff of Nintendo Power magazine. Presented by The Video Game History Foundation.
Refund Policy
Contact the organizer to request a refund.
Eventbrite's fee is nonrefundable.
About this event
Nintendo Power was one of the most popular and iconic video game magazines in the US, and its original staff is getting together for the first time to talk about it! Our panelists are:
Gail Tilden, Nintendo of America's first VP of Brand Management, creator and first editor-in-chief of Nintendo Power Magazine
Howard Phillips, Nintendo of America's Game Master, co-star of the Howard & Nester comics in Nintendo Power Magazine
Leslie Swan, second editor-in-chief of Nintendo Power, and first Localization Director at Nintendo of America
Jeff Bafus, former Sales and Marketing manager at Nintendo of America, writer/editor for Nintendo Power and Nintendo Power strategy guides
PLUS NEW GUESTS! We'll be joined by several of the magazine's original artists for a portion of the event, led by The Interactive Art Collective.
David Harto, Nintendo Power cover artist, responsible for painting more than a dozen iconic early covers.
Kevin Brockschmidt, Interior Nintendo Power artist. Known for his work with hand-painted cels.
Scott Douwes, Nintendo Power interior artist at V-Design. Artistic contributor to the magazine for 5 years.
Join us for an incredible afternoon of stories and behind-the-scenes making of the classic Nintendo magazine. This livestream event features:
Fireside chat with staff of the original Nintendo Power, hosted by the Video Game History Foundation
Audience Q&A
This is a virtual event that will take place via a livestream link with your ticket order. (The stream will be archived and available to view later with your ticket.) 100% of ticket sales go to support The Video Game History Foundation, a 501(c)3 nonprofit preserving, celebrating, and teaching the history of video games.
Learn more about The Video Game History Foundation and our projects HERE!