Ninja Night Valentines [Parent's Night Out] Saturday 2/16 5-9pm
Description
Parents - It's your night out, date night, anything you want. Leave the kids with us! We'll have a blast!
On Saturday, February 16th from 5-9pm we will be hosting a Ninja Night (Parents Night Out) for our USSD families and guests.
For LESS THAN THE COST OF A BABYSITTER, you can head out with your significant other, gal pals or hang with the guys while we watch the kids, and feed 'em too!
4 HOURS OF FREEDOM!
Only $35, or $50 for the family (1 or more siblings). Only kids ages 4 and up please - Includes dinner and loads of structured fun in a safe place while you have time for yourself to unwind or dine!
Friends are allowed!! They can sign up separately. If your invites a guest, they'll get a prize!
Space is limited.
SEE WAIVER IN TICKET DESCRIPTION.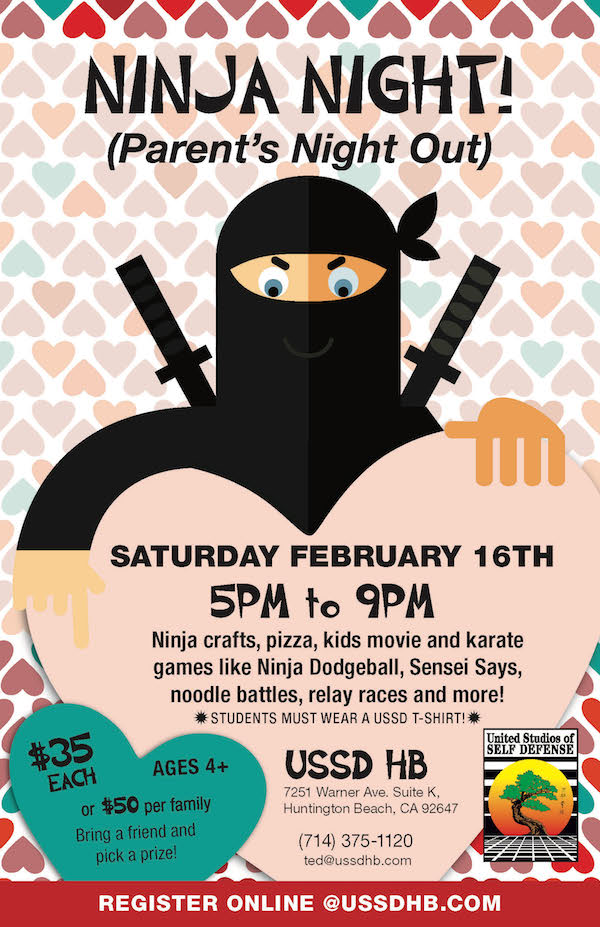 DETAILS:
Ninja Night is our 4-hour Parents' Night Out party, filled with things like Ninja crafts, pizza, prizes, kid's movie, and karate games like Ninja Dodgeball, Sensei Says, Noodle Battles, Relay Races and more.
We'll be having Ninja Nights throughout the year...each one has a different theme, like Valentine's Day, School's Out, Halloween, etc. We ensure the kids have the time of their lives while mom & dad get some "us" time.
Drop off and pick up your kids any time during Ninja Night, and feel free to pop in and check on everyone (or stay if you just can't be away :-)).
So go enjoy yourself, parents. Your kids will love you for it.
Upcoming Ninja Night:
Saturday, February 16th
5:00-9:00pm
First child entry: $35
Family Discount: $50 per family
USSD students bring a friend and get a prize!