Event Information
Location
El Corazon
109 Eastlake Ave East
Seattle, WA 98109
About this Event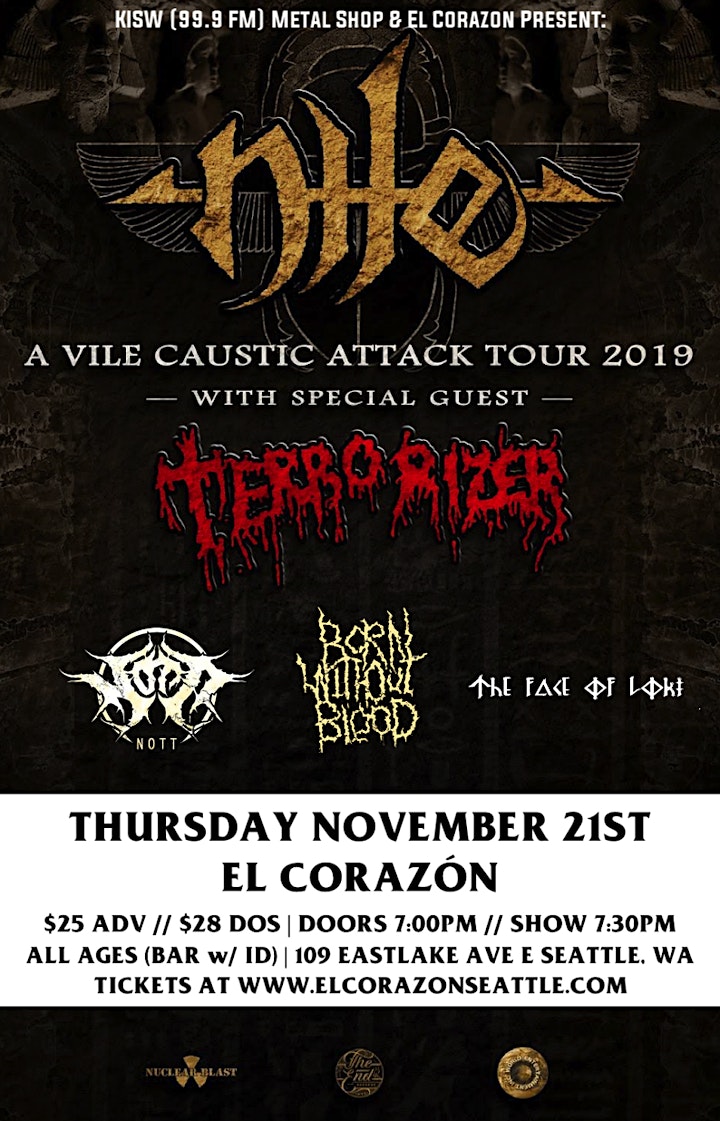 NILE
"History is Philosophy teaching by examples." – Thucydides, Athenian historian, c. 460 – 400 B.C.
It's been said that one of humanity's greatest attributes is our desire to remember. In light of the ancient world's epic tales of invasion, occupation, conquest, enslavement, domination, and all-out war, situating history against the equally violent passages of death metal music in such a thorough a...nd reverent way had yet to be achieved until the birth of NILE.
With films such as Ben Hur, The Ten Commandments, Land Of The Pharoahs, and Sodom And Gomorrah capturing his childhood imagination and driven by his own insatiable adult quest for unbridled sonic extremity, it was one nation's ancient culture – namely, Egypt – that fueled NILE founder, guitarist, vocalist, and head archeologist Karl Sanders' passion to learn of Egyptian gods and goddesses, temple carvings, inscriptions, papyri writings, hieroglyphics, and tomb paintings depicting battles, rituals, and religious ceremonies. Luckily, his encyclopedic knowledge has not been desecrated by amnesia. So vigorous did Sanders' zeal grow that it merged into the band's consciousness, elevating NILE into a peerless realm of flawlessly executed music and captivating lyrical content.
Formed in 1993 by Sanders, bassist / vocalist Chief Spires, and drummer Pete Hammoura, then later augmented in 1996 by second guitarist Dallas Toler-Wade, NILE's symphonic arrangements unleashed a unique approach to their uncompromising technicality and Middle Eastern-tinged songwriting with their two EPs, Festivals Of Atonement (1995), Ramses Bringer Of War (1997), and their first full-length, 1998's Amongst The Catacombs Of Nephren-Ka. Rightfully earning themselves a world tour with Morbid Angel and a festival debut at Dynamo Open Air in 1999, NILE were quickly gaining an onslaught of new fans that revered them as one of metal's most devastating new bands. Once home (and with the assistance of drummer Derek Roddy after Hammoura tore his shoulder), Sanders and company began work assembling and arranging the song fragments and ideas that were fermenting while on the road. Every night was spent obsessively researching (the lyrics alone took a year to finalize!), composing, arranging and re-arranging before entering Soundlab Studios in Columbia, South Carolina with producer/engineer Bob Moore to record the result of their meticulous labor: the masterfully grandiose and cinematic Black Seeds Of Vengeance, Terrorizer Magazine's coveted "Album Of The Year" for the year 2000.
Relentless touring through the U.S. and Europe followed, and it would be two years before the band would return to work with Bob Moore at Soundlab Studios (with new vocalist & bassist Jon Vesano replacing Chief Spires and drummer Tony Laureano replacing Hammoura in tow) on In Their Darkened Shrines, enthusiastically commended by Terrorizer Magazine as "a hair's breath from perfection" and giving us the live staple "Unas Slayer Of The Gods." NILE joined road forces with Arch Enemy, Napalm Death, Voivod, Strapping Young Lad, Danzig, Opeth, and Superjoint Ritual, made renowned appearances at Italy's Gods Of Metal and Fields Of Rock festivals, headlined in Japan for the first time, came back to the States to tour with Kreator and Vader, then returned to Europe for the X-Mass Festival.
Again, the band would rest before committing themselves to recording 2005's Annihilation Of The Wicked with engineer Bob Moore and producer/mixer Neil Kernon (Judas Priest, Nevermore) at Soundlab. Incorporating African choirs and the exotic instrumentations from sitars, tables, tempuras, and kettle drums, the album was summed up best by Guitar World Magazine who branded it "the perfect soundtrack to a blinding, flesh-burning apocalypse." Showcasing the drum talents of George Kollias, Annihilation validated every accolade heaped upon NILE. Tours with King Diamond, then Hypocrisy & Decapitated followed in the U.S.; with Unleashed, Hate Eternal, and Behemoth and later Incantation and Dying Fetus through Europe; and a festival appearance at Norway's Hole In The Sky kept NILE on the road for over a year, leaving audiences in awe with their exhaustive work ethic, their tenacity & persistence, and their mind-numbing musicianship.
Two years and a new record label later, NILE return in the full glory of all their majestic malevolence. Clean, articulate, studied, and rooted in the algebraic drumming and incendiary blast-beats of George Kollias and the Mach-3 tandem guitar work and double-vocal assault of Sanders & Toler-Wade, Ithyphallic (referring to the ancient practice of portraying statues of gods with huge, mystically-proportioned phalluses as a sign of strength and fertility) continues to advance the scope and magnitude of death metal. A bold statement of ancient ferocity, NILE's fifth album is resplendent with epic arrangements and savage extremity and is testimony to the band's extreme range of expression manifested through a variety of tempos & time signatures and their intelligent subject matter, which – when combined - invokes an unmistakable power. Retaining the band's exceptionally high standard of sound is long-time engineer Bob Moore; Ithyphallic's sonic clarity comes courtesy of Neil Kernon's painstaking production.
No band has ever committed themselves so deeply within a subject matter as has NILE, as demonstrated by the tracks "Ithyphallic," "What Can Safely Be Written," "The Essential Salts," and the ravaging "Papyrus Containing The Spell To Preserve Its Possessor Against Attacks From He Who Is In The Water." "Karl Sanders," observes Decibel Magazine, "plays with one foot on the Great Pyramid, the other on Sirius B, and every atom of his considerable technique harnessed in the service of the Other." Noted for their individuality, NILE inspire the exploration of new paradigms among their colleagues. " Ithyphallic is doomy, twisted, and warped, yet intricately crafted with brutal and intense clarity and pronunciation," writes Brave Words And Bloody Knuckles, "a scourge that proves NILE is one of the most important death metal bands today."
If history is fundamentally a record of human interaction and if possessing knowledge of the past can grant us the key to our future, the question begs to be asked: are we doomed to live out the same horrors, the same curses, the same trappings of greed as have so many civilizations before us? Come. Your personal history lesson awaits you…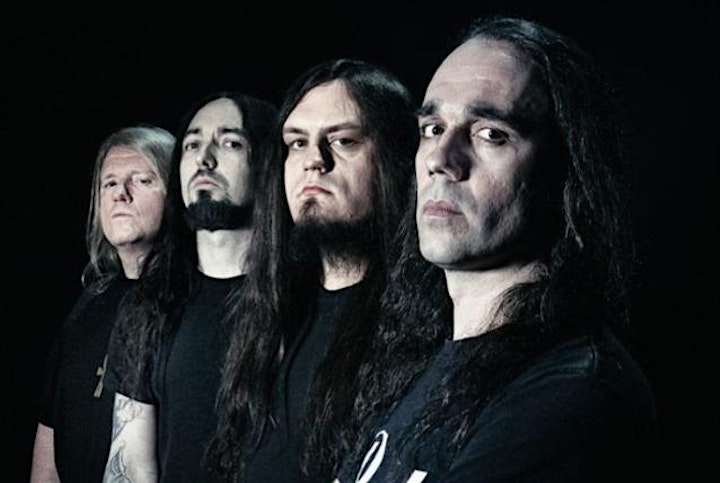 TERRORIZER
Terrorizer is a Grindcore band from Los Angeles / Huntington Park, California. After releasing a handful of demo tapes in 1987 and 1988 and splitting up in 1988, they recorded the full-length album "World Downfall" posthumously in the now legendary Morrisound Recordings studio (Tampa, Florida) with engineer-guru Scott Burns. At the time of this recording Terrorizer's original bass player Garvey was in jail so David Vincent (MORBID ANGEL) filled in.
Another interesting fact is that "World Downfall" consists of about 30% Nausea songs, including the title track.
Terrorizer's lyrics were typical socio-political grindcore lyrics with animal rights / environmental topics handled as well.
The band members later joined other bands like NAPALM DEATH (Jesse), MORBID ANGEL (Pete) and NAUSEA (Garvey).
In 2006 Terrorizer released their long-awaited second album "Darker Days Ahead" which consists of half old demo songs and half new material. Shortly after the release of the album, Jesse Pintado passed away on 27 August 2006.
The band has been reactivated in 2008 demo-ing new songs. Guitar duties are now taken over by Katina, guitarist in Resistant Culture.
According to the press release their third album "Hordes of Zombies" was recorded in 2011, slated for release on Season of Mist on 24 February 2012. However the album has reportedly already been recorded in 2009 before Pete Sandoval underwent back surgery.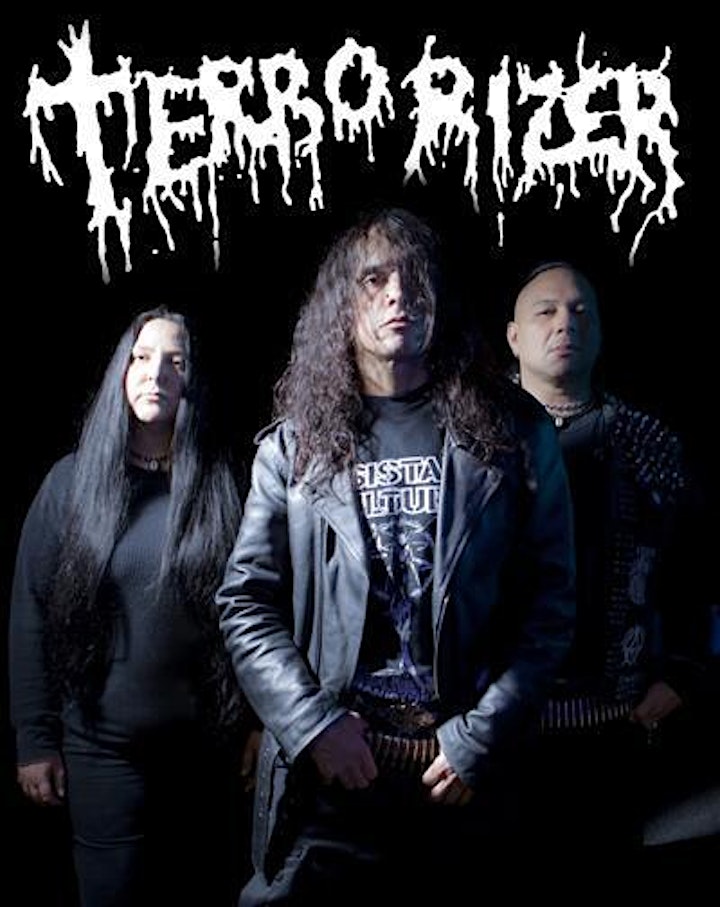 Hailing from a bleak corner of Alaska and currently based in Seattle, Nott is seismic story telling from the abyss. This is the solo project of Tyler Campbell.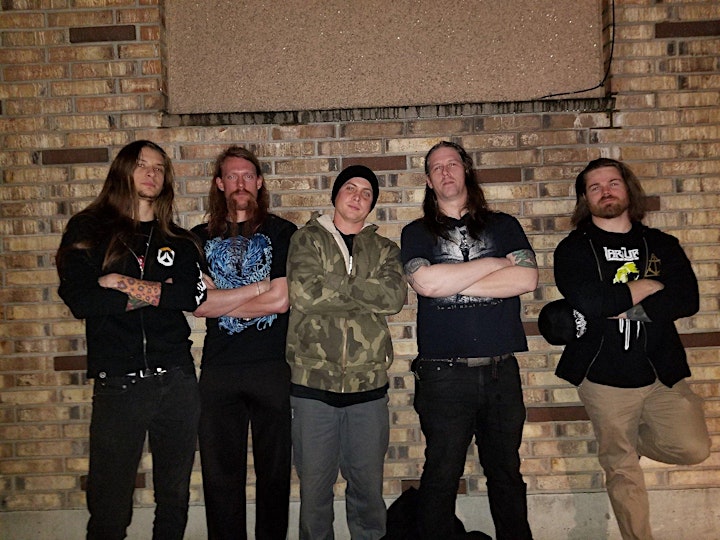 THE FACE OF LOKI
Influences include, but are not limited to:
Lamb of God, Killswitch Engage, Cannibal Corpse, Pantera, Iron Maiden, Judas Priest, Dio, Meshuggah etc...
Performers
Date and Time
Location
El Corazon
109 Eastlake Ave East
Seattle, WA 98109
Refund Policy