Location
Tirrell Room
254 Quarry Street
Quincy, MA 02169
United States
4th Annual Queen's Day celebrates community, wellness, entrepreneurship, & small business enterprise
About this event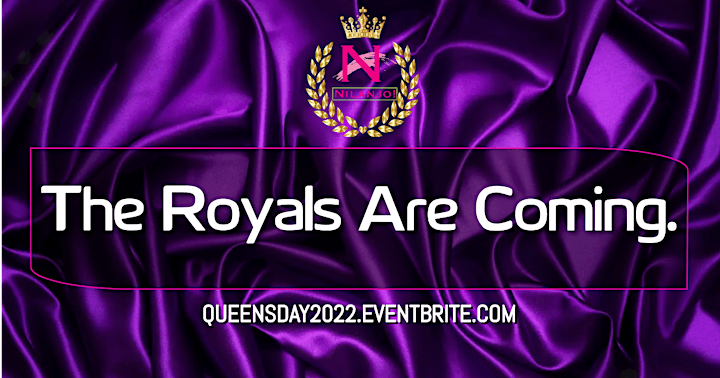 Just in time for National Women's History Month!!
Nilanjo! presents our 4th Annual Queen's Day celebration featuring a host of amazing vendors for your shopping pleasure, as well as live musical performances and captivating speakers! All are welcome!
Enjoy brunch with a view of the serene Blue Hills Reservation - Cash Bar, Raffles, Giveaways and Ample Parking
COVID POLICIES
Guests must agree to adhere to all of Nilanjo! Fashion Entertainment's COVID 19 rules and protocols.
Masks are required regardless of vax status.
Temperature check required.
You must be able to answer "no" to the following:
- Are you currently experiencing any CIVID 19 symptoms?
- In the past 5 days (of the event) have you tested positive or been in close contact with someone who has tested positive for COVID 19?
Music courtesy of DJ Fredo
Hosted by Richelle Kloni Smith & Nika Hollingsworth
Speakers include:
Stacey Marlow - Sculpted by Stacey
Carmen Blyden - HEAL , Walk in Power
Nadidah Coveney - CTM Consulting
Vivian Barnes-Smith - Mental Health & Mindfulness
Performance by:
Amelia Ali
Confirmed Vendors:
1. WaKanna
2. Elusive Press On Nails
3. Vybrant Jewels
4. Tasanee Crochet
5. Saraiya Eve's Designs
6. Salomon Fire Arms Training LLC
7. Shoe Bae
8. The Pink Jewelry Box
9. Queen's Lane Collection
10. Yolanda's Naturally Organic Hair Oils
11. Reesie's Marvelous Hats
12. Diamonds and Pearls Realty, LLC
13. LJL Cleaning Pros
14. Rowan Muse
15. Nilanjo! Boutique
16. Moistt Hair
17. SeaCret
18. Blissful Creations by B