Description
>>>>>>>> MANUAL REGISTRATION >>>>>>>>
PLEASE BE ADVISED THAT ONLINE REGISTRATION ENDED BUT WE STILL ACCEPT MANUAL REGISTRATION, YOU MAY PRINT OUT THE REGISTRATION FORM OR COLLECT FROM NILAI MEDICAL CENTRE AND HANDOVER TO THEM WITH PAYMENT TO SECURE YOUR ENTRY.
SHOULD YOU HAVE ANY PROBLEMS, FEEL FREE TO CONTACT MS MICHELLE SIOW (NMC) AT 012-3744849. THNK YOU.
>>>>>>>>>>>>>>>>>>>>>>>>>>>>>>>>>>>>
Nilai Charity Run 2016 is an event that led by Lions Club of Nilai, with co-organizer Nilai Medical Centre, with a purpose to raise fund for 10 poor families in Nilai/Salak area.
The surplus from this event will be fully channelled to benefit the 10 identified poor families. It will be a subsidy of RM100 each month for a family and it will last till funds finished. The more funds we raise means we will be of helping them longer.
Run for a cause!
Your support to our function will be greatly appreciated. We also welcome donation from public group too. Thank you.

Please do not hesitate to contact the following persons for any further information.
Organizing Chairperson (Lions Club of Nilai) Lion Lim Teong Yen (012-2133119)
Vice Organizing Chairperson (Nilai Medical Centre) Ms Michelle Siow (012-3744849)
Sponsorship Coordinator (Lions Club of Nilai) Lion Wong Kok Meng (012-6011612)
首先,汝来狮子会及汝来医疗中心向您问好!
我们在此诚心的通知您,我们将举办"汝来慈善义跑"。以下是此活动的资料。
活动:汝来慈善义跑
活动目的:
• 鼓励多运动的健康生活习惯
• 为"贫穷家庭每月资助计划"筹募基金。此基金将会每月资助RM100给选上的10个家庭。
此活动筹到的盈余将全数捐于此活动被选上的10个家庭。我们将每月给予RM100购物礼券让他们购买日常用品。直至基金用完为止。
您的捐助以及支持将会让活动办得更加顺利。先此致谢。
请联络:
筹委会主席 (Lions Club of Nilai) Mr 林仲康 (012-2133119),
筹委会副主席 (Nilai Medical Centre) Ms Michelle Siow (012-3744849),
赞助商负责人 (Lions Club of Nilai) 黄国明师兄 ( 012-6011612)
您的捐助以及支持将会让活动办得更加顺利。先此致谢。
谢谢,感恩!
ROUTE MAP FOR 10 KM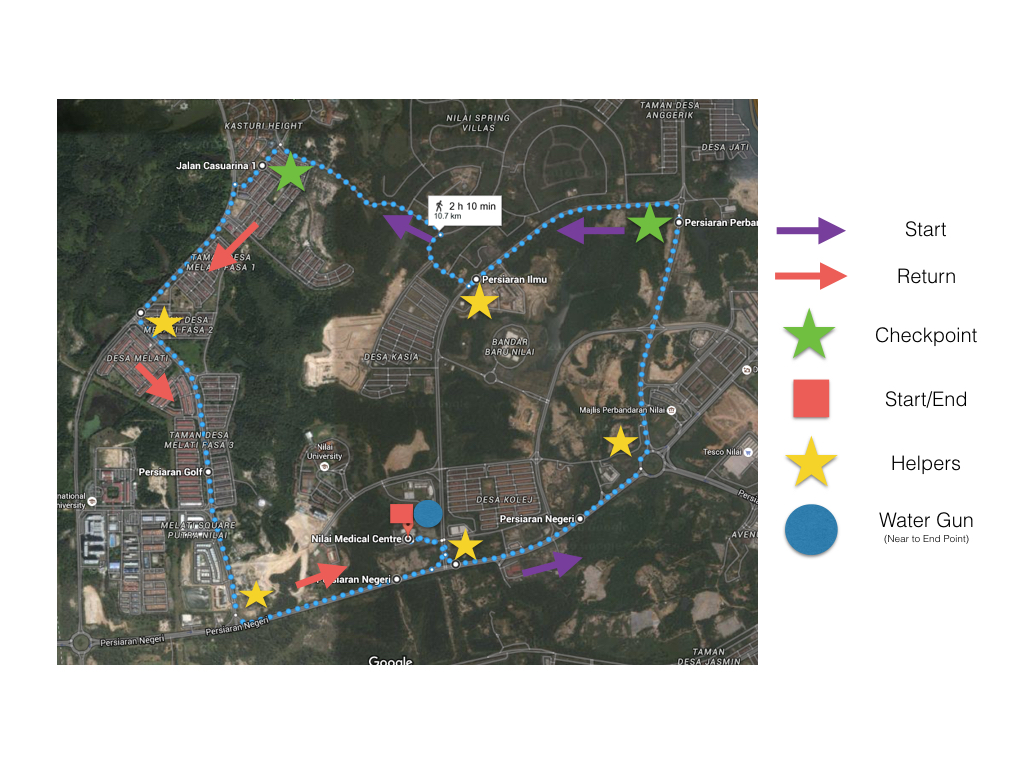 ROUTE MAP FOR 5 KM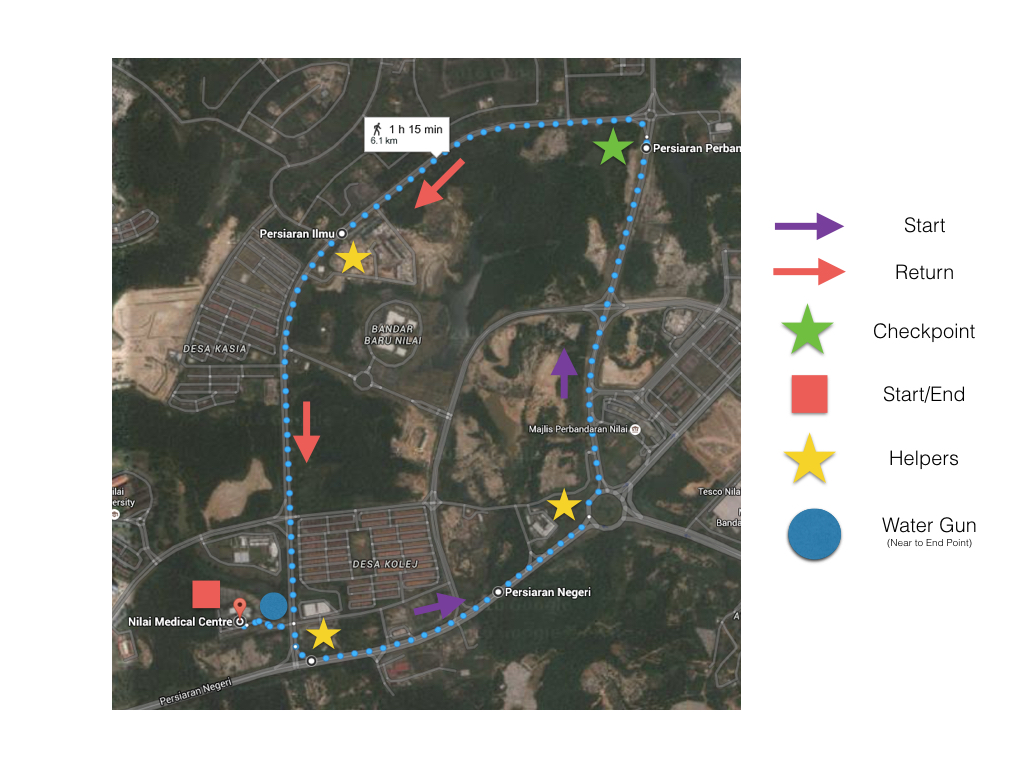 REGISTRATION
For early birds online registration, you can enjoy a flat rate of RM 35.00/person inclusive of a T shirt. Registration after 31st July 2016 will be charged for normal rate at RM 40.00/person. Registration is NOT confirm completed upon payment made.
Deadline for early bird online registration will be 31st July 2016.
MANUAL REGISTRATION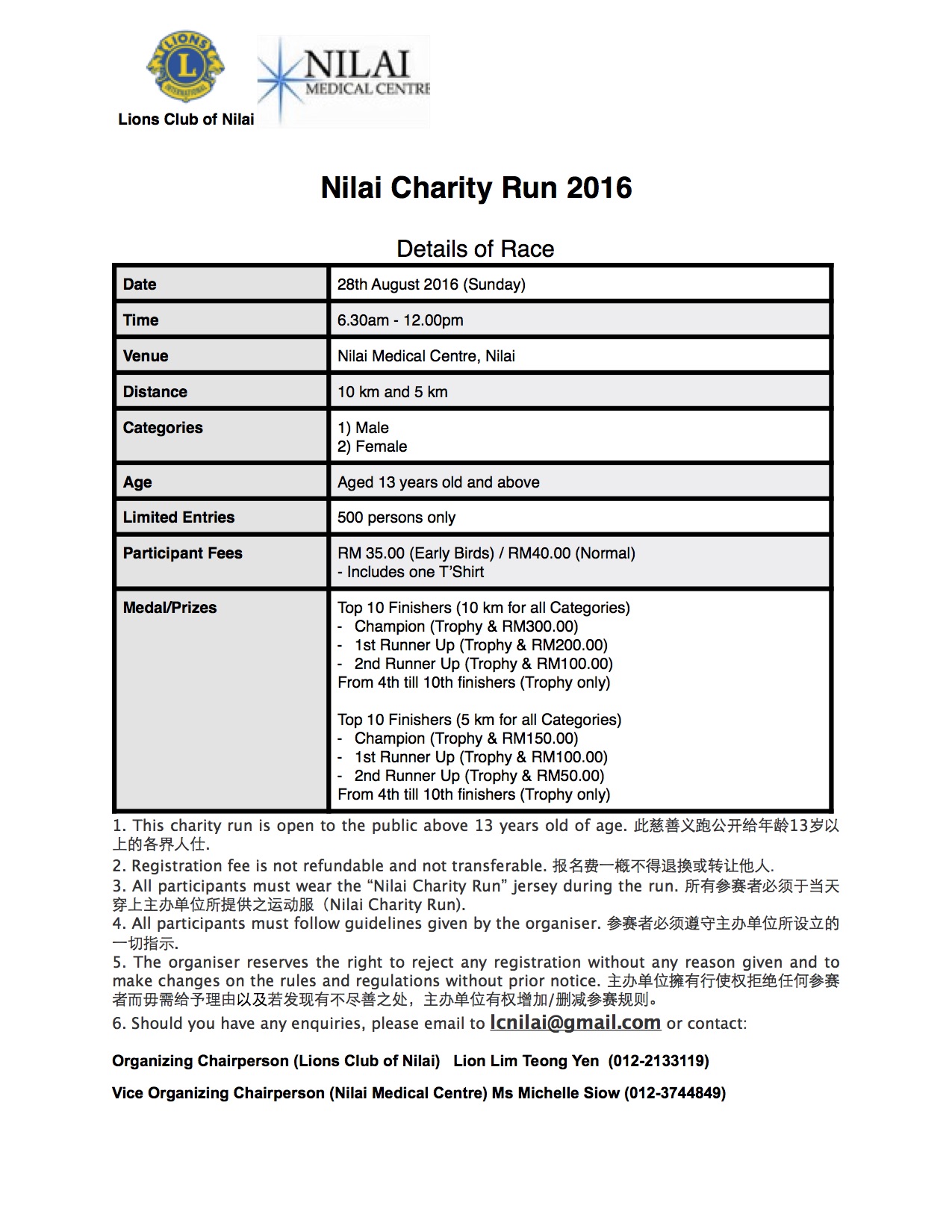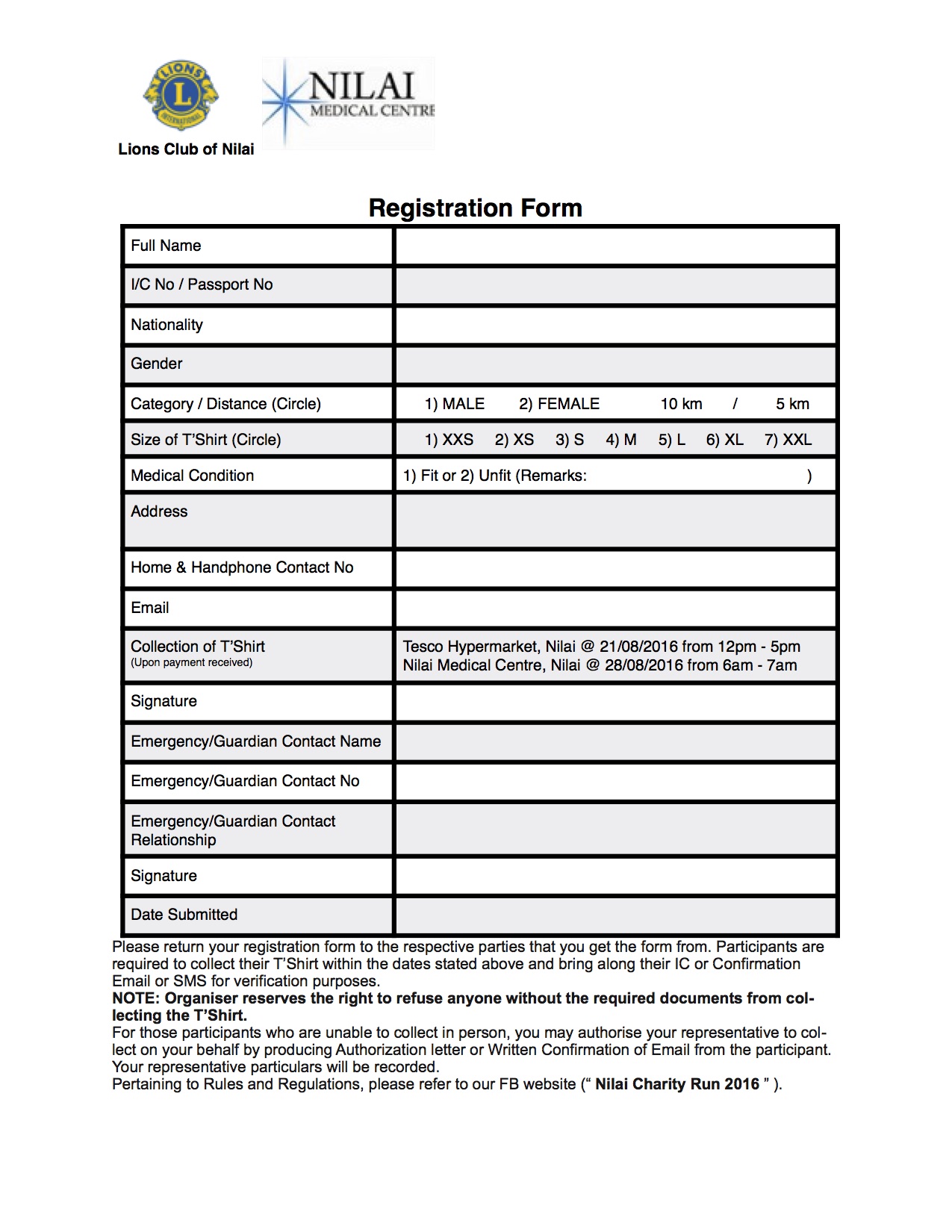 For manual registration, please email your registration form to lcnilai@gmail.com
CATEGORY

MALE - 10km and 5km
FEMALE - 10km and 5km
FLAG OFF TIME
10km - 7.30am (Expected running of 2 hours)
5km - 7.45am (Expected running of 1 hour)
TEE SHIRT (Size)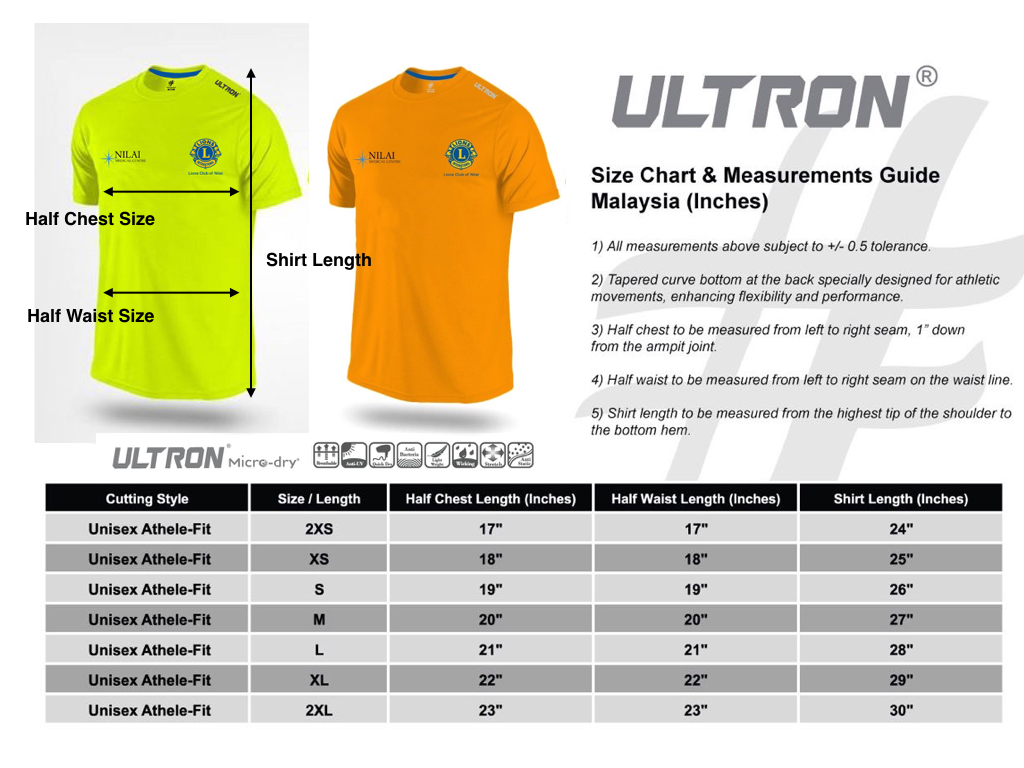 Yellow T'Shirt is for 10km category and Orange T'Shirt is for 5km category.
ULTRON - Our Official Apparel For Nilai Charity Run 2016
PAYMENT OPTIONS
1) Online Banking
LIONS CLUB OF NILAI
AMBANK, Account No : 888-101-462-6646
Upon payment made, please forward a copy of receipt as proof to lcnilai@gmail.com
Make sure you advise us which category & size of the Tshirt you want, together with I/C No. Thanks.
2) Walk in Payment
Please make payment over Tesco Hypermarket Nilai Charity Run Counter on 21/08/2016 (RM35.00 per person for online registration or RM40.00 per person after 07/08/2016) or the event day on 28/08/2016, subject to availability of entries and T'shirt. We also welcome any kind of donation for this event. Thank you.
Important Notice
The confirmation of participation is only valid once the payment on the registration fees is received and processed. After bank-in, please scan/save a copy of the bank-in slip form or receipt of payment, and e-mail it to the registration committee with the subject (title) "ONLINE REGISTRATION- (PARTICIPANT'S NAME)" lcnilai@gmail.com
COLLECTION OF TEE SHIRT AND NUMBER TAG
Date : 21/08/2016 & 28/8/2016
Time : 10pm - 6pm on 21/8/2016 or before 7am on 28/8/2016
Venue : Tesco Hypermarket, Nilai (21/8/2016) and Nilai Medical Centre (28/8/2016)
* Strictly no collection after collection date. Final collection will be on that day. No payment, no collection of Tee Shirt.
DRESS CODE
You are required to wear our designated official Tee Shirt as different colours will represent different category.
SUPPORTING UNITS
1) Majlis Perbandaran Nilai
2) Inti International University Leo & Intima
3) Police Traffic (PDRM) Nilai/Mantin
4) Balai Bomba dan Penyelamat Nilai
5) Tesco Hypermarket Nilai
RULES & REGULATIONS
The Nilai Charity Run 2016 is organized by Lions Club of Nilai, Leo Club of Inti International University, Nilai & Nilai Medical Centre, with the support of Majlis Perbandaran Nilai (MPN). The Organizer and Sponsors declare by virtue of being the event owner or sponsor, they can use services of third parties. The Organizer reserves the right to modify or substitute any of these rules and regulations of the Event from time to time as they deem fit. If there is ambiguity in any of the provisions, the Organizer shall be the authority to interpret and in so doing, the Organizer will take into account the interests of all the affected participants. Any update on the rules and regulations of the Event will be notified. The Organizer reserves the right to cancel the Event at any time without prior to the date of the event. If the Event has to be cancelled, there shall be NO refund of fees paid and the Organiser shall not be liable for any other loss or inconvenience caused.
There will be no fee refund if the event is cancelled for reason of force major i.e. due to occurrence of incidents that are beyond the control of the Organizer and which renders it impossible or unsafe to hold the event. Completion of the registration confirms the Participant's agreement to abide by the relevant rules and regulations of the Organizer. Participant agrees to provide true, accurate, current and complete information about the Participant. The Organizer may contact the Participant from time to time by email. Any notice sent to the email address registered with the Organizer shall be deemed as received by the Participant. If the Participant provides any information that is untrue, inaccurate, not current or incomplete, or the Organizer has grounds to suspect that such information is untrue, inaccurate, not current or incomplete, the Organizer may suspend or terminate the Participant's registration. Once registration has been duly processed, there will be no fee refund for participants who do not eventually take part in the Event for whatever reason. The Organizer will not entertain nor be in any way responsible for any disputes arising from incomplete or inaccurate entry details in the registration form.
The Organizer reserve the right to amend the Event race routes as they deem fit for the safety of the Participants and/or to prevent any potential hazards in the running of the event, at any time without prior notice to the Participant. In such cases, every effort will be made to inform the Participant prior to the date of the event. The Organizer shall not be liable for any other loss or inconvenience caused due to such changes, details in the registration form.
Whilst every reasonable precaution will be taken by the Organizer to ensure the participants' safety, participants run at their own risk and the Organizer will not be responsible or held liable for any injury or death howsoever arising from training for or during participation in the race. Participants are strongly encouraged to go for a medical examination and/or consult their medical practitioner prior to registration and before the actual race day. Participants must wear the assigned bib number on his/her chest. Participants who are not wearing a bib number will be taken off the course by security officers/officials. Road closure will be 3 hours. Participants who are still on Route and choose to continue running after the cut-off time, do so at their own risk. A participant must retire from the race immediately, if required to do so by any member of the official medical staff, Race Director, Referee and/or Security Officer. Pets, bicycles, in-line skates, prams, push carts, shoes with built-in or attached rollers and any other wheel-run objects are not allowed on the course other than official race and medical vehicles. The Organizer reserves the right to use any photographs (including those of participants), motion pictures, recordings, or any other media records of the Event, for any legitimate purpose including commercial advertising and distribution to the Sponsors. The Organizer reserves the right to limit and/or refuse entry without giving any reason and notice. The Organizer reserves the right to cancel and/or add any race category without prior notice to the Participants. Participants are strictly not allowed to transfer their race entries to another party or change race categories after their registrations are confirmed. A participant who commences to run before the actual start time of his/her registered race will be disqualified. (Please refer to start time of each race.) Participants who do not start within 20 minutes from flag off will be disqualified and for safety reasons may not be allowed to start.
Participants must be 13 years or older as of 31st December 2016 to participate in the run. Regardless of the winning participant's choice of prize-money, his/her finishing position in each of the relevant categories will not change. For prize winners or possible prize winners, disputes and appeals must be made immediately within 30 minutes of the published results on the results notice board on-site or immediately after the prize presentation, whichever is earlier, failing which the Organizer reserves the right not to entertain any disputes or appeals thereafter. For all other participants, disputes and appeals regarding the results must be submitted in writing including electronic mail within 7 days of the Race Day. All Finisher's Medals must be collected on Race Day. No requests thereafter will be entertained. All participants who successfully complete the rate will be awarded a medal of completion. This entitlement shall not apply to Participants who are unable to complete their respective races.
PRIVACY POLICY NOTICE:
As part of Lions Club of Nilai compliance to Personal Data Protection Act 2010 ("PDPA 2010") and commitment towards the protection of our registrant personal information, we have put in place a personal data protection and compliance principles and framework ("Framework") in which we stand guided by in the provision of our services to our registrants/members/clients/ visitors volunteers/partners/sponsors/vendors ("Services").
This Privacy Policy sets forth our policy with respect to information, including personally identifiable information ("Personal Data"), that is collected from users of and/or visitors to the Services (including through those users' and visitors' agents) ("you" or "your"), including (i) registered users who are event managers and planners ("Managers"), (ii) users who want to purchase event entry, register for or donate to events (whether free or paid) listed by Managers on the Services ("Registrants"), (iii) Volunteers assisting in the event, and (iii) other non-Managers users or visitors to the Services ("other non-managers").
We take the privacy of your Personal Data and other information very seriously. Because of that, we have created this Privacy Policy. Please read this Privacy Policy as it includes important information regarding your Personal Data and other important information.
If you have any questions or concerns, please do not hesitate to contact us at lcnilai@gmail.com or 012-2133119.
CONSENT: By using the Services or allowing someone to use the Services on your behalf, you are consenting to our collection, use, disclosure, transfer and storage in accordance with this Privacy Policy of any Personal Data or other information received by us as a result of such use.
A. COLLECTION OF PERSONAL DATA
When you interact with us through the Services, we may collect Personal Data and other information from you or someone on your behalf, as further described below:
Managers: We collect Personal Data from you when you voluntarily provide such information to the Services, such as when you register for access to the Services as a Manager, contact us with inquiries, or use certain Services. The Personal Data we may collect includes without limitation your name, address, email address and other personally identifiable information. In some cases we may collect your credit card information (e.g., your credit card number and expiration date, billing address, etc.), some of which may constitute Personal Data, to secure certain payments. In addition, if you use our payment processing services, we will collect financial information from you (e.g., your bank account information or an address to send checks) as necessary to facilitate payments and information required for tax purposes (e.g., your taxpayer identification number).
Registrants and other non-managers: We collect Personal Data from you when you voluntarily provide such information to the Services (including event registration pages within the Services), such as when you register for access to the Services (whether as a Manager or otherwise), register for an event as a Registrant, contact us with inquiries, respond to one of our surveys or use certain parts of the Services. The Personal Data we may collect includes without limitation your name, address, email address or postal code and other personally identifiable information. If you register for a paid event, we will collect financial information from you (e.g., your credit card number and expiration date, billing address, etc.) some of which may constitute Personal Data. In addition, Managers can set up event registration pages to collect virtually any information from Registrants in connection with registration for a Manager's event listed on the Services. If a Registrant voluntarily provides the information in connection with registration for an event or otherwise, it will be available to us and will be held by us in accordance with PDPA 2010 and this Privacy Policy. In addition, such information will be delivered to the Manager of the applicable event in accordance with "Use and Disclosure: Manager" below.
Privacy Policy Links: We make an effort to provide a link to this Privacy Policy in the footer of every page on our websites, including those pages on which Personal Data is collected, and to make it available in all of our software.
B. PURPOSES OF PROCESSING
We use the Personal Data we collect in a manner that is consistent with this Privacy Policy. We may use the Personal Data as follows:
Specific Reason: If you provide Personal Data for a certain reason, we may use the Personal Data in connection with the reason for which it was provided. For instance, if you contact us by e-mail, we will use the Personal Data you provide to answer your question or resolve your problem and will respond to the email address from which the contact came.
We collect, analyse, collate, share, disclose to third parties the information you provide about yourself to generate bib numbers which contain your name, age, gender, assigned race number, and t-shirt size. We post event results on the Internet which include registrant's name, city, age, gender, and finishing time. We also provide personally identifiable information (name, address, contact details, email addresses and event research data) to our main sponsors for marketing their products and services purpose.
Access and Use: If you provide Personal Data in order to obtain access to or use of the Services or any functionality thereof, we will use your Personal Data to provide you with access to or use of the Services or functionality and to monitor your use of such Services or functionality. For instance, if you supply payment information (e.g., bank account or credit card information) to the Services for the purpose of registering as a Registrant or processing payments as a Manager we will use that information to facilitate such purchase or process such payments.
Internal Business Purposes: We may use your Personal Data for internal business purposes including without limitation to help us improve the content and functionality of the Services, to better understand our users, to improve the Services, programmes, planning, data-processing and statistical or risk analysis, research, fund-raising, to protect against, identify or address fraudulent activities, to enforce our Terms of Service, to manage your account and provide you with customer service, and to generally manage the Services and our business.
Marketing: We may use your Personal Data to contact you in the future for our marketing and advertising purposes, including without limitation to inform you about services or events we believe might be of interest to you, to develop promotional or marketing materials and provide those materials to you, and to display content and advertising on or off the Services that we believe might be of relevance to you. In particular, Managers should note that we may use information we receive or collect regarding Registrants (including without limitation via a Manager's event registration page) in accordance with the terms of this Privacy Policy, including in the manner set forth above.
Manager Emails: We allow Managers to use our email system to contact Registrants for their current and past events, so you may receive emails from our system that originate with such Managers.
If we intend to use any Personal Data in any manner that is not consistent with this Privacy Policy, you will be informed of such anticipated use prior to or at the time at which the Personal Data is collected or we will obtain your consent subsequent to such collection but prior to such use.
C. USE AND DISCLOSURE
We will not sell your Personal Data to third parties, including third party advertisers. There are, however, certain circumstances in which we may disclose, transfer or share your Personal Data with certain third parties without further notice to you, as set forth below:
Business Transfers: As we develop our business, we might sell or buy businesses or assets. In the event of a corporate sale, merger, reorganization, dissolution or similar event, Personal Data may be part of the transferred assets. You acknowledge and agree that any successor to or acquiror of the Company (or its assets) will continue to have the right to use your Personal Data and other information in accordance with the terms of this Privacy Policy.
Subsidiaries and Affiliates: We may also share your Personal Data with our subsidiaries and/or affiliates for purposes consistent with this Privacy Policy. Our subsidiaries and affiliates will be bound to maintain that Personal Data in accordance with this Privacy Policy.
Agents, Consultants and Related Third Parties: We, like many businesses, sometimes engage other companies to perform certain business-related functions. Examples of such functions include mailing information, maintaining databases and processing payments. When we engage another company to perform such functions, we may provide them with information, including Personal Data, in connection with their performance of such functions.
Managers: When you register for or donate to an event on the Services, you consent to our providing your Personal Data to the Managers of such event. These Managers are not bound to treat your Personal Data in accordance with this Privacy Policy. You agree that we are not responsible for the actions of these Managers with respect to your Personal Data. It is important that you review the applicable policies of the Managers of an event before providing Personal Data or other information in connection with that event.
Sponsors: We may, however, at our sole discretion, share Personal Data and statistical data with race sponsors or media agencies. By registering as a registrant, you consent to our providing your Personal Data to our Title Sponsor, for marketing and promotion of their products and services purposes. Statistical data do not include personally identifiable information about any individual and is used for quantitative purpose only.
Legal Requirements: We may disclose your Personal Data if required to do so by law (including, without limitation responding to a subpoena or request from law enforcement, court or government agency) or in the good faith belief that such action is necessary (i) to comply with a legal obligation, (ii) to protect or defend our rights, interests or property or that of other customers or users, (iii) to act in urgent circumstances to protect the personal safety of users of the Services or the public, or (iv) to protect against legal liability, or (v) where we consider that such use or disclosure is necessary to respond to any claims or legal process, or where we suspect that fraud or unlawful activity has been, is being or may be engaged in.
D. IMPACT OF NON PROVISION OF PERSONAL DATA
You have several choices available when it comes to your Personal Data:
Limit the Personal Data You Provide: You can use the Services without providing any Personal Data or with limiting the Personal Data you provide. If you choose not to provide any Personal Data or limit the Personal Data you provide, you may not be able to use certain functionality of the Services. Your application or request to for any of the above purposes as set out in (B) above may not be accepted or acted upon. For instance, in order to open an account/register for your events your name and email address is required
Opt Out: You can "opt out" of receiving Company newsletter emails by following the prompts on the newsletter to unsubscribe. In the event a Manager uses our system to email you, you will be able to "opt out" of receiving those communications as well. Please note that if you unsubscribe from receiving a particular Manager's emails, you will no longer receive emails from the particular Manager that are sent through our system (but you may still receive emails sent by that Manager through means other than our system), however, you will still receive Company communications and communications from other Managers whose events you have attended or are registered to attend or who have otherwise obtained your email address. Likewise, if you unsubscribe from our communications you will continue to receive communications from Managers. So you may have to unsubscribe from multiple emails before you stop receiving all communications. You can also unsubscribe from receiving all Manager emails sent through our system which shall take effect immediately. By electing to stop receiving all communications from us or through our system you will no longer receive any updates on your account or on events you are registered to attend or have previously attended, including communications regarding refunds. We do not recommend that you do this unless you plan to no longer use the Services, are not currently registered for an event, are not currently organizing an event and will have no need to receive further communications from us or through our system. Even after you opt out of all communications, we will retain your Personal Data and Non-Personal Data in accordance with this Privacy Policy, however, we will no longer use it to contact you. However, Managers who have received your Personal Data in accordance with this Privacy Policy may still use that Personal Data to contact you in accordance with their own privacy policies, but they may not use our system to do so.
E. RIGHT OF ACCESS TO PERSONAL DATA
We are committed to ensure that the Personal Data we hold about you is accurate, complete, not misleading and up-to-date. If there are any changes to your Personal Data or if you believe that the Personal Data we have about you is inaccurate, incomplete, misleading or not up-to-date, please contact us so that we may take steps to update your Personal Data.
Under the Act, you have the right of access to your Personal Data held by us. If you would like to request access to your personal data, please contact us and please note that depending on the information requested, we may charge a small fee. We may also take steps to verify your identity before fulfilling your request for access to your Personal Data.
To keep your Personal Data accurate, current, and complete, please contact us as specified below. We will take reasonable steps to update or correct Personal Data in our possession that you have previously submitted via the Services.
If you have any questions regarding this Privacy Notice or if you wish to request access to your Personal Data or if you wish to correct your Personal Data or if you wish to withdraw your consent to Dirigo Events Sdn. Bhd. for the processing of your Personal Data for the purposes as set out in (B) above, you may send your request in writing at the following address:
EMAIL ADDRESS: lcnilai@gmail.com
ADDRESS: Lions Club of Nilai, PT9974, Putra Point Phase 2A, Jalan BBN 1/3L, Bandar Baru Nilai, 71800 Nilai, Negeri Sembilan. ROS No. PPM-003-05-18122014
F. STORAGE AND RETENTION OF THE PERSONAL DATA
We may store Personal Data itself or such information may be included in databases owned and maintained by our affiliates, agents or service providers in or outside Malaysia. We take what we believe to be reasonable steps to protect the Personal Data provided via the Services from loss, misuse, unauthorized access, inadvertent disclosure, alteration, and destruction. However, no Internet or e-mail transmission is ever fully secure or error free. In particular, e-mail sent to or from the Services may not be secure. Therefore, you should take special care in deciding what information you send to us via e-mail. Please keep this in mind when disclosing any Personal Data via the Internet.
Any Personal Data supplied by you will be retained by us as long as necessary for the fulfillment of the purposes stated in (B) above or is required to satisfy any legal, regulatory and/or accounting requirements or to protect our interests.
We do not offer any online facilities for you to delete your Personal Data held by us, our affiliates, agents or service providers. If your personal information is no longer required under the purpose stated in (B) and/or (C), then we will destroy it by purging it from our electronic, manual, and other filing systems according to our internal procedures and schedules.
G. HOW WE HANDLE EMAIL AND "CONTACT US" MESSAGES
We may preserve the content of any email or "Contact us" or other electronic message that we receive.
Any personal data contained in those messages will only be used or disclosed in ways set out in this Privacy Notice. The message content may be monitored by our service providers or employees for purposes including compliance, auditing and maintenance or where email abuse is suspected.
H NON-PERSONAL DATA COLLECTED AUTOMATICALLY
Non-Identifiable Data: When you interact with the Services, we collect certain personally non-identifiable information ("Non-Personal Data"). The Non-Personal Data we collect includes without limitation Internet Protocol (IP) addresses, Internet browser type, other characteristics of your device and software, domain names of your Internet Service Provider, your approximate geographic location, a record of your usage of the Services, the time of your usage and aggregated Personal Data that cannot be used to specifically identify you. Such information, which is collected passively using various technologies, cannot, in and of itself, be used to specifically identify you. We also collect Non-Personal Data (including, without limitation, of the type set forth above) from third parties. The information we collect from third parties may be combined with the information we collect.
Cookies and Other Session Identifiers: In operating the Services, we use a technology called "cookies." A cookie is a piece of information that is placed on your browser when you access the Services. Our cookies help provide additional functionality to the Services and help us analyse Service usage more accurately. For instance, our Services may set a cookie on your browser that allows you to access the Services without needing to remember and then enter a password more than once during a visit. These cookies may be used to tailor content (including advertising) you see on the Services as well as other Internet sites that you may visit in the future.
Cookies may be session cookies (i.e., last only for one browser session) or persistent cookies (i.e., continue in your browser until they are deleted or expire).Through your web browser's option settings you may be able (i) to receive notifications when you are receiving new cookies, (ii) to disable cookies or (iii) to delete cookies. Please refer to your web browser's help section for information on how to configure your Internet browser to erase all cookies from your computer's hard drive, block all cookies or to receive a warning before a cookie is stored. We recommend that you leave cookies turned on because they allow you to take advantage of some of the features of the Services.
Aggregated Personal Data: In an ongoing effort to better understand and serve the users of the Services, we often conduct research on our customer demographics, interests and behaviour based on Personal Data and other information that we have collected. This research may be compiled and analysed on an aggregate basis and this aggregate information does not identify you personally and therefore is considered and treated as Non-Personal Data under this Privacy Policy.
I. CONFIDENTIALITY
Personal Data held by us will be kept confidential in accordance with this Privacy Notice pursuant to PDPA 2010 and any applicable law that may from time to time be in force.
Any questions, comments, suggestions or information other than Personal Data submitted to us in whatever manner (including those sent or posted in our Website) will be deemed voluntarily provided to us on a non-confidential and non-proprietary basis.
We reserve the right to use, reproduce, disclose, transmit, publish, broadcast and/or post elsewhere such information freely as set out in (C) above.
J. SAFETY OF PERSONAL DATA
We use a number of mechanisms to protect the security and integrity of your Personal Data in accordance with the PDPA 2010 and any applicable regulations. We follow strict security procedures in order that the data we collect is stored and disclosed appropriately and securely.
For the internet, unfortunately, no data transmission over the internet can be guaranteed as completely secure. So while we strive to protect such Personal Data, we cannot ensure or warrant the security of any Personal Data transmitted to us and you do so at your own risk. Once any Personal Data comes into our possession we will take reasonable steps to protect that information from misuse and loss and from unauthorised access, modification or disclosure.
A username and password may be essential for you to use some sections of our Website and access to some of our services. For your own protection, we require you to keep these confidential and to change your password regularly (if required). Unfortunately the transmission of information via the internet is not completely secure. Although we will do our best to protect your personal data, we cannot guarantee the security of your data transmitted to our site; any transmission is at your own risk.
K. TRANSFER OF PERSONAL DATA
Due to the global nature our business, we may transfer your Personal Data to our other members (which may be located in other countries) or to any parties located in other countries (including countries that have a different data protection regime than is found in the country where you are based). Any Personal Data transferred shall be used for the purposes as set out in (B) above and disclosed to parties stated in (C) above.
L. LINKS / HYPERLINKS
Our Website and its social media sites (including Facebook, Twitter) may contain links to third-party sites and pages for your convenience. By activating a link, such as for example by clicking on the banner of an advertiser, you leave our Website and we do not exercise control over any Personal Data or any other information you give to any other entity after you have left our Website.
We do not control those sites or their privacy practices, which may differ from ours and we do not endorse or make any representations about third-party websites. Our Privacy Statement does not cover the personal data you choose to give to unrelated third parties. We encourage you to review the privacy policy of any company before submitting your personal information.
M. OTHER WEBSITES
Please note that clicking on links and advertisements on our websites may result in your transferral to another website, where data privacy practices may vary. If transferred to another site you should consult their privacy policy as we are not responsible for and have no control over information that is submitted to or collected by these third parties.
N. INTERNATION PRIVACY LAWS
If you are visiting our website from outside Malaysia, please be aware that you are sending information (including Personal Data) to Malaysia where we keep our servers. We will hold and process your Personal Data and Non-Personal Data in accordance with privacy laws in Malaysia in accordance to PDPA 2010 and this Privacy Policy. Please note that privacy laws in Malaysia may not be the same as, and in some cases may be less protective than, the privacy laws in your country.
O. HOW TO CONTACT US
For enquiries, please e-mail us at:
Address: lcnilai@gmail.com
In the event of any conflict between the English and other language versions, the English version shall prevail.
The Services and our business may change from time to time. As a result, at times it may be necessary for us to make changes to this Privacy Policy. We reserve the right to update or modify this Privacy Policy at any time and from time to time without prior notice. Please review this policy periodically, and especially before you provide any Personal Data. Your continued use of the Services after any changes or revisions to this Privacy Policy shall indicate your agreement with the terms of such revised Privacy Policy.
LIONS CLUB OF NILAI
PT9974, Putra Point Phase 2A, Jalan BBN 1/3L, Bandar Baru Nilai, 71800 Nilai, Negeri Sembilan.