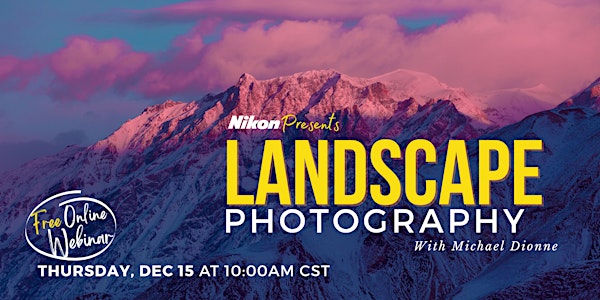 Nikon Presents - Landscape Photography with Bedford Camera
Have you ever wondered how do you turn a scenic snapshot into a breathtaking Landscape photograph?
About this event
Have you ever wondered how you turn a scenic snapshot into a breath-taking landscape photograph? If so, Bedford Camera & Video has the class you need! Nikon's Professional Services Rep, Michael Dionne, will take a closer look at both the traditional and not so traditional gear and technique choices you should have in your camera bag. In short, this seminar will get you ready to make stunning photographs of your next great adventure!
Make sure to stick around until the very end when Michael will answer your questions.. live!
About the instructor:
Michael first picked up a Nikon SLR in 2003 and has been immersing himself in all things photographic ever since. Through his experiences studying photography in college, working in camera stores for over a dozen years, and shooting professionally, Michael has become educated and experienced in a wide
variety of photographic subjects. Since joining the Nikon team in 2018, Michael has enjoyed the opportunity to share his knowledge by teaching classes and working with customers in camera stores across the country.