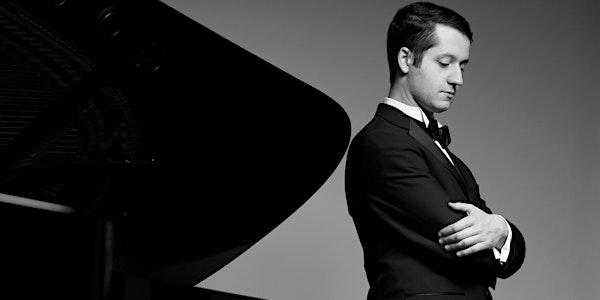 NIKITA MNDOYANTS, Virtuoso. Pegasus at Mana: Piano Series
When and where
Location
Mana Contemporary, Mana Theater 1st Floor 888 Newark Avenue Jersey City, NJ 07306
Description
Pegasus at Mana: Piano Series, VIRTUOSO
Performed by NIKITA MNDOYANTS
Featuring first prize winner of 2016 Cleveland International Piano Competition among many others, composer/pianist Nikita Mndoyants. Works by Haydn, Beethoven, Brahms and Mndoyants.

"There comes a time when a rising talent comes onto the scene so polished that there isn't much to say other than to simply applaud it. Such is the case in the Carnegie Hall debut of Nikita Mndoyants, the winner of last year's Cleveland International Piano Competition."
— Donald Hunt for Pianist magazine
---
RECEPTION | 7:00-7:30
CONCERT | 7:30-9:15
---
PROGRAM
HAYDN Sonata in E Major, Hob. XVI: 31
BEETHOVEN Sonata No. 32 in C Minor, Op. 111
MNDOYANTS Intermezzo
BRAHMS Sonata No. 3 in F Minor, Op. 5
---
Mr. Mndoyants won first prize at the 2016 Cleveland International Piano Competition, first prize at the 2007 Paderewsky International Piano Competition, and was a finalist at the 2013 Van Cliburn International Piano Competition. As a composer, Mr. Mndoyants received first prize at the 2014 Myaskovsky International Competition of Composers (Moscow, Russia) and 2016 Prokofiev International Competition of Composers (Sochi, Russia)
Most recently Mr. Mndoyants has performed with Saint Petersburg Philharmonic orchestra under the baton of maestro Charles Dutoit . He also made his debut recital in the Great Hall of the Moscow Conservatory and performed in Salle Cortot and Auditorium du Louvre in Paris, at the Bozar Centre for Fine Arts (Brussels) and Luxembourg Philharmonie, . He appeared as a guest artist with the Gangnam Symphony Orchestra at the new Lotte Concert Hall in Seoul, Korea. Mr. Mndoyants made his Carnegie Hall debut in June of 2017.
Mr. Mndoyants has toured in Asia, Europe, Russia, and the U.S. and appeared in major concert halls in Moscow, St. Petersburg, Paris, and Seoul. He has worked with renowned conductors including Charles Dutoit, Bramwell Tovey, Leonard Slatkin, Eri Klas, Ignat Solzhenitsyn, Charles Ansbacher, and Alexander Sladkovsky, and performed with the Svetlanov State Academic Symphony Orchestra, the Mariinsky Theatre Orchestra, the St. Petersburg Philharmonic Orchestra, the Cleveland Orchestra and more. He has performed in major festivals, including the Klavier-Ruhr Festival (Germany), Chopin Festival in Duszniki-Zdroj (Poland), Mariinsky International Piano Festival (St. Petersburg) and International Keyboard Institute and Festival (New York). Mr. Mndoyants also has been artist in residence at the International Music Festival in Wissembourg (France) since 2012, where he has overseen the performance of his own compositions and performed solo works, chamber music, and concerti.
Giving his first chamber performance with the Borodin Quartet in 2004, he has continued to cultivate his passion for chamber music, working with such ensembles as the Brentano, Eben, Zemlinsky, and Szymanowsky Quartets.
Among his chamber music partners are pianists Alexander Ghindin and Vyacheslav Gryaznov, violinists Andrej Bielow and Valeriy Sokolov, cellists Lev Sivkov, Evgeny Rumyantsev and clarinetist Patrick Messina.
His piano and chamber works are made available by publishing houses Composers, Muzyka, and Jurgenson, and have been performed by Alexander Vinnitsky, Alexander Rudin, Daniel Hope, Nicolas Stavy, the Szymanowski and Zemlinsky Quartets, Moscow State Symphony Orchestra, and others.
Mr. Mndoyants has released solo and chamber recordings on the Classical Records, Melodiya and Praga Digitals labels. A new recording on the Steinway & Sons label, featuring works by Beethoven, Prokofiev, and Schumann, has been released in June 2017.