Description
Niki Lopez & Old Dillard Museum Presents:
I AM THE ELEPHANT
Old Dillard Museum

Saturday May 20th, 1-5pm
Art Exhibit & Talk
The emancipation of Niki Lopez. Solo art exhibit at the Old Dillard Museum. Niki Lopez will be presenting some of her latest works as well as art collective projects such as Artists For Black Lives Matter & What's Your Elephant. Lopez is a featured artist and one of the speakers at the Florida Emancipation Mini Fest.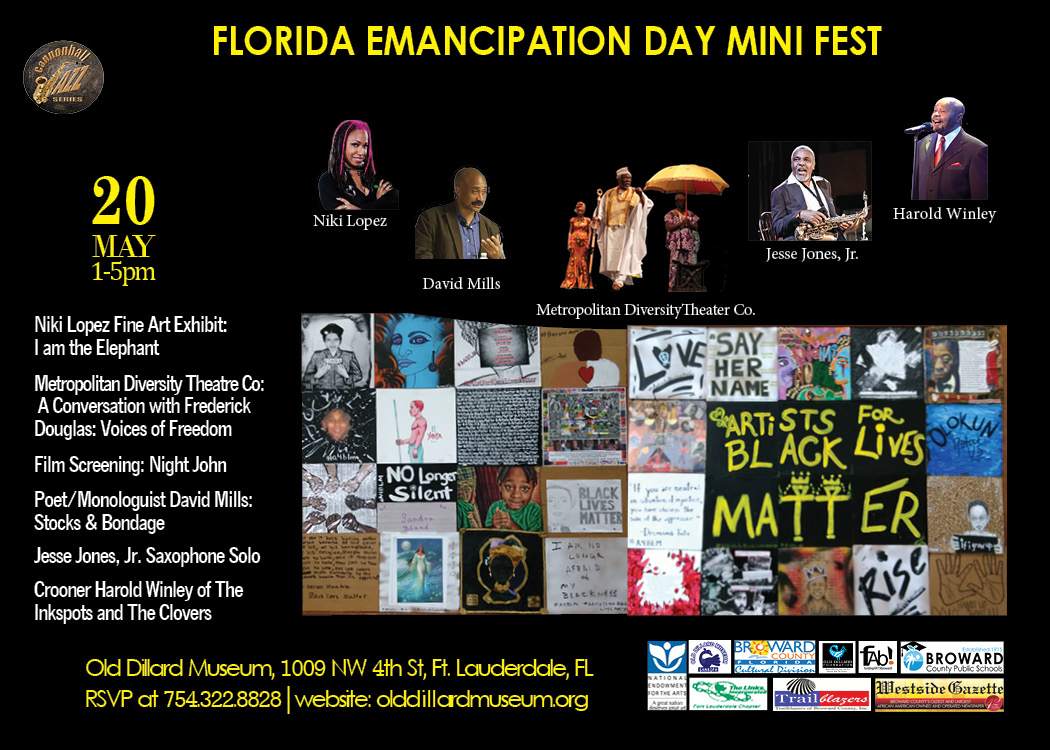 Florida Emancipation Day Mini Festival
Celebrate Emancipation Day in a fun-filled, family friendly event that commemorates the struggles and triumphs of the African American people of the state. Featuring an art exhibition and discussion with Niki Lopez; Tony Thompson & The Metropolitan Diversity Theater Company; A screening of the film Night John; Poet/Monologuist David Mills; Saxophone Soloist Jesse Jones, Jr and Crooner Harold Winley of the Inkspots and the Clovers.
Food and Arts & Crafts vendors will also be featured.
RSVP at 754.322.8828
About Niki Lopez
Niki Lopez is an interdisciplinary artist, curator and activist who is best known for her vibrant color palate and often "other-worldly" art. Her unique pieces have been exhibited across South Florida, New York and California. Lopez has been curating and programming avant-garde art shows and creative events since 2008, including her signature annual art exhibits at Fort Lauderdale's 1310 Gallery.
Lopez's representational work allows her to share and explore stories, symbols and concepts from ancient cultures and ideologies, as well as provoke thought about the probability of life in other dimensions, multiple universes and galaxies... showing how they are all inter-connected with us here on earth.
She is a core team member, pre-visualization artist and producer of the 1310 Bandits, an award-winning women-lead team of visionary filmmakers creating stories that advocate consciousness and social responsibility.
Lopez founded "What's Your Elephant," a movement that creates a safe space for people to use expressive arts. It includes visual and performing arts, creative community building, hands-on projects, workshops and events.
Lopez is one of 4 memebers of the Artists for Black Lives Matter collective. Artists for Black Lives Matter #a4blm is a space to express yourself creatively around issues pertaining to Black Lives Matter. A4BLM combines exhibits, workshops, social engagement & peaceful awareness campaigns surrounding Black Lives Matter issues including police brutality and the loss of life due to racial injustice.
A well-rounded curator, Lopez has used her skills for various private group exhibits within South Florida, including working with cultural groups, grassroots initiatives and nonprofits such as Arts United, Drag It Out, LadyFest Miami and Spoken Soul Festival.
Known for her community spirit and advocacy, Lopez has donated artwork for fundraising initiatives to support breast cancer awareness and help orphanages in Haiti and Rwanda.
In addition, Lopez runs her independent, award-winning Graphic Design company, Niki Lopez Creative.