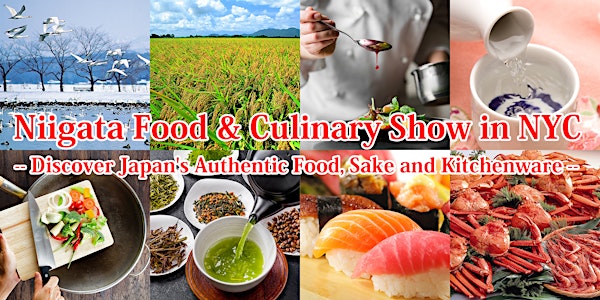 Niigata Food & Culinary Show in NYC -- Discover Japan's Authentic Food, Sake and Kitchenware --
By Niigata Prefectural Government
Date and time
Saturday, March 17, 2018 · 10am - 4pm EDT
Location
Shinbashi Restaurant 7 East 48th Street New York, NY 10017
Description
Niigata Food & Culinary Show in NYC
-- Discover Japan's Authentic Food, Sake and Kitchenware --

Calling for…Retailers, Importers, Distributers, Restaurant/Cafe/Bakery Chefs, Bartenders, Grocery Stores/Shop Owners looking to expand their range of quality Japanese products and brands.


---

Konnichiwa!
We are excited to inform you that we will be holding the Niigata Food & Culinary Show in NYC 2018.

The event will feature premium rice, sake, fresh ingredients, and kitchenware, including state of the art cutlery, all produced and manufactured in Niigata Prefecture.
Our goal is to make this an opportunity beneficial for buyers and sellers alike, in this strictly B to B event. Enjoy tasting some of our savory food and sake samples, presented by representatives of 15 Niigata-based companies, all while exploring the fruits of Niigata's quality craftsmanship and agricultural techniques.
Niigata Prefecture is not only known as one of Japan's top rice and premium sake production locations, but also as an epicenter of metalwork, cutlery, and other culinary wares production.

So please join us and make the best of this opportunity to connect with Niigata business reps.
---
Exhibition List
[Food]
- Snow Aging Wagyu Beef (Uoshoku Meat)
- Noodles, Curry Sauce Mix, Dressing (Nakajimayashouten) *More info coming soon
- Mochi Treats (Miyano Foods)
- Chili Paste, Seasoning (Kanzuri)
- Premium Koshihikari Rice (Echigo Yukitsubaki Industrial) *English info coming soon
- Rice Pasta, Premium Rice (Joint Farm)

[Sake]
- Premium Sake (Kikusui Sake)
- Premium Sake (Taiyo Sake Brewery)

[Kitchenware]
- Steam Grills, Utensils (Aux)
- Ramen/Donburi Bowls, Chopsticks (Astage) *More info coming soon
- Paulownia Cutting Boards (Aru) *More info coming soon
- Tableware (Marumi Yasuda Kawara Kogyo)


**Marketing Research**
- Soy Sauce, Miso, Coffee (Echigo-Yukimuroya)  
- Sparkling Sake (Niigata University of Pharmacy /Applied Life Sciences)
About the organizer
USA Inquiries
c/o: BIO ARTS NYC, INC.
Attn: Aya Ota (Ms.)
Office: 103 Second Avenue, Suite 2D New York, NY 10003 USA
Tel: 1-212-729-9392
E-mail: niigata@bioartsnyc.com