Description
A Symposium on the Night Sky
Come to Duluth's first annual seminar on the night sky! Join us for a fascinating discussion with nationally-acclaimed speakers who'll explore issues that intersect culture and technology and the environment.
Lighting technology has been changing at a rapid pace, year by year, and continually we choose ever-brighter night lighting. What are the effects and consequences of this? At Clyde Iron Works we'll explore the way we see and use lighting, the cycle of light and dark, and our own backyards.
Everyone is welcome to come: students, homeowners, outdoor enthusiasts, astronomers, professionals, and more. (CEUs are available for professionals.) Lunch is included with admission. Pre-registration is required.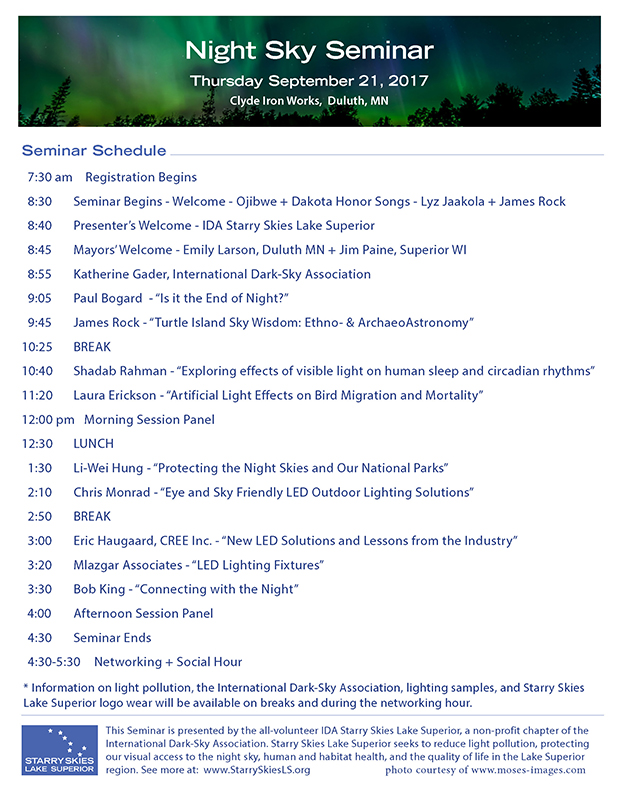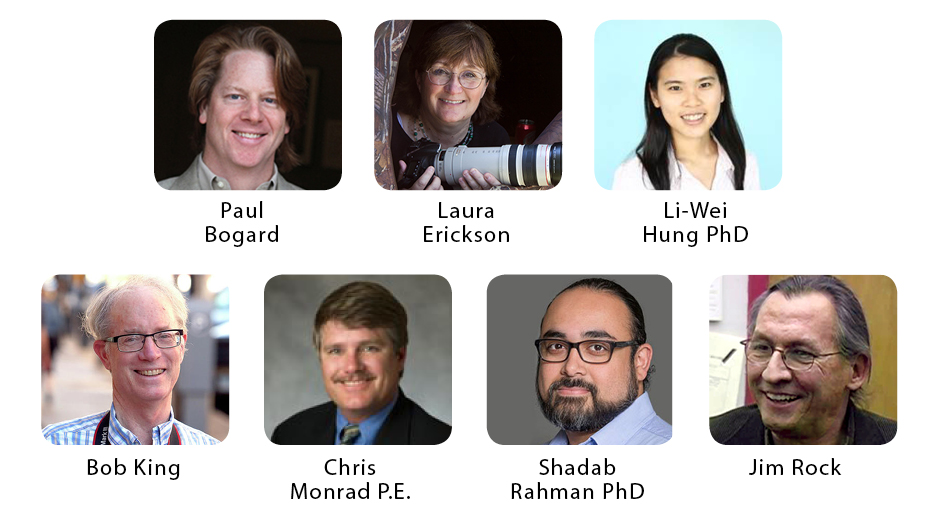 Speakers:

Paul Bogard is a native Minnesotan and author of The End of Night, an internationally distributed book exploring the growing encroachment of artificial light.

Laura Erickson, an expert on bird physiology and habitat requirements, has authored over a dozen books on birds, produced "For the Birds" radio program for over thirty years, and recieved the 2014 Roger Tory Peterson award.

LI-Wei Hung, Ph. D. Li-Wei Hung is a night skies research scientist at the Natural Sounds and Night Skies Division of the National Park Service. Hung travels the country measuring light pollution to provide science support to parks in protecting natural dark skies. During her Ph.D. work in astronomy at UCLA, Hung was a National Science Foundation Graduate Research Fellow working with Prof. Michael Fitzgerald to study debris disks.

Bob King is a photojournalist, lecturer, and author of Night Sky with the Naked Eye; he is also a regular contributer to Sky and Telescope and the creator of "Astro Bob."

Chris Monrad, PE, LEED AP, is a lighting engineer based in star-friendly Tucson, AZ, with over thirty years' experience in minimizing off-site glare and skyglow while providing high performance, energy-efficient designs. He also is a past board member of the International Dark-Sky Assocation.

Shadab Rahman, PhD, is a neuroscientist who teaches at Harvard Medical School and researches sleep and circadian neurophysiology: specifically, how light patterns influence the body.

James Rock, Director of the Allworth Planetarium at the University of Minnesota Duluth, Rock specializes in Ethno-Astronomy and Archeoastronomy. With a background in physics, chemistry, astronomy and pedagogy, Rock blends indigenous knowledge with modern experience, connecting cultures and ancestors through the stars.
And much more! This is a great event. We'll see you there!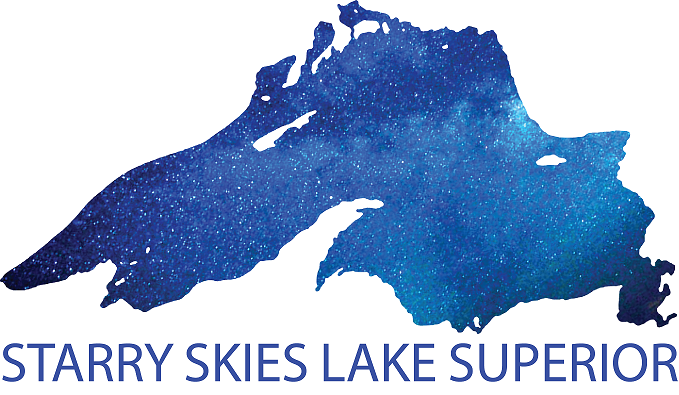 This seminar is part of Celebrate the Night Sky week, a week-long event in September with events all around the region. How can we improve the way we light the night? How can we ensure our night sky is clean and free of pollution for future generations? There will be education and celebration all over the Twin Ports and Lake Superior, so check out our website for more events!
* Event thumbnail courtesey of Travis Novitsky