About this Event
PANACHE BOOKING PRESENTS:
NIGHTSHOP (Full band)
JESS CORNELIUS (Full band)
OLIVIA KAPLAN
DJ CASSIE RAMONE
AT ZEBULON JULY 17
ALL proceeds go to the YELLOWHAMMER FUND, which helps women in Alabama access hard-to-get abortion services.
---
NIGHTSHOP
"Has one of indie rock's best songwriters been hiding behind the drums all along? That's at least the suggestion of 'The One I Love,' the breathless and magnetic lead single from the debut album by Justin Sullivan, who has spent the better part of a decade supporting the likes of Cassie Ramone and Kevin Morby." — Pitchfork
JESS CORNELIUS
Jess Cornelius, the New Zealand-born, Australian-raised, and now Los Angeles-based songwriter who explores human interaction and the confusions of existence—all delivered through her startling voice. Her latest single, "No Difference," was featured by NPR's All Songs Considered, as well as Paste Magazine, Brooklyn Vegan, Hype Machine, Uproxx and Gorilla vs Bear. The track was "Song of the Day" on KCMP The Current, and added to Spotify's New Music Friday and Indie Arrivals playlists.
OLIVIA KAPLAN
"A keen emotional note-taker, Kaplan's songs are thoughtful responses to relationships made or observed, and human situations to which she's borne witness. Her grounded vocals combined with a minimalist approach to instrumentation embody a desolate closeness, capturing the desperation that comes with attempts at modern empathy."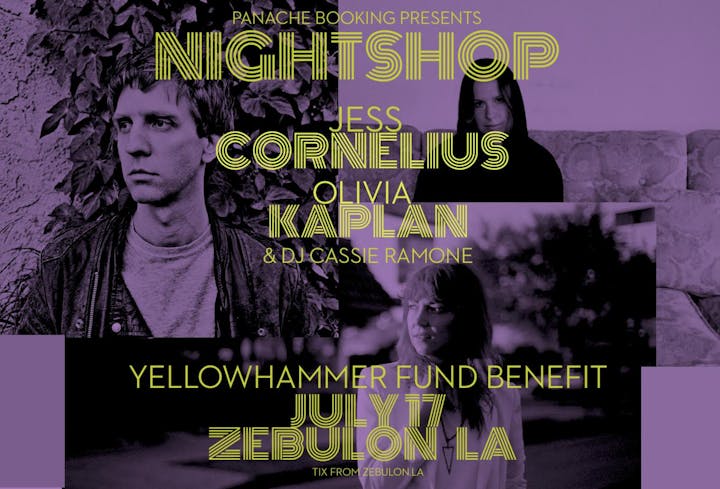 Performers
Date and Time
Location
Refund Policy