Actions and Detail Panel
Night of Vonnegut 2017
Sat, April 8, 2017, 6:00 PM – 9:00 PM EDT
Description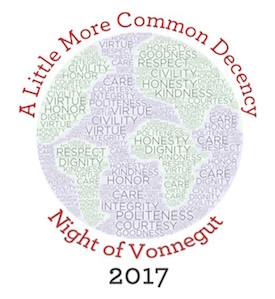 Join the Kurt Vonnegut Museum and Library and our event co-sponsor Ice Miller at the Athenaeum for the eighth annual Night of Vonnegut celebration! Enjoy an evening of food, drink, and fun to celebrate Common Decency.
We are thrilled to announce that our friend Steve Inskeep, host and reporter with National Public Radio's Morning Edition, will participate in a conversation with Nuvo's David Hoppe on common decency as part of our Night of Vonnegut Gala.
Common decency was very important to Kurt Vonnegut. As such, this theme runs through all of our 2017 Year of Vonnegut programming because it is especially relevant right now. This is a period in our nation's history when the very things Kurt cared about such as free speech, science and environment, civil rights, human rights, public schools, and more are under attack. We hope this evening will bring together people who are looking to create a little more common decency in the world.
The event starts at 7 but doors open at 6 pm for cocktails and an opportunity for guests to view and bid on silent auction items, some of which include a piece of art made especially for Vonnegut fans by artist Mab Graves; coffee or cocktails with our celebrity friends; tickets to events at local performing arts and other venues; signed sports memorabilia; gift cards given by our great restaurant sponsors and other vendors; and much more. The silent auction goes live April 1 for those of you who want a sneak peek. We'll send you the link in the next newsletter.
Jim Shella, host and producer of the Emmy nominated show, Indiana Week in Review, will emcee the gala event beginning at 7 pm with dinner provided by The Rathskeller. Also, author and Shortridge High School graduate Dan Wakefield will present KVML's annual scholarship awards to two deserving Shortridge high school writers. The evening will conclude with the David Hoppe/Steve Inskeep interview on common decency.
There are 25 student tickets available at $50 and 175 General Admission tickets available at $125 each.
$10 parking is available first come first served at the NewPoint lot east of the Athenaeum or metered parking is available on the street.