An Outdoor Safety First Drive-In Halloween Event ft Virtual Riot & Eliminate
About this Event
IMPORTANT!! THIS EVENT IS STILL HAPPENING!!
The Silverado Fires have been cleared and we have been working with Orange County Fire Authority. The event is still happening as planned in the same venue with approval from all the proper aithorities for guest safety.
-White Rabbit Group Presents-
NIGHT OF THE RAVING DEAD
An Outdoor Safety First Drive In Halloween Event
Celebrate Halloween at an outdoor socially distanced concert with sound, lights and amazing talent!
Featuring Virtual Riot, Eliminate
+ Gawm, Ha Brothers and Huski
Saturday October 31st 2020
Oak Canyon Ranch, Silverado 4pm-10pm
Looking for a place to rest after the concert? Get the best deals at https://secure.unity.travel/events/night-of-the-raving-dead-2020/products
In order to have a safe event we have taken every effort to create protocols to protect our guests. Non- Adherance to the rules will result in removal from the event without refund.
***EVENT RULES***
MASKS REQUIRED for entry and throughout the event
DO NOT DRINK AND DRIVE. Plan ahead, designate a sober driver. Vehicles left overnight will be towed at owner's expense.
18+ TO ENTER. Valid Government issued ID required.
ARRIVE WITH YOUR PARTY in one vehicle. Arrival by Uber/Lyft not permitted.
TEMPERATURE CHECKS will be taken upon arrival
If you are sick, have a fever, have traveled in the last 14 days, or have been exposed to COVID-19, please stay home. We encourage attending the event with others ONLY if they are in your immediate quarantine community.
ALL VEHICLES WILL BE SEARCHED
DO NOT SIT ON TOP OF YOUR VEHICLE
PLEASE TURN OFF YOUR HEADLIGHTS AND REFRAIN FROM HONKING
DO NOT APPROAH THE STAGE OR SCREEN
THE GATES TO THE EVENT WILL CLOSE AT 7PM, no late arrivals will be permitted, no exceptions.
STAY WITHIN YOUR DESIGNATED SPACE. No grouping up or joining spaces belonging to other guests.

You must arrive before the scheduled show time. Early arrival is strongly recommended. All cars must be turned off by the scheduled show time for your safety and those around you.
GET TESTED Know your status before the show.
Here are links to FREE COVID-19 testing sites in SoCal!
San Diego -
https://www.sandiegocounty.gov/content/sdc/hhsa/programs/phs/community_epidemiology/dc/2019-nCoV/testing/testing-schedule.html
Orange County -
https://occovid19.ochealthinfo.com/oc-covid-19-testing-network-those-symptoms
Los Angeles -
https://covid19.lacounty.gov/testing/
Inland Empire -
https://iehp.org/en/members/covid-19?target=covid-19-testing-sites
For additional resources, please refer to: https://covid19.ca.gov/ & https://covid19.lacounty.gov/
All CDC and State of California guidelines will be enforced. To ensure safety, we will leave enough distance between you and surrounding vehicles.
All attendees must remain in/by their vehicles, practice 6' social distancing, and wear masks when outside of your vehicle. If it is necessary for an attendee to leave their vehicle, attendees must use safe and social distancing practices, and must wear a face covering. Security will strictly enforce these guidelines. Failure to follow safe social distancing practices, or the requests of security or staff members will result in the attendee and their respective party/vehicle to be ejected from the drive in.
If a medical condition exists that prohibits an attendee from wearing a face-covering, they must remain inside their vehicle at ALL times. No exceptions.
• Drive-In staff will be outfitted with PPE (personal protective equipment) as required by CDC guidelines.
• Staff, medical teams and security teams will be roaming all aisles while completing safety and social-distancing checks. Please be friendly, remain distant, and enjoy the concert from your vehicle or Safe Space.
• Audio will be through an FM broadcast on your vehicle's sound system and a full sound system from the stage.
• Frequently sanitized restrooms.
• Bar with Beer, Wine, and Seltzers for 21+ attendees. Attendees must have a valid government-issued ID to be served.
Car passes include five (5) people in your party. If you arrive with more people in your car, companion passes must be purchased upon arrival for each additional person in your vehicle. Your party size shall not exceed the lesser of the number of legal seats in the vehicle or eight (8) people. No oversized vehicles, buses, campers, RVs, limousines are permitted.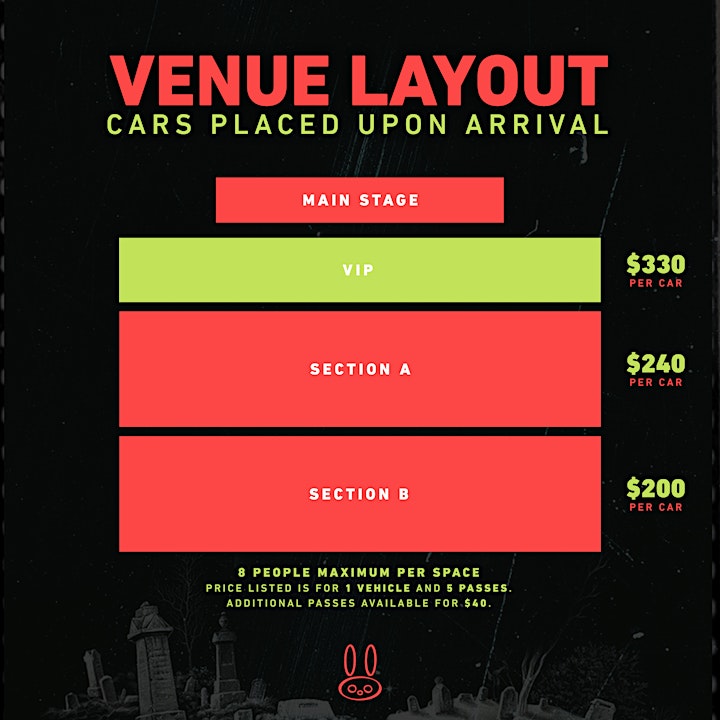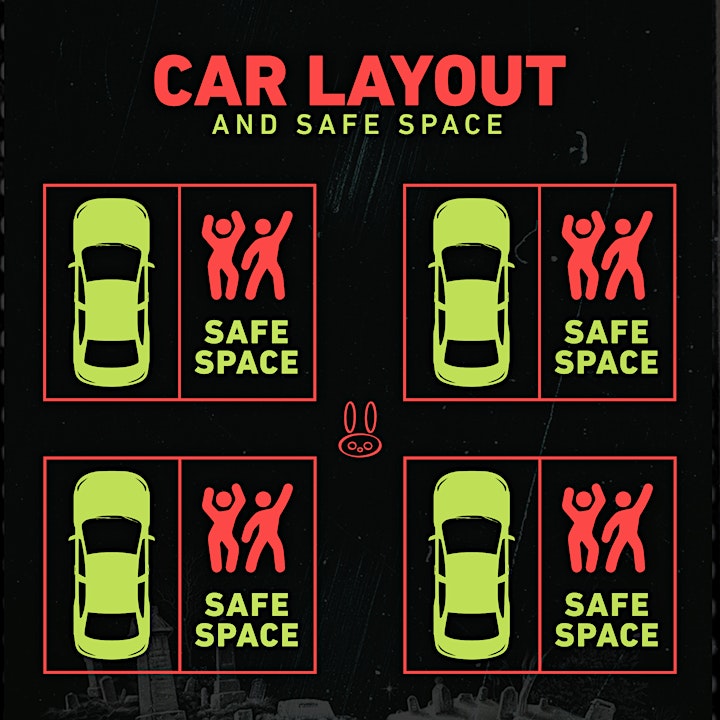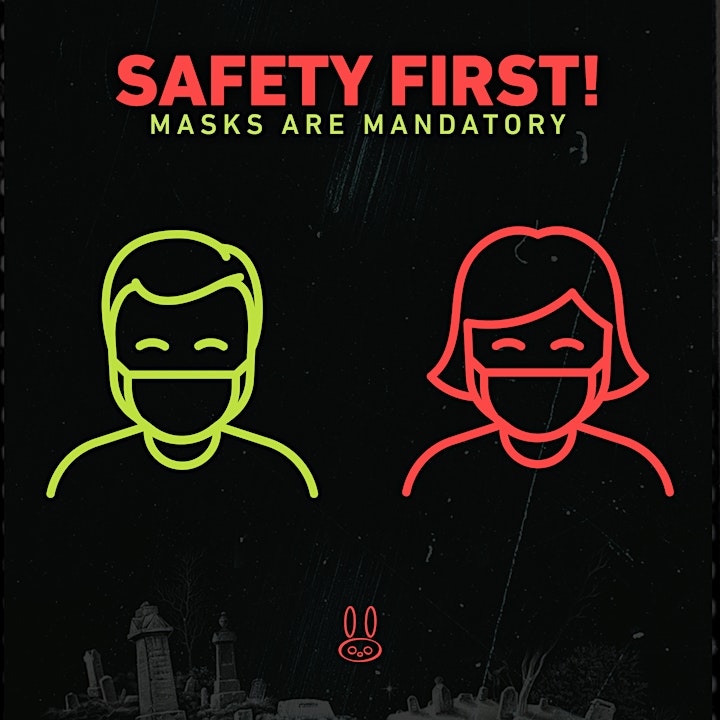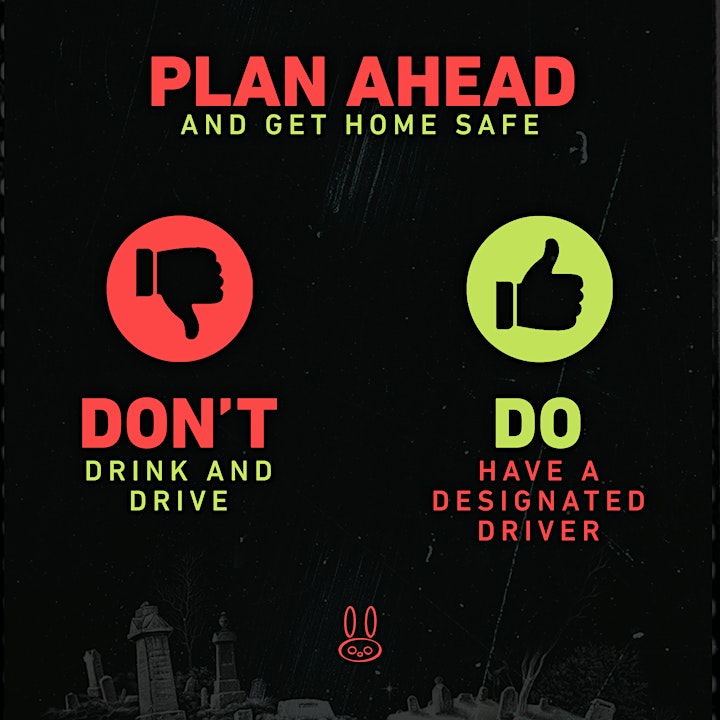 PROHIBITED ITEMS
NO Knives, Firearms, Pepper Spray, Fireworks, or Weapons of Any Kind
NO Illegal Substances or Paraphernalia
NO Outside Food or Drinks
NO Pets
NO Tents or Canopies
NO Massagers
NO Laser Pens / Pointers
NO Selfie Sticks
NO Airhorns and Noisemakers
NO Aerosols (e.g., hairspray, spray sunscreen)
NO Glass
NO Markers, Pens, or Spray Paint
NO Stickers or Flyers
NO Tents and/or Canopies
NO Professional Cameras - SLR or Detachable Lens
NO Video or Audio Recording Equipment
NO Drones or UAVs (unmanned aerial vehicles)
NO Open Fires
NO Honking
ALLOWED ITEMS
OK Non-Professional cameras incl Go Pros
OK Cell Phones
OK Flags / Banners or Handmade Signs
OK Inflatables
OK Binoculars
OK Empty Water Bottle and/or Camelbacks
OK Flow Toys, Light-Up Gloves, Etc.
OK Glowing / Illuminated Costumes or Jewelry for both Attendees and Cars
OK Lawn Chairs
OK Sunglasses and Hats
OK Liquid Sunscreen and Cosmetic Products
OK Disposable E-cigs / Nicotine Vaporizer pens
Assumption of the Risk and Waiver of Liability Relating to Coronavirus/COVID-19
The novel coronavirus, COVID-19, has been declared a worldwide pandemic by the World Health Organization. COVID-19 is extremely contagious and is believed to spread mainly from person-to-person contact. By entering these premises and/or the event, you (a) acknowledge the contagious nature of COVID-19 and voluntarily assume the risk that you may be exposed to or infected by COVID-19 and that such exposure or infection may result in personal injury, illness, permanent disability, and death, (b) voluntarily agree to assume all of the foregoing risks and accept sole responsibility for any injury, illness, damage, loss, claim, liability, or expenses, of any kind ("Claims"), that you may experience or incur, and (c) hereby release, covenant not to sue, discharge, and hold harmless the venue, event promoter(s), vendor(s), and each of their respective parents, members, partners, affiliates, divisions, subsidiaries, and landlords and their respective officers, directors, and employees from Claims of any kind arising out of or relating thereto.