Location
The Anza Club
3 W. 8th Ave.
Vancouver, British Columbia
Canada
Description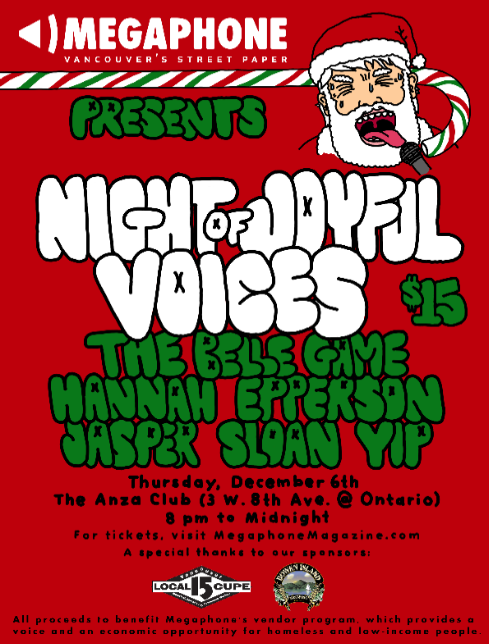 Megaphone will be celebrating two decades of Vancouver's street paper on Thursday, December 6th with our annual Night of Joyful Voices fundraising concert at The Anza Club (3 W. 8th Ave.).
We'd love for you to come and celebrate the holiday season with us and recognize the incredible work our vendors do throughout the year.
Headlining this year's event are the enchanging Belle Game; the infectious and earnest Jasper Sloan Yip; and the mesmerizing Hannah Epperson.
You'll also have a chance to win prizes and hang out with Megaphone's wonderfully charming volunteers. Best yet, all money raised will go toward Megaphone's vendor program, which gives homeless and low-income peopel a voice and an economic opportunity.
For more information, visit www.MegaphoneMagazine.com.
Megaphone's Night of Joyful Voices
Thursday, December 6th
8 p.m. to midnight
The Anza Club (3 W. 8th Ave.)
Many thanks to Cupe Local 15 and Bowen Island Brewery for its sponsorship and Justin Longoz for the poster.