About this Event
Eat drink and be merry as you are greeted on arrival at the historical Wrexham Museum by our Master of Ceremonies. A welcome drink of welsh mead awaits you as you are led to our beautiful banqueting room where the musical entertainment and local food feasting will begin.
Starter - vegetable broth with dumplings and locally baked artisan bread ( Johnstown Bakery)
Main - a choice of succulent Lamb Shank (Geo.C.Hughes Wrexham Butchers Market - purveyor of fine meats) or Layered Chicken and Ham pie ( Roberts Country Fayre - Bersham Wrexham) served with a fine selection of local seasonal veg and redcurrant gravy.
Dessert - our award winning dessert "Heaven on Earth" A taste sensation as sensually spiced honeyed chocolate is complimented by a crisp citrus orange twist and accompanied by the creamy sensation of espresso frappe ice cream and fresh berries and fruit. This is a very special dessert exquisitely finished with a beautiful edible flower. ( All local suppliers – Eat my flowers, Celtic Honeysmith, Chilly Cow ice cream, Aballu artisan chocolatier, Mrs Picklepot and Nant Ucha Farm Eggs.
Drink - Mead – mountainmead Welsh Meadery
Bwytewch, yfwch a byddwch lawen wrth gael eich croesawu i Amgueddfa hanesyddol Wrecsam gan Feistr y Seremonïau. Bydd llymaid o fedd Cymreig yn aros amdanoch wrth i chi gael eich hebrwng i'n hystafell wledda brydferth, ac yna bydd yr adloniant cerddorol a'r gloddesta ar fwydydd lleol yn cychwyn.
Cwrs cyntaf: cawl llysiau gyda thwmplenni a bara wedi ei bobi'n lleol gan Johnstown Bakery.
Prif gwrs: un ai Coes oen blasus (gan Geo.C.Hughes, Marchnad y Cigyddion, Wrecsam – gwerthwr cig o safon) neu Bastai cyw iâr a Ham haenog (gan Roberts Country Fayre - Bersham Wrecsam) gyda detholiad gwych o lysiau tymhorol lleol a grefi cyrens coch.
Pwdin: ein pwdin arobryn "Nefoedd ar y Ddaear" – blasau anhygoel siocled mêl â sbeis gyda throell sitrws ffres, a hufen iâ espresso frappé hufennog gydag aeron ffres a ffrwythau. Mae hwn yn bwdin arbennig iawn sydd wedi'i orffen yn fendigedig gyda blodyn bwytadwy hyfryd. (Cyflenwyr lleol i gyd – Eat My Flowers, Celtic Honeysmith, Hufen Iâ Chilly Cow, Aballu Artisan Chocolatier, Mrs Picklepot ac Wyau Fferm Nant Ucha. Diod – Medd - Mountainmead Welsh Meadery).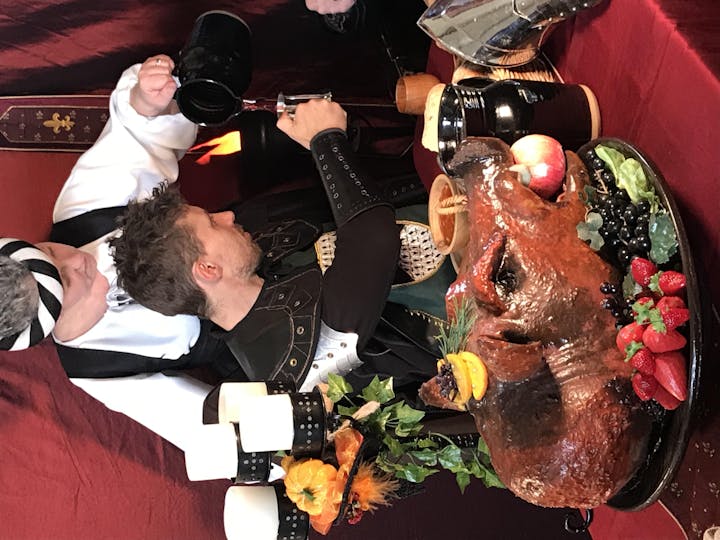 Costumes are available to hire from www. costume-company.co.uk