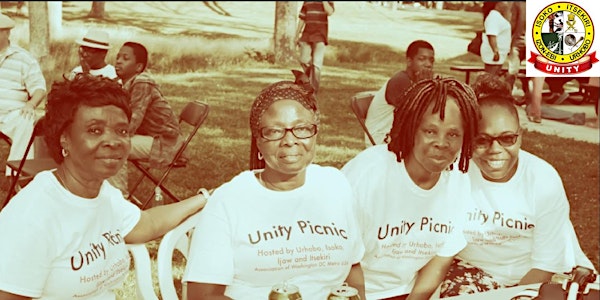 Niger Delta Unity Picnic
By Isoko Association of Greater Washington DC (IAGWDC) Itsekiri National Association of Washington-Baltimore (INA) Izon-Ebi Association of the Washington DC Area (IEA) & Urhobo Association of Washington DC Metro Area (UAW)
Date and time
Saturday, July 7, 2018 · 11am - 11:30pm EDT
Location
Locust Shade Park 4701 Locust Shade Drive Triangle, VA 22172
Description
The Niger Delta Unity Picnic is the first joint effort of D.C., Maryland, and Virginia region Niger Delta organizations to gather in union, celebrate, and immerse their children in their culture in hopes to inspire positive relations amongst Niger Delta tribes in Nigeria and abroad.
The Niger Delta Unity Picnic, once a thought in Lucky Ajueyitsi's mind, is now backed by four regional associations:
Isoko Association of Greater Washington DC (IAGWDC)
Itsekiri National Association of Washington-Baltimore (INA)
Izon-Ebi Association of the Washington DC Area (IEA) &
Urhobo Association of Washington DC Metro Area (UAW)
These groups have found common ground by agreeing on the following principles:
Unity is key; If an example of unity between our groups is set here, our groups in Nigeria and abroad can also follow suit.

Our youth should understand the roots of our cultures including but not limited to: customs, history, and language
History will be made, everyone will enjoy themselves, and all will be well!