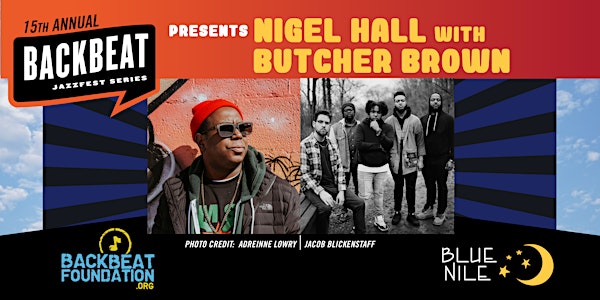 Nigel Hall with Butcher Brown
15th Annual Backbeat Jazz Fest Series presents Nigel Hall with Butcher Brown
When and where
Location
Blue Nile 532 Frenchmen Street New Orleans, LA 70116
About this event
DOORS OPEN 9:30, SHOW 10:30
$20 ADVANCE TICKETS
Nigel Hall
GRAMMY-winning Soul provider Nigel Hall is an artist who needs no introduction. Throughout his career, he's built a mighty foundation of funk, onstage and in the studio, proving himself to be a true student of the music. His unique sound, built upon pages torn out of the golden-ages of R&B, funk and soul, have made him the musician he is today; an accomplished vocalist, keyboardist, studio musician, and member of the GRAMMY-nominated funk-jazz-soul-hip-hop-psychedelic-jam-experimental titans Lettuce. Legions of fans are already well in the know about Hall's copious keyboard chops and powerful vocal style. Nigel Hall puts his skills to good use, carving out a creative space to call his own with his second album Spiritual, set to release May 14th, 2021 on Regime Music Group. With this release, Nigel Hall is ready to follow his musical spirit into uncharted territory. 
Butcher Brown
Pulsing from the nerve center of Jellowstone Studios in Richmond VA, Butcher Brown takes careful note of the history and legacy of jazz and throws caution to the wind. Their musical vibe blends jazz with hip hop, funk, rap, rock and soul. The group honors each musical genre and, at the same time, challenges traditional musical boundaries. The result is their most exciting collection of tracks to date. Butcher Brown features Tennishu, Morgan Burrs, Corey Fonville, Andrew Randazzo, and DJ Harrison.
PHOTO CREDIT: ADRIENNE LOWRY/JACOB BLICKENSTAFF
All sales are final and refunds are only allowed in limited circumstances such as canceled events. If your event is canceled, postponed, rescheduled, or moved, we will attempt to contact you to update you on the status of the event, and inform you of any refund, credit, or exchange procedures.
All shows are for ages 21 and up. Valid ID required upon entry.