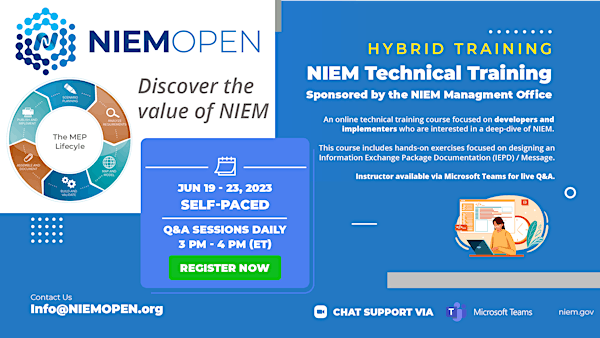 NIEM Technical Training - June 2023 (HYBRID)
NIEM Technical Training is a self-paced course designed for NIEM developers. Live Q&A from 3 PM-4 PM ET daily Mon-Fri.
By NIEM Management Office
Date and time
June 19 · 5am - June 23 · 1pm PDT
About this event
4 days 8 hours

Mobile eTicket
Format: Hybrid + Chat via TEAMs
Based on feedback from the community, the NIEM Management Office is providing a new permanent hybrid technical training format. We have collected questions from prior training classes and incorporated them into a new professional pre-recorded curriculum that covers the NIEM technical training, supplemented with a LIVE trainer from 3 PM to 4 PM ET daily to answer your questions in real time via MS Teams chat.
Advantages to using the Hybrid format:
You can fit the NIEM training in with your work schedule
Hit pause and take important calls or answer urgent emails
Rewind and re-watch a topic to ensure comprehension of the materials
Access to an instructor to answer questions when you have them
Access to the materials after the recordings after the class
Keeps training costs down so that we can offer it to the community for FREE
Allows people from different time-zones to receive training at a time that is convenient for them
Trainees can communicate with the instructor by attending the Q&A session from 3 PM - 4 PM daily.
While users can really choose to go at their own pace; below is the recommended schedule along with topics covered:
Monday
Total Video Length: 97 minutes
Part 1
Logistics
Prerequisites
Asking Questions
Introduction to NIEM
What is NIEM?
Scope of NIEM
NIEM Harmonization and Organization
Part 2
IEPD Development
Overview
Process
Artifacts
Scenario Planning
Example MOUs and the Like
Catalog-Oriented Metadata
Requirements Analysis
Variety of Diagrams
UML Class Diagrams
Business Term Oriented
NIEM Oriented
Tools
Business Rules
Tuesday
Total Video Length: 110 minutes
Part 3
Intro to Mapping
Mapping Spreadsheets Options
Documenting Business Objects
Maintaining an Ongoing Sample Instance Skeleton
Basics of Searching NIEM
Part 4
Mapping to Existing Objects
What you are defines what you hold
Native Properties
Substitution Groups
Namespaces
Inherited Properties
Wednesday
Total Video Length: 85 minutes
Part 5
Mapping to Existing Objects (continued)
Linking Things Together
Associations
Roles
Part 6
Mapping to Existing Objects (continued)
Code Tables
Part 7
Mapping to Existing Objects (continued)
Metadata
Thursday
Total Video Length: 117 minutes
Part 8
Mapping to Existing Objects (continued)
Combining Domains with Augmentations
External Standards
Part 9
Creating New Objects
Simple Data Elements
Complex Objects
Adding New Objects to the Exchange
Augmentations
Concrete Extension
Part 10
**Part 10 is a long video and can be split over two days.
Creating and Validating Schemas
How Schemas Fit Together
Schema Subsets
Wantlists
Extension and Exchange Schemas
Sample Instances
Tips and Tricks
Friday
Total Video Length: 87 minutes
Part 10 (continued)
Creating and Validating Schemas
How Schemas Fit Together
Schema Subsets
Wantlists
Extension and Exchange Schemas
Sample Instances
Tips and Tricks
Part 11
Assembly
MEP Builder
Assembling Artifacts by Hand
Publishing
Existing Registry/Repositories
New Registry/Repositories
Restricted
Unrestricted
Implementation
Outside the Scope of this Session
It's just XML (or JSON)
Next Steps