NICR RIDE FOR A CAUSE AND FAMILY PICNIC BENEFITING THE AUTISM HERO PROJECT
A Special Ride for a Cause followed by a Family Fun Picnic for the whole family that includes games, activities, raffles, music and more!
About this event
Thank you to the Northern Illinois Charity Riders for kicking off our Inaugural #RideForACause followed by a Family Picnic for the whole family! All Activities take place on Saturday, July 10th at the Loyal Order of Moose, 3535 N Richmond Rd, Johnsburg, IL 60051
Registration for the Ride from 9-10:30 AM, Kick Stands Up at 11:00AM
Fee for the Ride is: $15/$25 for 2UP *Includes Picnic
Picnic will commence at 3:00 PM with an option to bring your own food or purchase food at $5 for kids and $10 for Adults. Food includes ALL YOU CAN EAT hamburgers & hotdogs. Water and kid juices will be provided.
We will have plenty of activities, games, music and raffles.
We look forward to seeing you there!
****** RAIN DATE IS SATURDAY, JULY 17TH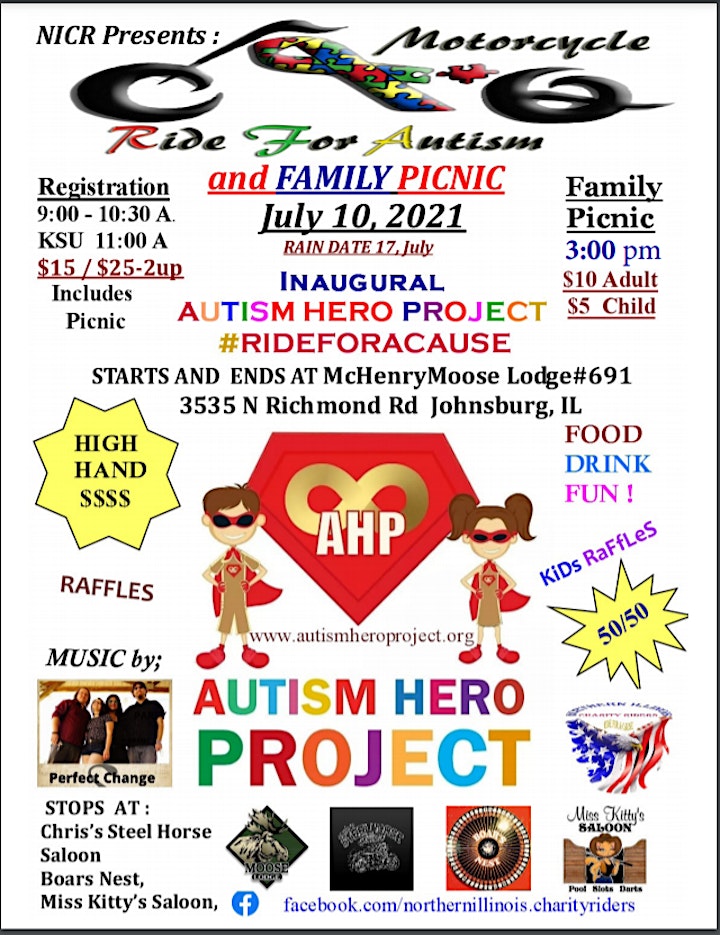 Organizer of NICR RIDE FOR A CAUSE AND FAMILY PICNIC BENEFITING THE AUTISM HERO PROJECT
About The Autism Hero Project
The Autism Hero Project is a nonprofit organization that seeks to improve the lives of people with autism, people otherwise on the autism spectrum, and their families by purchasing medical insurance for ABA therapeutic services. AHP also educates others in understanding autism-related needs in everyday life, and promoting more than just awareness among communities. They strive to create a world of inclusion, where ALL means ALL. For more information about AHP, visit www.autismheroproject.org.