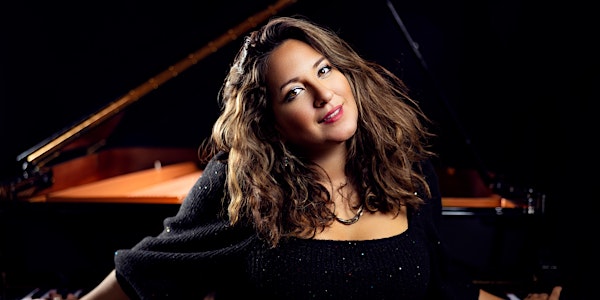 Nicole Zuraitis in the Theater with Willerm Delisfort
Don't miss GRAMMY Nominee Nicole Zuraitis' return to Birdland!
When and where
Location
Birdland Theater 315 West 44th St New York, NY 10036
About this event
A Grammy-nominated musician, powerhouse vocalist, New York-based bandleader and winner of the 2021 American Traditions Vocal Competition Gold Medal, Nicole Zuraitis continues to establish herself as an undeniable force in the modern jazz landscape of both NYC and beyond. Nicole's bold, versatile voice possesses a special combination of soothing warmth, familiar authenticity, and raw grit that is reinventing the world's conception of what it means to be a jazz artist. She infuses elements of multiple genres and approaches into her artistry, refusing to limit herself to any one corner of the music business. With a "heart as big as her remarkable voice," (Jazz Police) Nicole's effervescent personality and boundless enthusiasm for sharing the joy of music keep her audiences thrilled.
Nicole is the premier vocalist for both the Birdland Big Band and the Dan Pugach Nonet; her co-produced collaboration "Oil on Water: How Love Begins" with bassist Christian McBride is set to release in 2023, featuring all-original compositions and the talents of some of the jazz world's best. Nicole's touring ensemble, Generations Of Her: Women Songwriters and Lyricists of the Last 100 Years, has played to sold-out houses in NYC and around the country. As a recording artist, Nicole has released four albums as leader, including 2020's All Wandering Hearts on Dot Time Records. In December 2018, she partnered with guitarist Brandon Scott Coleman to record and release a live album, Live At the Two-Headed Calf. She is also a new member of the modern jazz super group Ryan Keberle and Catharsis.
In 2019, Nicole was nominated for a Grammy alongside her husband, renowned drummer and bandleader Dan Pugach, for their arrangement and performance of Dolly Parton's "Jolene." In recognition of her talents, Nicole has won a litany of other awards, including the New York City Songwriting Competition Coffee Music Project (2016), the Herb Alpert ASCAP Young Composer Award (2014), and the Gold Medal, Ben Tucker Jazz Award, People's Choice, and Johnny Mercer Award in the National American Traditions Vocal Competition. In 2015, Nicole was the second runner-up in the Sarah Vaughan International Jazz Vocal Competition. In 2020, Forbes Magazine featured Nicole's pandemic pivot project, "Virtual Piano Lounge Plus One."
Nicole has performed throughout America and the world, including such places as the New Orleans Jazz & Heritage Festival, San Jose Jazz Festival, Bonnaroo, Litchfield Jazz Festival, Klaipeda Jazz (Lithuania), Port Ferry Festival (Australia), and The Birds Eye (Switzerland). In New York, Nicole has headlined Birdland and Blue Note and maintains residencies at 55 Bar, Rockwood Music Hall, and Redeye Grill. Her many collaborations include work with the likes of Christian McBride, David Cook, Morgan James, Rob Mounsey, Rick Dipofi, Gilad Hekselman, Kabir Sehgal, Cyrille Aimee, Thana Alexa, Dave Stryker, Antonio Sanchez, Don Braden, Rachel Z, Livingston Taylor, Tom Chapin, Omar Hakim, Cab Calloway Orchestra, Melanie Safka, Helen Sung, Ryan Keberle, Benny Benack and Bernard Purdie.
Nicole is a proud faculty member of the Litchfield Jazz Camp and has taught songwriting and jazz vocal workshops worldwide, along with college workshop residencies and masterclasses at the University of North Texas and the Berklee College of Music in Boston. She cherishes the opportunity to help build confidence and curiosity through the joy of music with people from all over the globe.
Outside of music, Nicole was featured by Columbia News Tonight as "New Yorker of the Week" for her work with shelter animals and fostering dogs. She attained her MBA online from LSUS during the Covid-19 pandemic and continues to rehabilitate pitbulls while donating percentages of proceeds from album sales to local rescue groups.
www.nicolezmusic.com