Description
Come and hear Nicole's entrepreneurial journey! Nicole Everett, a native of Miami, Florida, is an alumnus of Florida Agricultural and Mechanical University with undergraduate degrees in both Business Administration and Business Economics. She has served in the affordable housing arena for more than 20 years and volunteers with several community organizations in the Tallahassee area, which include Big Bend Habitat for Humanity, the City of Tallahassee Code Enforcement Board and the Providence Neighborhood Association Redevelopment Corporation.
In March of 2016, Conversations With Nicole (CWN) was launched by Nicole with the help of her friend and CWN producer, Gerald Tookes as a weekly video blog show featuring a variety of guest sharing information about initiatives and projects important to them as well as giving a bit of personal history about themselves.
CWN expanded to television in October of 2016 allowing for the broadening in the shows programming. More than 75 episodes have been produced during CWN's 6 seasons and it remains true to connecting community influencers with viewers through conversations about the guest passions and philosophies. All of the episodes may be found on CWN's Facebook page, YouTube channel and website, www.cwnmoments.com.
The TCC Spark initiative is sponsored by a grant from First Commerce Credit Union, a full service institution with locations throughout North Florida and South Georgia.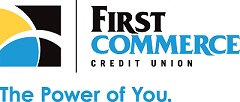 Do you have a small business idea that you want to make a reality? TCC Spark offers you a curriculum that focuses on startups, networking, and competitive analysis. Throughout the course, you are introduced to a series of mentoring events, guest speakers, techniques to gain capital, such as crowdfunding, and opportunities to develop and refine your business model canvas. The result is a solid business network of mentors and peers, and a researched and thorough marketing plan and business plan. Come catch the entrepreneur's spirit, give yourself the opportunity to discover the power of Spark!