Sales Have Ended
Ticket sales have ended
Must be 21+ with valid ID. All sales are final. No refunds.
Sales Have Ended
Ticket sales have ended
Must be 21+ with valid ID. All sales are final. No refunds.
Description
Party with Nicki Minaj at Highline Ballroom Saturday May 19th!
Music: Enjoy the sounds of DJ Clue and DJ Reach, two world class and world famous DJs. Here to support Nicki Minaj as she tears down the Highline Ballroom stage!
Doors Open: 11:00PM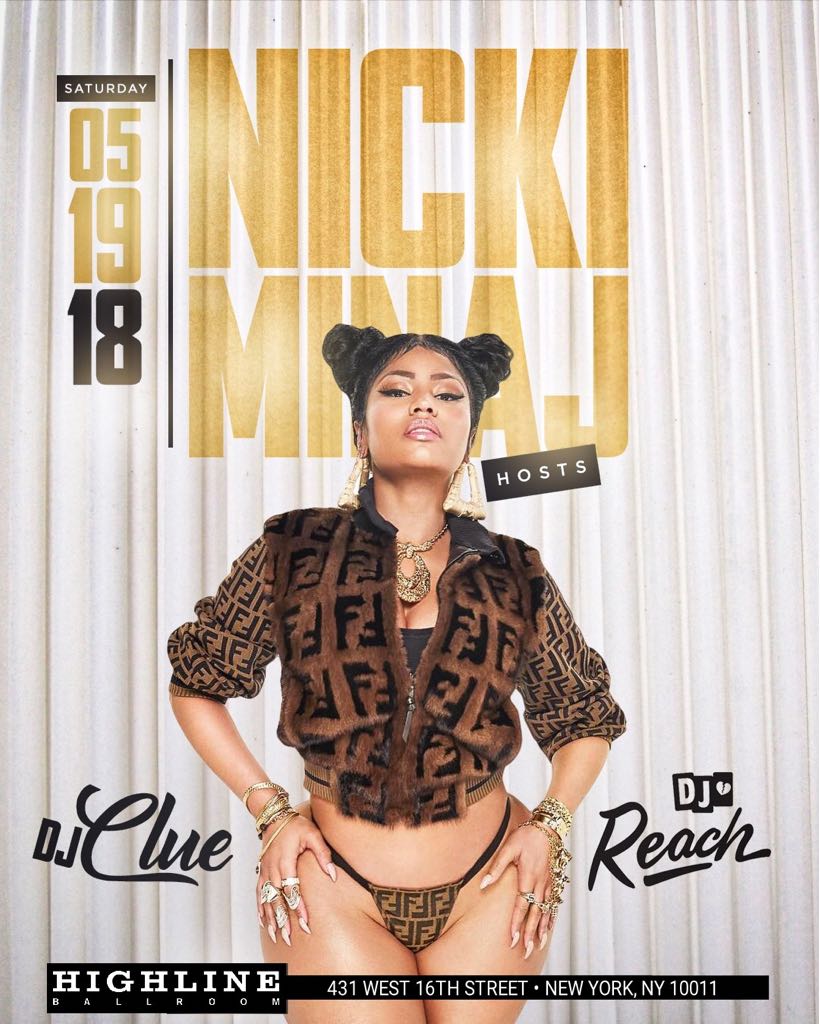 The Artist:
Hip-hop artist Nicki Minaj rocketed to fame with tracks like "Super Bass," "Starships," and later "Anaconda." She is the first female solo artist to have seven singles simultaneously on the Billboard 100 chart.
Working with HUGE artists such as Drake, Lil Wayne, Arianna Grande, Chris Brown and more, Nicki has made it and stayed at the top for years. Minaj's confidence and stride make her performances and talent shine. Her performances are something you will not want to miss. See her LIVE at Highline Ballroom NYC on May 19th!
Nickis Career:
Minaj released her first mixtape in 2007 after releasing Playtime Is Over with Dirty Money Records. She released another mixtape on July 7, 2008, titled Sucka Free, under the label Be. On April 18, 2009, Nicki Minaj released a third mixtape and appeared in magazine. She won the Female Artist of the Year award at the 2008 Underground Music Awards. Nicki Minaj released Beam Me Up Scotty, another mixtape, in April 2009 under the label ofTrapaholics Records; it received positive coverage on both BET and MTV.
In August 2009, Nicki Minaj signed a record deal with Young Money Entertainment, with distribution from Universal Motown Records, after fellow American rapper Lil Wayne discovered her and secured the record deal. She then had a solo rap verse in their single "BedRock", which became a commercial success, reaching #2 on the Billboard Hot 100.
Must be 21+ with valid ID.
All sales are final. No refunds.